National Scholarship Portal Update Mobile Number : scholarships.gov.in
You can ask questions or answer questions about this scholarship.
Please go to the bottom of this page.
Organisation : National Scholarship Portal NSP 2.0
Facility Name : Update Mobile Number
Applicable For : All Students
Applicable State/UTs : All India
Website : https://scholarships.gov.in/renewal/mobileUpdateUserDetails.action
NSP Update Mobile Number?
Mobile number can be updated only once.Once registered mobile number is updated, applicant will not to allowed to change it again.
Related / Similar Post :
NSP Know Your Scholarships Payment Status

How to Update Mobile Number?
Just follow the below steps to Update Applicant Mobile Number.
Steps :
Step 1 : Go to the official website of National Scholarship Portal NSP through provided above.
Step 2 : Next, Enter Your Application Id [U20181912345600]
Step 3 : Enter the Applicant Name [Raj S]
Step 4 : Enter Your Mother Name [Sudha]
Step 5 : Enter Your Date of Birth [01/03/2001]

Step 6 : Enter Your Old Mobile Number [9876543210]
Step 7 : Enter Your Bank Account Number [4444444444]
Step 8 : Enter Your IFSC Code [SBI0123456]
Step 9 : Enter the Capcha as shown in the image
Step 10 : Finally click on the "Verify and Continue" button.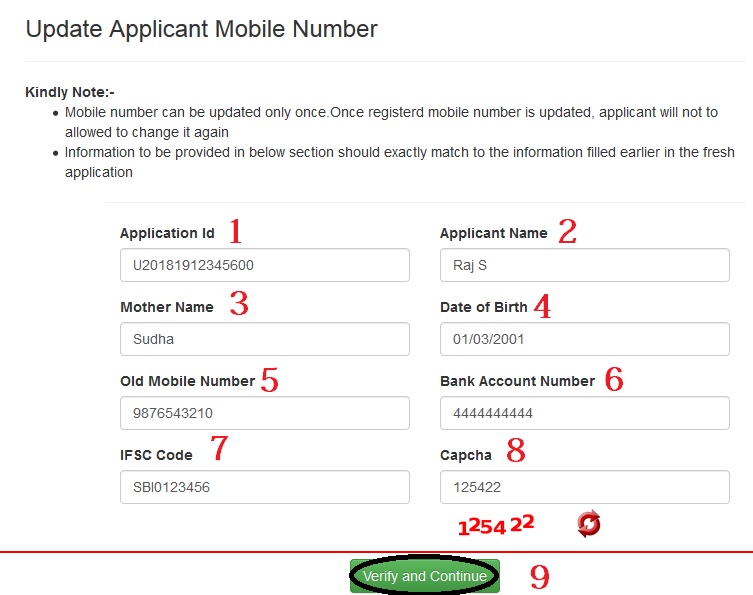 Step 11 : After verification, enter your new mobile number to update your details.
Note :
Information to be provided in below section should exactly match to the information filled earlier in the fresh application
Frequently Asked Questions
1. Is the usage of Digital Signature Mandatory?
The use of Digital Signature is not mandatory at registration / verification stage of NSP Application .
2. How to know about the various services available on the portal?
The complete User Manual, Contact Details of Scheme wise State Nodal Officers and other services are available under the link "SERVICES" on the Home Page of the Portal .
3. Would the Login credentials be sent by SMS?
Yes. The Application Id and Password sent by SMS.
4. For Renewal cases, the Login data ie Application ID and DOB of previous year is showing an error "Invalid User Name/ Password". What is the remedy ?
The "Forgot Application Id" option may be used and this problem can be overcome by using Search by Bank Account Number and Search by Mobile Number.
5. How to view the details of a particular scheme?
You may click on Guidelines link of particular Scheme displaying in On-Boarded schemes section on the Home page.
6. Can I apply as a Fresh if I am a Renewal candidate?
No, you cannot apply as a fresh if you are a Renewal candidate. Your application will be rejected in that case.
7. Do I need to get my Aadhaar Card to apply for Scholarship?
Aadhaar No. is not Mandatory for the Students in order to Register and fill up the application form online. Students can apply for Scholarship without entering the Aadhaar no. but in that case they have to enter Aadhaar Enrollment Id. For the States of Aasam, Meghalya and Mizoram Aadhar Number is not mandatory.
8. What happens, if I detect mistakes after forwarding the applications to the next level?
You should separately inform the mistakes detected by you to the Institute/District/Region/State. The software provides facility at the level of the Institute & State to edit & correct limited information.