Tripura State NEC Merit Scholarship Scheme 2017-18 : scholarships.gov.in
Organisation : Government of Tripura National Scholarship Portal
Scholarship Name : Tripura State NEC Merit Scholarship Scheme 2017-18
Applicable for : Tripura State
Scholarship Deadline : 10-04-2018 (Date Extended)
Website : https://scholarships.gov.in/stateRegfrmInstruction
You can now ask your question on this scholarship.
Ask here
(OR) Go to the bottom of this page for comments.
Tripura NEC Merit Scholarship
Online NEC Scholarships disbursements is one of the important welfare measures of the Government of Tripura which is aimed at the educational upliftment of students Below poverty line(BPL), initiated by the Department of NEC.
Update : NSP Tripura NEC Merit Scholarship 2018-19 : www.scholarships.net.in/31400.html
How to Apply
National Scholarship Portal welcomes you to register and apply to scholarship schemes of Tripura State.
You can do so this in 3 simple steps :
Step 1 : Register yourself on National Scholarship Portal (scholarships.gov.in/) by clicking on 'Register Here' link as shown in screen below.


Once registered, system will generate a unique Application id in the format TR201718XXXXXXXXX. This Application id and password will also be sent to your registered mobile number as text message.
Step 2 : Use the Application id and password to login on NSP 2.0 portal. Upon successful login, change the password and save it for future use.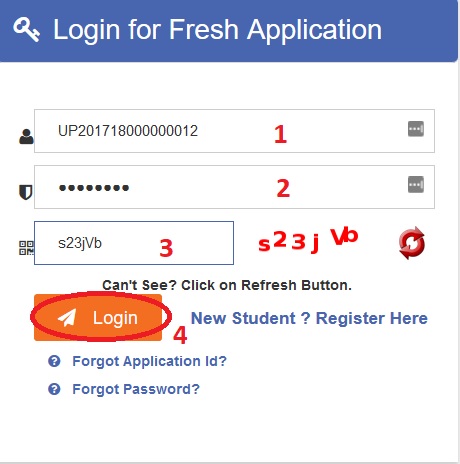 You will then be directed to a customized dashboard where you will be able to apply for Scholarship Schemes of you state.
Step 3 : In the dashboard, apply for Scholarship Scheme by clicking on 'Application form' link or 'Apply' button as shown in the screen below.
Important Note : The login id and password to log into NSP portal will be your Application Id and DOB respectively. You are advised to mandatory change your password at the time of first login for security purposes.
FAQs
NEC MERIT SCHOLARSHIP FOR THE CATEGORY (SC/ST/GENERAL) STUDENTS OF TRIPURA STATE.
1. Is the scheme open for all candidates enrolled in Indian Universities/Colleges/Institutes?
It is open for all candidates of Professional/Technical course/Management/M.Phil/Ph.d) students enrolled in Indian Universities/Colleges/institutes and who are domicile of Tripura State.

2. Is there any annual income calling for candidates to be included under the scheme?
yes, only those candidates whose annual family income is less than or equal to Rs.4.5 Lakh per annum are covered under ambit of the scheme income certificate issued by the competent authority(Sub-Divisional Magistrate)will have to be Uploaded with online application.

3. Is there any minimum marks for grant of NEC merit scholarship?
yes,The minimum marks for applying of NEC merit scholarship should be 70% for General & 60% for SC/ST candidates in the relevant qualifying examination for Diploma/Degree/Pc/Phd-) levelcourse should be on the basic of topic of rescure which was relevant to NE Region.
4. Is there any form?
Yes, the permanent resident certificate of Tripura State issued by the (Sub-Divisional Magistrate) wilt have to be uploaded with the online application need for uploading of domicile certificate along with the online application competent authority form.
5. Are students enrolled in private/deemed universities (not founded by either Central or State Government) eligible to apply?
Yes,The scheme is applicable for students for all the Institutions in India i.e.Govt.Degree Colleges,Technical Govt.Processional colleges(under the State Govt. & Central Govt.)Universities. private/deemed universities (not founded by either Central or State Government) who are studying in Diploma/Degree/PG Diploma/PG Level/M.Phil/Ph.D to next higher studies during the current academic year are eligible.

6. Are students enrolled in integrated courses of eligible institutions eligible to apply?
Only Degree level students enrolled in integrated courses are eligible to apply.
7. Are students enrolled in dual degree courses eligible to apply?
Students pursuing dual course (Degree+PG)will be entitled to receive stipend for Degree level only.
8. Are all courses covered under the ambit of the scheme?
The scholarship will be awarded only for the courses as per guideline of the North Eastern Council,secretariat,Shillong, Government of India.
9. Will the scholarship transfer in case the awardee changes the institution or course during the tenure of scholarship?
No. There is no provision of transfer of scholarship.

10. Will the scholarship be renewed if the awardee fails in the first or subsequent years of study?
No, The scholarship will not be renewed if the awardee fails to qualify in the annual or term end examinations of the course.

11. Are the students who have enrolled in some course in distance mode or have obtained admission through management quota be considered eligible for award of scholarship?
These categories of students will not be considered for award of scholarship.