schoolscholarship.cg.nic.in : Chhattisgarh Middle School Pre & Post Matric Scholarship Portal
Organisation : Chhattisgarh School Education
Scholarship Name : Chhattisgarh Middle School Pre-Matric Scholarship Portal
Applicable For : Class 6th to 8th Students of Scheduled Caste, Tribal & Other Backward Classes
Applicable State : Chhattisgarh
Website : http://schoolscholarship.cg.nic.in/
Chhattisgarh School Pre-Matric Scholarship
A pre-matric scholarship portal has been created to distribute scholarship online to students of scheduled caste, tribal and other backward classes and the scholarship will be transferred to the students' accounts.
Related / Similar Post :
Chhattisgarh CM Knowledge Promotion Scheme Merit List 2019-20
The following schemes are included under the Middle School Scholarship Schemes.
1. Chhattisgarh State Scholarship Scheme
2. Virgo Literacy Scheme
3. Unclean Business Plan
How To Apply?
Go to the official site through the Link (schoolscholarship.cg.nic.in)

Enter the following details for Login,
Step 1 : Select Academic Year
Step 2 : Enter User Id
Step 3 : Enter Password
Step 4 : Answer the Security Question ie. 5+7=?
Step 5 : Click Login Button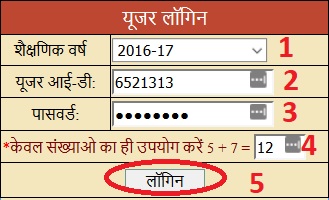 After Logged in, you can apply for the scholarship by entering Student Personal Information and Student's Address.
Download Scholarship Form 2018-19 :
Form A :
https://www.scholarships.net.in/uploads/pdf2018/18753-A.pdf

Form B :
https://www.scholarships.net.in/uploads/pdf2018/18753-B.pdf
Note :
Registration of students from class IX to VIII will be done (form A & B) and all the students of all non-government schools (class I to VIII) will be registered with BEO.
Regular enrollment of students in class 9th to 12th of government schools, login to your school's UDISE using the ID and password.
Contact :
Please send us any suggestions, feedback and complaint to school scholarship portal at scholarshiphelp.cg [AT] nic.in
Education in Chhattisgarh
The education scenario in Chhattisgarh is not very remarkable as it lacks proper educational infrastructure. However, the state government has launched several programs for enhancing the academic scenario of the state.
The overall growth in the literacy rate has been possible due to the persistent efforts of the state government. According to the 2001 census report, Chhattisgarh had a literacy rate of 65.18% which included male and female literacy rate of 77.86% and 52.40% respectively.
Special importance is given to the education of women and students belonging to the underprivileged section of the society. The capital city Raipur is the main center of higher education in Chhattisgarh. It houses some of the most important departments of education in the state.
School Education
Most of the children in the state generally attend 3 years of Montessori school before joining 1st standard in the school. The schools in Chhattisgarh follow the same 10+2 pattern of education like the other union territories and states in India.
One can come across both private and state-run schools in Chhattisgarh. The government run schools are mostly affiliated to the Chhattisgarh Board of Secondary Education. Students can also join schools affiliated to the Central Board of Secondary Education (CBSE) or Council for the Indian School Certificate Examination (CISCE).
In the state-run schools Hindi is generally the medium of instruction while English is preferred by most of the private schools. New Life English School Jankpur, Jain International School, Adarsh Vidya Mandir, Gyanganga Educational Academy, Delhi Public School, Kaanger Valley Academy, Bhartiya Sanskriti Higher Secondary School and Salem English School are some of the popular schools in Chhattisgarh. Under Raipur District total 508 including RMSA school .Dr. R. Bambra is deo raipur