wbcmo.gov.in : 2017-18 Nabanna Scholarship WB CMO Chief Minister Relief Fund West Bengal
You can ask questions or answer questions about this scholarship.
Please go to the bottom of this page.
Organization : West Bengal Chief Minister's Office
Scholarship Name : WB Chief Minister Relief Fund Nabanna Scholarship 2017-18
Applicable For : 10th Pass / Higher Secondary(10+2) / Graduation Students
Applicable State : West Bengal
Application Last Date : 31st December 2017
Website : http://wbcmo.gov.in/donation.aspx#c2
Application Form : https://www.scholarships.net.in/uploads/17667-CMO.pdf
WB Chief Minister Relief Fund Scholarship
Financial Assistance for Education are granted from the fund for the New Educational Development initiatives for Poor & Meritorious Setudentd in West Bengal for the financial Year 2017-2018 on the basis of written application submitted to the Honorable Chief Minister, WB
Related / Similar Scholarship : WB Chief Minister Relief Fund 2020-21
Eligibility:
Assistance from Chief Minister's Relief Fund and Chief Minister's Discretionary Fund is given to the student
** Who is a permanent resident of the State of West Bengal.
** Who is studying in any institutions of the State after passing out the State Board /Council of Secondary Education or a State aided University in West Bengal.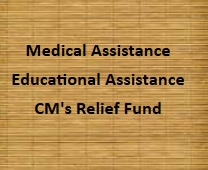 ** Who has got 65% marks in aggregate in Madhyamik Examination [for H.S. level] or 60% in aggregate in H.S. Examination [ for U.G. level] or 55% Marks in the Honours Subject [for P.G. level]
** Who do not enjoy any other governmental(central/state) scholarship or stipend for the same course or stage of study.
** Whose annual family income does not exceed Rs. 60000/-.
Required Documents :
** Copies of Mark Sheets of all previous examinations passed.
** Copies of Rank Card & Allotment letter of Selection Committee (only for JEE or Equivalent Examination)
** Copy of Monthly Family Income Certificate from any one mentioned within the bracket – (DM/ SDO/BDO / Group-A Govt. Officer not below the rank of Joint B.D.O./ Executive Officer in case of Municipality/ Deputy Commissioner of Corporation).

** Copy of Recommendation from MP/MLA stating monthly family income of the student.
** Self declaration of the student under his/her signature regarding present course of study mentioning year/semester and receipt of any scholarship / aid/assistance, duly countersigned by the head of the Present institution with seal .Photo copies of all the documents are required to be attested by Group-A Govt.Officer.
** Self Bank Account Details (IFSC Code, Branch Code, Branch Name, Account Number, Bank Name) with Photo copy of Bank Pass Book.
** Photo Copy of tution/admission fees book.
** Contact Details with self Mobile No.
How to Apply:
** Download and Filled the Application Form.
** Print out Application from.
** The Application from is correctly & completely filled up.
** Attach with Application from all relevant Document.
** Send Application from with Document through Ordinary Post / Dropbox to the Address of
The Assistant Secretary,
Chief Minister's Office,
'Nabanna'
325, Sarat Chatterjee Road
Howrah – 711 102
Note:
Incomplete application will be canceled
Contact :
For any enquiry and suggestion, all are most welcome at the following Telephone : (033)2214 1902 or (033) 2253 5278