wbcmo.gov.in Nabanna Scholarship 2018-19 : WB CMO Chief Minister Relief Fund West Bengal
Organization : West Bengal Chief Minister's Office
Scholarship Name : Nabanna Scholarship 2018-19 WB Chief Minister Relief Fund
Applicable For : 10th Pass / Higher Secondary(10+2) / Graduation Students
Applicable State : West Bengal
Application Deadline : 31st December 2018
Website : http://wbcmo.gov.in/default.aspx
You can now ask your question on this scholarship.
Ask here
(OR) Go to the bottom of this page for comments.
WBCMO Nabanna Scholarship
West Bengal Chief Minister's Office invites applications for Chief Minister Relief Fund Nabanna Scholarship 2018-19
Related : Swami Vivekananda Merit Cum Means/ Kanyashree K3 Scholarship Application 2018 West Bengal : www.scholarships.net.in/28094.html
Who Can Apply?
Assistance from Chief Minister's Relief Fund and Chief Minister's Discretionary Fund is given to the student
** Who is a permanent resident of the State of West Bengal.
** Who is studying in any institutions of the State after passing out the State Board /Council of Secondary Education or a State aided University in West Bengal.
** Who has got 65% marks in aggregate in Madhyamik Examination [for H.S. level] or 60% in aggregate in H.S. Examination [ for U.G. level] or 55% Marks in the Honours Subject [for P.G. level]
** Who do not enjoy any other governmental(central/state) scholarship or stipend for the same course or stage of study.
** Whose annual family income does not exceed Rs. 60000/-.
How to Apply?
Just follow the below steps to apply for the Nabanna Scholarship 2018-19.
Steps :
Step 1 : Go to the official website of West Bengal Chief Minister's Office through the URL provided above.
Step 2 : Download the Application Form from the official website or you can directly download it from below mentioned link.
Download Application Form :
https://www.scholarships.net.in/uploads/pdf2018/28625-Form.pdf
Step 3 : Print out Application form. The Application from is correctly & completely filled up.
Step 4 : Attach with Application from all relevant Document.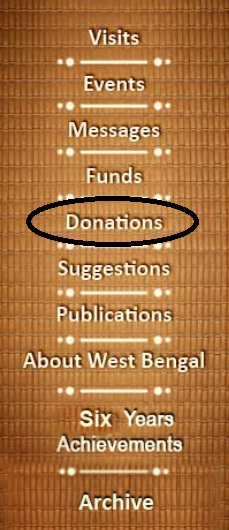 Step 5 : Send Application from with Document through Ordinary Post / Dropbox to the Address of
The Assistant Secretary,
Chief Minister's Office,
'Nabanna'
325, Sarat Chatterjee Road
Howrah – 711 102
Note :
Incomplete application will be cancelled
Documents Required
** Copies of Mark Sheets of all previous examinations passed.
** Copies of Rank Card & Allotment letter of Selection Committee (only for JEE or Equivalent Examination)
** Copy of Recommendation from MP/MLA stating monthly family income of the student.
** Copy of Monthly Family Income Certificate from any one mentioned within the bracket – (DM/ SDO/BDO / Group-A Govt. Officer not below the rank of Joint B.D.O./ Executive Officer in case of Municipality/ Deputy Commissioner of Corporation).
** Self declaration of the student under his/her signature regarding present course of study mentioning year/semester and receipt of any scholarship / aid/assistance, duly countersigned by the head of the Present institution with seal .Photo copies of all the documents are required to be attested by Group-A Govt.Officer.
** Self Bank Account Details (IFSC Code, Branch Code, Branch Name, Account Number, Bank Name) with Photo copy of Bank Pass Book.
** Photo Copy of tuition/admission fees book.
** Contact Details with self Mobile No.
Helpdesk
For any enquiry and suggestion, all are most welcome at the following Telephone : (033)2214 1902 or (033) 2253 5278