dst.gov.in Women Scientists Scheme WOS-A Scholarship : Department of Science & Technology
Organization : Department of Science & Technology
Scholarship Name : Women Scientists Scheme (WOS-A) Scholarship
Applicable For : Women Scientists
Applicable States : All India
Application Deadline : No Last Date
Website : http://dst.gov.in/scientific-programmes/scientific-engineering-research/women-scientists-programs
You can now ask your question on this scholarship.
Ask here
(OR) Go to the bottom of this page for comments.
DST Women Scientists Scheme
The 'Women Scientists Scheme (WOS-A)' of the Department of Science and Technology is aimed to provide opportunities to women scientists and technologists for pursuing research in basic or applied sciences in frontier areas of science and engineering.
Related : DST WOS-C 2019 Women Scientist Scheme-C : www.scholarships.net.in/35857.html
This Scheme to encourage those women scientists who have had break-in-career. It will provide a launch pad for them to return to mainstream science and work as bench-level scientists in the field of science and technology.
The Scheme is open throughout the year. Therefore, there is no last date of application.
Scientific Disciplines
The scholarships have been instituted in the following subject areas :
(1) Physical Science;
(2) Chemical Science;
(3) Mathematical Science;
(4) Life sciences;
(5) Earth Sciences;
(6) Atmospheric Sciences;
(7) Engineering Sciences.
Changes in Grant-in-Aid :
https://www.scholarships.net.in/uploads/pdf2018/1618-GIA.pdf
A project proposal should be submitted in active collaboration with an academic/R&D institution in the chosen subject area.
Eligibility
** Persons already in employment need not apply.
** Women scientists, with a minimum of Post Graduate degree, equivalent to M.Sc. in Basic or Applied Sciences or B.Tech. or MBBS or other equivalent professional qualifications, are eligible for this scheme.
** Maximum age limit is 35 years. The amount of fellowship for such candidates will be Rs. 20,000/- PM.
** Women scientists having a Ph.D. in Basic or Applied Sciences or M.Tech. or MD/MS, DM/MCH in Medical Sciences from recognized Universities can apply up to the age of 50 years. The amount of fellowship for such candidates will be Rs. 35,000/- PM.
** Age relaxation of 5 years would be given to candidates belonging to SC/ST/OBC and physically challenged category.
** Attested copies of supporting documents in this regard must be enclosed.
Desirable :
** Preference would be given to candidates having a break-in-career due to family reasons.
** Also, preference would be given to Ph.D./equivalent degree candidates.
** M.Sc./equivalent candidates may, however, be also considered if they have a bright academic record and demonstrable research experience in the form of publications, dissertations, patents, etc.
Support :
This scheme will provide a research grant with an upper limit of Rs. 23 lakh (for Ph.D. or equivalent) and Rs. 20 lakh (for M.Sc. or equivalent) for a well-defined R&D project proposal for a period of three years.
This grant will include the fellowship of the applicant and cost of small equipments, contingencies, travel, consumables etc. Institutional overhead charges will be extra.
Last Date of Application
The Scheme is open throughout the year. Therefore, there is no last date of application.
Procedure For Applying
** Five (5) copies of neatly typed application (in single space and on both sides of the paper) should be submitted in the enclosed format at the address given below.
** Carefully prepared proposal should be concise focused and complete in all respects.
Address for Submission of Application and Enquiries:
Dr H B Singh
Officer-in-Charge
Women Scientists Scheme (WOS-A)
Department of Science & Technology
Technology Bhavan, New Mehrauli Road
New Delhi – 110016
E-mail: haribsingh at nic dot in
Phone No: 011-26590273
Submit PES Online
To Submit your PES Project Executive Summary follow the below steps,
Personal Details :
Step 1 : Select Title *
Step 2 : Enter First Name *
Step 3 : Enter Middle Name
Step 4 : Enter Last Name *
Step 5 : Enter Fathers Name *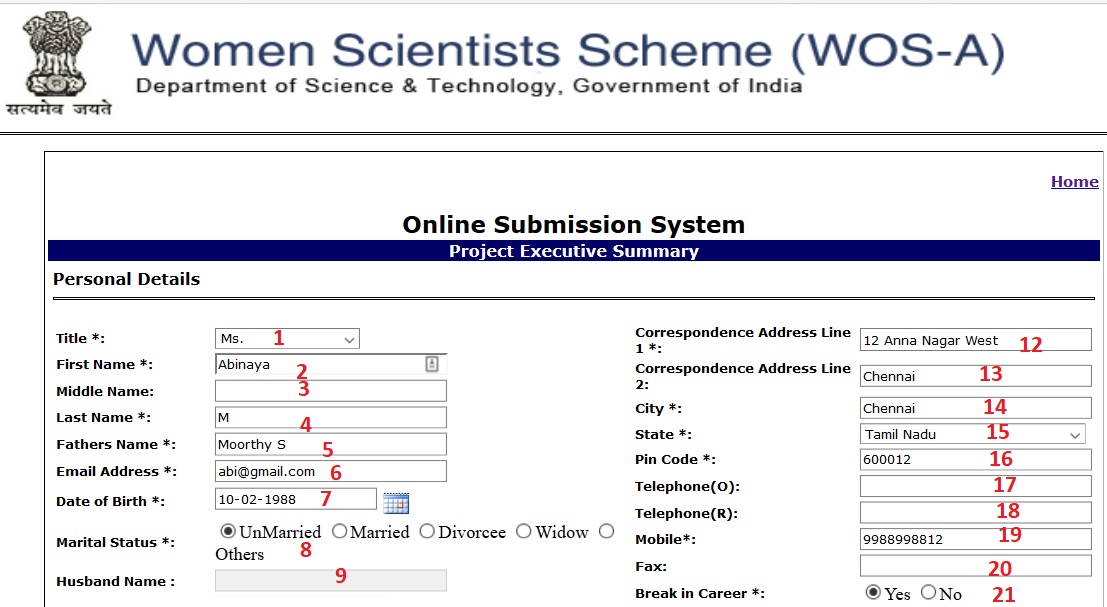 Step 6 : Enter Email Address *
Step 7 : Enter Date of Birth *
Step 8 : Select Marital Status * – UnMarried/Married/Divorcee/Widow/Others
Step 9 : Enter Husband Name
Step 10 : Select Category *
Step 11 : Select Employement Status *
Step 12 : Enter Correspondence Address Line 1 *
Step 13 : Enter Correspondence Address Line 2
Step 14 : Enter City *
Step 15 : Select State *
Step 16 : Enter Pin Code *
Step 17 : Enter Telephone(O)
Step 18 : Enter Telephone(R)
Step 19 : Enter Mobile*
Step 20 : Enter Fax
Step 21 : Select Break in Career * – Yes/No
Step 22 : Enter Descriptions of Break
Highest Educational Qualification Details :
Step 23 : Select Highest Educational Qualification *
Step 24 : Select Year *
Step 25 : Enter Subject
Step 26 : Enter Thesis/Dissertation
Step 27 : Enter Guide Name, Designation & Address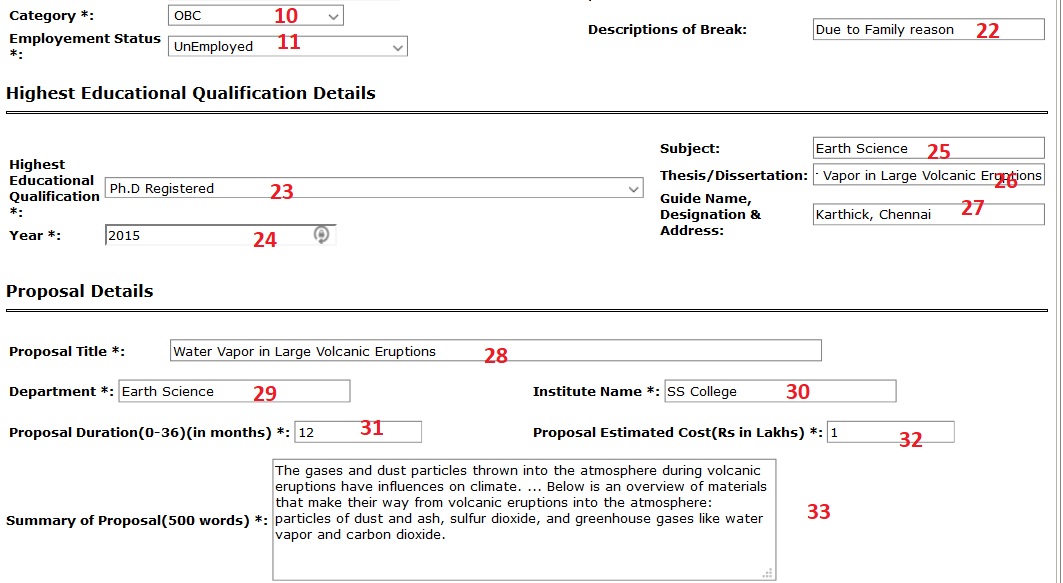 Proposal Details :
Step 28 : Enter Proposal Title *
Step 29 : Enter Department *
Step 30 : Enter Institute Name *
Step 31 : Enter Proposal Duration(0-36)(in months) *
Step 32 : Enter Proposal Estimated Cost(Rs in Lakhs) *
Step 33 : Enter Summary of Proposal(500 words) *
Step 34 : Enter Field of Experience(Keywords separated by comma) *



Step 35 : Enter Captcha – Please enter the text as seen on the following image.
Step 36 : Click on the Submit button.
Note : * Fields are Mandatory
Instruction :
** First, submit "Project Executive Summary (PES)" online. It contains general information about the candidate and a brief summary of the proposal.
** After submission of PES, an on-screen acknowledgement will appear which contains a Serial Number. Note down this Serial Number for future enquiries.
Utilization Certificate Download Here :
https://www.scholarships.net.in/uploads/pdf2018/1618-UC.pdf
** The submitted PES will be examined by the Department and decision will be communicated through email.
** If submitted PES is accepted by the Department then a login ID and password will be intimated through email.
** This login ID will enable the submission of 'Project Proposal Document (PPD)
Result
Result of SEC Meeting of 'Life Sciences' under WOS-A held on October 01-03,2018 at KIIT University,Bhubaneswar
Check Result Here :
https://www.scholarships.net.in/uploads/pdf2018/1618-LS.pdf