Post Matric Scholarship Application Status Uttarakhand : escholarship.uk.gov.in
You can ask questions or answer questions about this scholarship.
Please go to the bottom of this page.
Organization : Social Welfare Department
Service Name : Track Scholarship Application Status
State: Uttarakhand
Website : http://escholarship.uk.gov.in/Public/frmSearchForApplication.aspx
eScholarship Track Application Status
The status of the student's scholarship application may be tracked via the application number.
Related / Similar Post :
One Time Registration For Uttarakhand Scholarship
It can be directly accessed from the home page under the link "Search for Application" and does not require any user credentials to access.
Procedure
You have to follow the below steps to check the Scholarship Application Status. Enter your scholarship application number/id to get/search the status of your scholarship application.
Step 1 : Select Academic Year*
Step 2 : Select Institute
Step 3 : Enter Scholarship Application Number
Step 4 : Enter CAPTCHA
Step 5 : Click on the Search button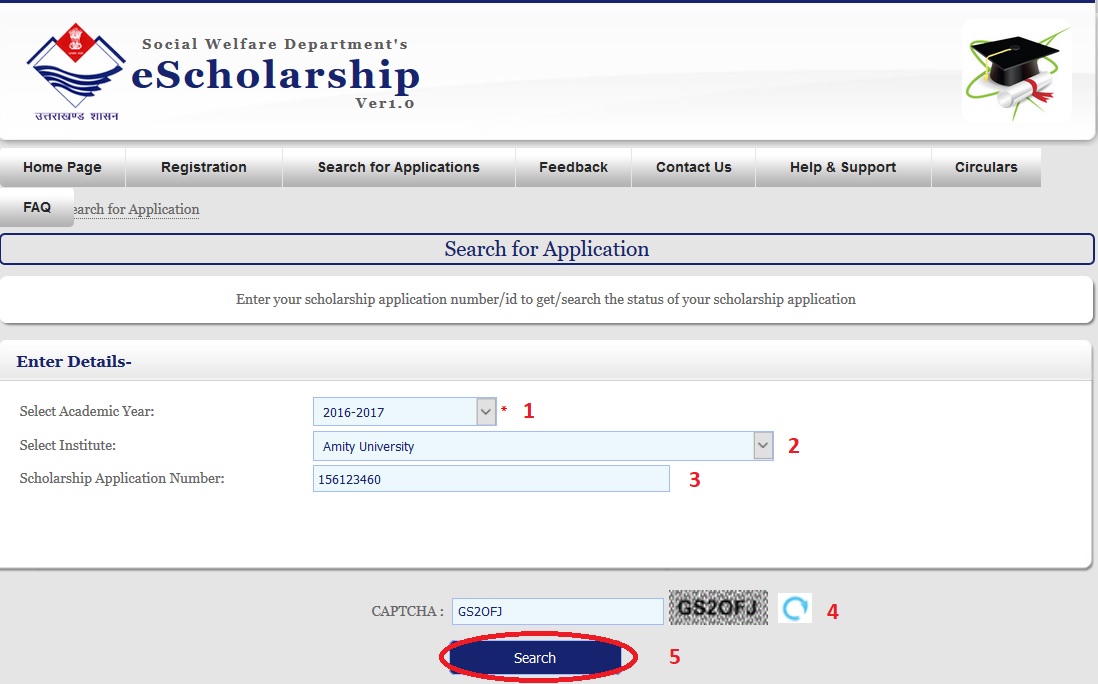 Important Instructions
1. Aadhar Number is Mandatory from the Academic Session 2016-2017 onwards.
2. All applications marked as Duplicate /Permanent rejected have been removed from the renewal Process.Email ids/login ids of such students have been de-activated.
3. Only One Application per student is allowed for renewal in one particular academic year.
4. Those Student who are already registered, need not to register again.They have to login with their existing credentials to renew their online scholarship application for this academic year.
5. Academic Year 2015-16 onwards no application will be accepted offline even from the students studying out-side Uttarakhand.
6. Students are advised to consult their institute's Nodal officer for the inclusion of courses and Institute registration.
7. Scholarship Applications of students studying out-side will be forwarded online by their respective institutes.
8. Students who have taken admission in Pvt Colleges under Management quota are not eligible for this scholarship, such students are advised not to submit their online applications.
9. For Last date and other details please refer to recent Govt orders available under the 'Circulars' menu in the website.
10. To know how to submit fresh scholarship application / renew scholarship application,Please refer to User Manual(Students) available under 'Help&Support' menu.
Disclaimer :
The information and contents are in dynamic nature and the ownership of the data lies with social welfare department of Uttarakhand Government. However NIC does not take responsibility on how this information is used or the consequences of its use.
The role of "NIC Uttarakhand State Unit" is limited to technical support to Government Department for hosting their websites on NIC's Server. In case of any inconsistency/confusion, the user should contact the Web Information Manager of Social Welfare Department of Government of Uttarakhand for further clarifications.