escholarship.uk.gov.in One Time Online Registration For Students Applying For Scholarship Uttarakhand : Social Welfare Department
Want to comment on this post?

Go to bottom of this page.
Organization : Social Welfare Department
Service Name : One Time Online Registration For Students Applying For Scholarship
State: Uttarakhand
Register Here : http://escholarship.uk.gov.in/Public/frmOnlineRegistration.aspx
Social Welfare Uttarakhand One Time Registration
To Apply for the scholarship kindly follow the below steps,
Related / Similar Scholarship :
Uttarakhand Post Matric Scholarship System

Social Welfare Department Uttarakhand Post Matric Scholarship 2016-17
Student Section:
This section covers the student related activities.
Student Registration
** Go to the Social Welfare Department website (escholarship.uk.gov.in)
** Click the Student Registration link.

** Enter the following details correctly and click on the 'Save and Register' button
Personal Details :
Step 1 : Enter Name of the Applicant
Step 2 : Enter First Name *
Step 3 : Enter Middle Name
Step 4 : Enter Last Name *
Step 5 : Enter Father/Husband's Name
Step 6 : Enter Mother's Name
Step 7 : Select Gender*
Step 8 : Enter Date of Birth*
Step 9 : Select Category*
Step 10 : Enter eMail Address*
Step 11 : Enter Aadhar Card Number
Step 12 : Enter Mobile Number*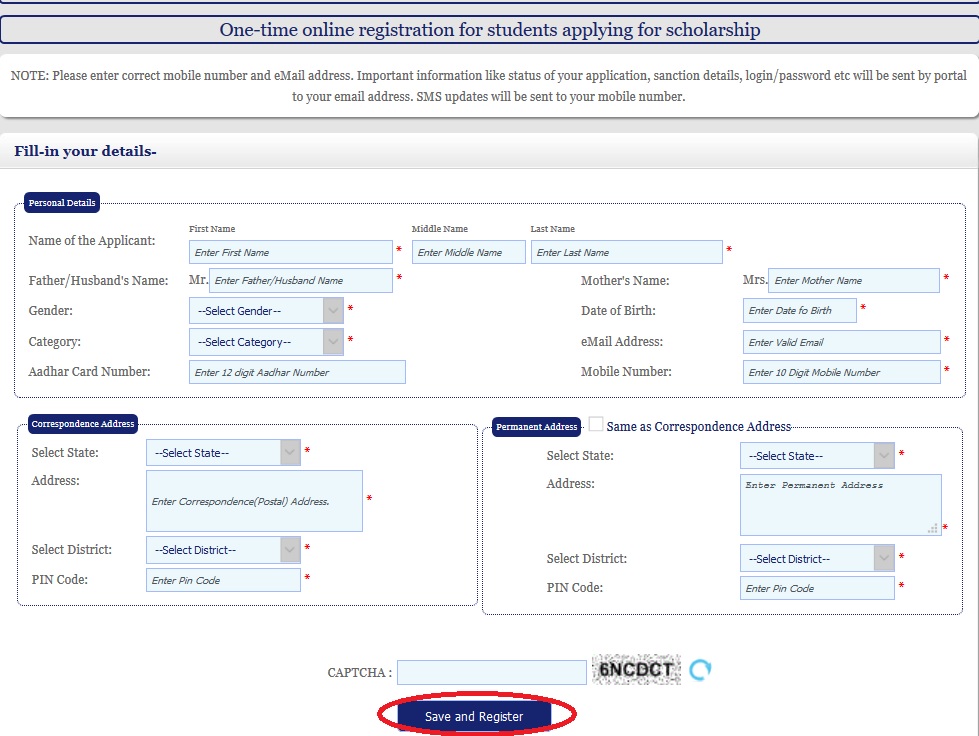 Correspondence Address :
Step 13 : Select State*
Step 14 : Enter Address*
Step 15 : Select District*
Step 16 : Enter PIN Code*
Step 17 : Click Permanent Address Same as Correspondence Address
Step 18 : Enter CAPTCHA
Step 19 : Click Save & Register button
** Please enter correct mobile number and eMail address. Status of your application, sanction details, login/password etc will be sent to your registered email address. SMS updates will be sent to your mobile number.
** Student can check his/her email after successful registration. Once student gets the email, he/she has to visit the link by directly clicking on it to set his/her password.
** On successful registration an email and SMS will be sent to students email account and registered mobile number.
Submission of Application
1. To Apply for the scholarship access 'Student's Login' in home page by providing login id and password in login form.
2. After Login select the type of scholarship scheme for which he/she wants to apply and clicking on Proceed button.
3. On successful submission, escholarship application will generate an application number which is used for scholarship disbursement.
Uploading Documents
Before applying for scholarship, the student must ensure the proper scanning of following documents.
1. Last exam passed Certificate
2. Income Certificate
3. Caste Certificate
4. Residency (Domicile) Document
5. Bona fide Document
6. Passbook Copy(Main Page)
7. Counseling
Note: S.No 7 is required for OBC students taking admission in AICTE / MCI /NCTE and technical education council Uttarakhand approved institute
Upload Photograph:
The photograph upload form is used to upload latest photograph of student into the system.
Note:
It is advised that the photograph should be clear and in correct format. The photograph size required is of passport size. Student Photo Upload form
Student Login
Before apply for the scholarship you have to Login. Enter the following details for Login,
Step 1 : Enter User/email ID
Step 2 : Enter Password – Password will be sent to your registered Email Id/Mobile Number
Step 3 : Enter Captcha
Step 4 : Click Login button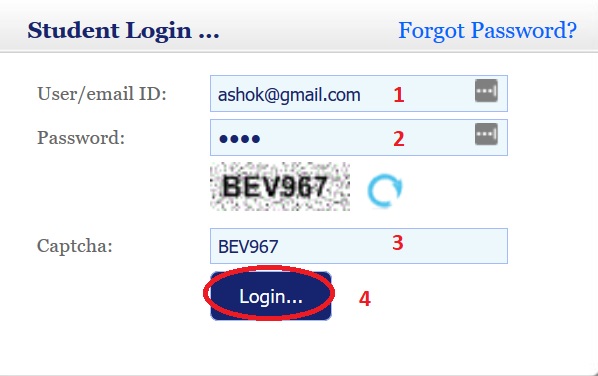 Edit Application
A student can edit his/her online application by accessing 'Apply for Scholarship' in the home page then select "Edit Scholarship Application". By entering his/her application number student gets his/her application and modify the details.
Forgot Password
If you don't remember your password follow the below steps to recover your password,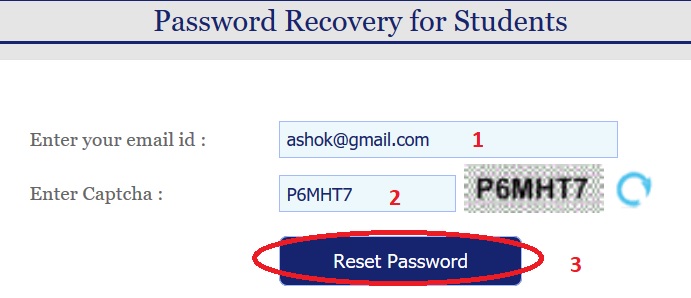 Step 1 : Enter your Email Id
step 2 : Enter Captcha – Type the characters as in the image
Step 3 : Click 'Reset Password' button.
Print Application:
Once online application is submitted successfully, students must take print out of their application and attach all six certificates and submit to their respective institute for further action.
Change Password:
This module is used to change password for e-scholarship application.
Note:
It is advised that one must change password regularly. New password should be as per password policy. Last three passwords cannot be used as new password. Once all activities carried out successfully, student must click on logout link to terminate his/her session.
Note:
Any open access can be used by the unauthorized person to update the data.
Track status of Application
The status of the student's scholarship application may be tracked via the application number. Follow the below steps to Track the Application Status,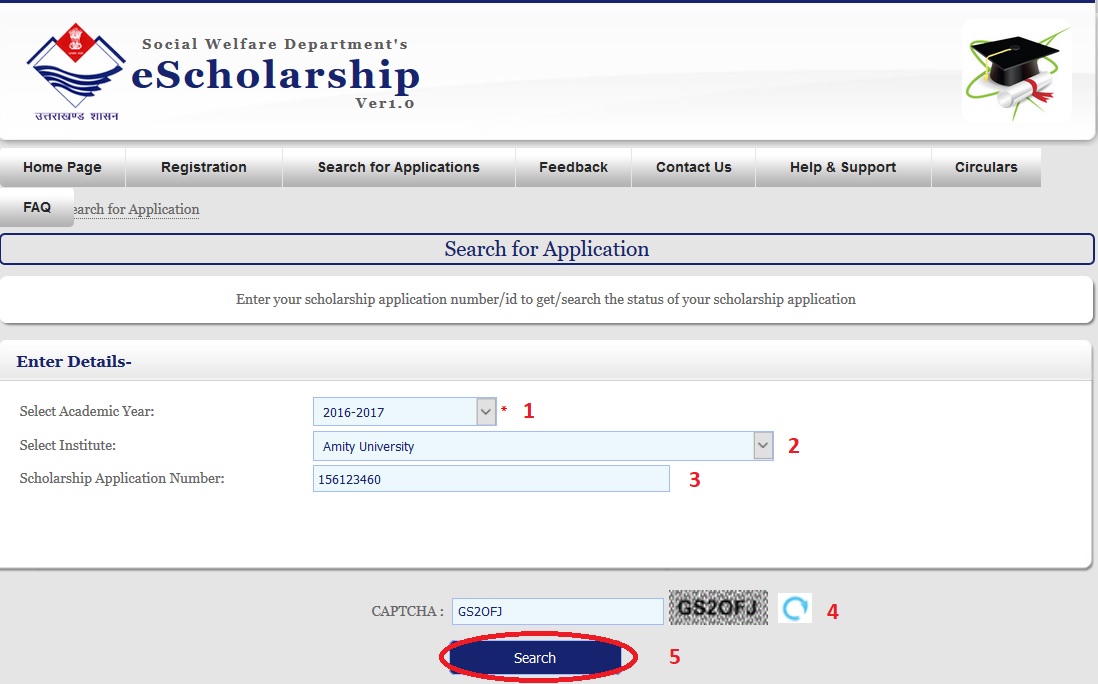 Step 1 : Select Academic Year*
Step 2 : Select Institute
Step 3 : Enter Scholarship Application Number
Step 4 : Enter CAPTCHA
Step 5 : Click on the Search button