scholarships.gov.in Change Registration Details Online : National Scholarship Portal
You can ask questions or answer questions about this scholarship.
Please go to the bottom of this page.
Organization : Government of India (National Scholarship Portal)
Service Name : Change/ Edit Scholarship Registration Details Online
Applicable States/UTs : All Over India
Student Login : https://scholarships.gov.in/
NSP Edit Registration Details
Now you can change your registration details, it is available in student login. Follow the below steps to Change/ Edit Registration,
Related / Similar Post :
National Scholarships Portal FAQs
Student Login
Step 1 : Student Registration ID*
Step 2 : Enter Date of Birth (DD/MM/YYYY)
Step 3 : Enter Captcha
Step 4 : Click on the Login button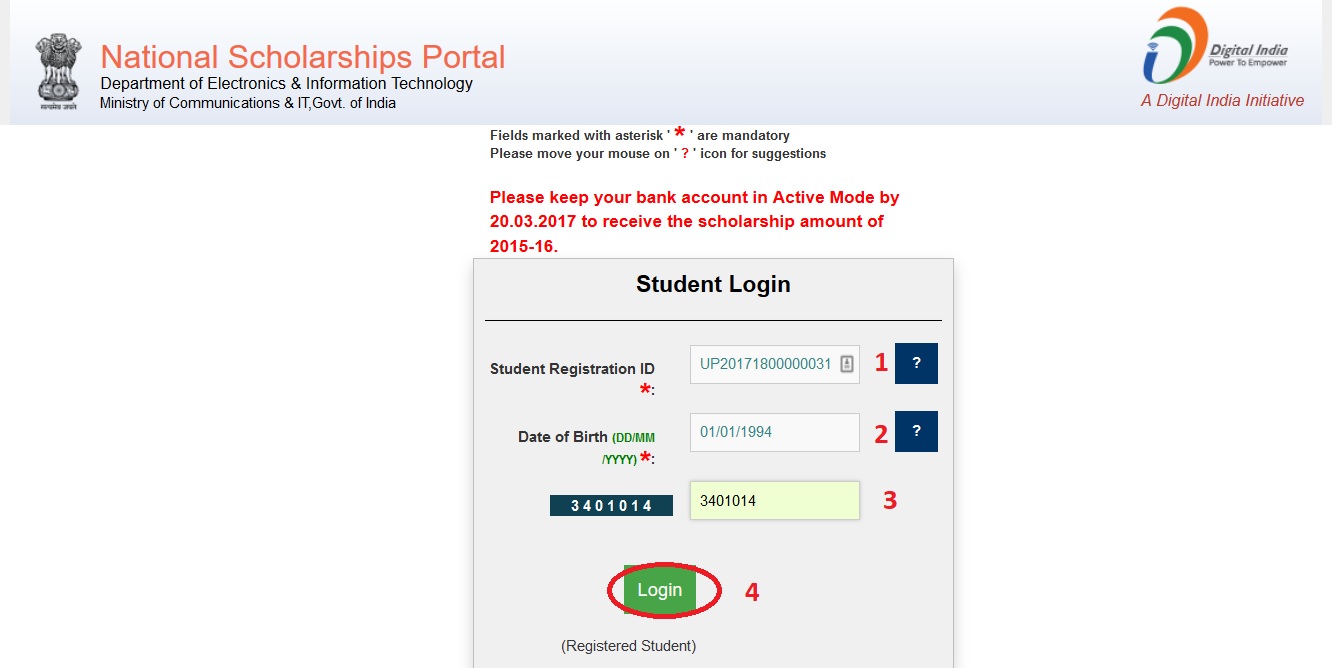 Help desk
Candidates can contact the Help Desk for resolution of the technical problems 0120 – 6619540
Note:
Fields marked with asterisk '*' are mandatory
Please move your mouse on ' ? ' icon for suggestions
FAQs
Question : There is no link available on NSP2.0 portal take care of registration of new educational Institute.
Answer : The facility to create new Institutes is provided to the State Nodal Officers.
Question : what is the prescribed format available in NSP2.0 for uploading various type of documents ?
Answer : The format of document which can be uploaded is provided in the Document Upload Popup Screen.
Question : How to handle the issue of length of Bank Account Number being restricted to 15 characters in NSP2.0 where the bank provides 16 or 18 characters ?
Answer : The length of the Account Number has been increased sufficiently.
Question : In case applicant is unable to select Block/Taluk, how to overcome this issue ?
Answer : The Block/Taluk has made Optional.
Question : Telephone helpline Number 0120-6619540 given on NSP2.0 portal is not functioning properly and lot of calls are being put on hold ?
Answer : The Telephone Helpline is been strengthened. More nodes are been added and working hours are also being increased.
Question : Please explain the procedure of Renewal of old scholarship.
Answer : Please choose "Apply for Renewal " option on the Home Page of the Portal there after the old Application Id and Password(Date of Birth) should be provided so that further steps can be executed.
Question : Would the Login credentials be sent by SMS?
Answer : Yes. The Application Id and Password sent by SMS.
Question : Can I know the operational guidelines for each stake holder?
Answer : These are being prepared for publishing.
Question : How to know the contact details of various Nodal Officers?
Answer : The Scheme wise details of State Nodal Officers is available under the Services Link of the NSP Portal.
Question : What is the remedy in case some scholarship scheme is not coming in drop down list ?
Answer : As per the inputs provided by the student, if these do not fit into the Guidelines, then Scholarship cannot be provided.
Question : How to track the status of my application ?
Answer : An option "Check Your Status" is available once you login with Application Id and DOB.
Question : How to know about the various services available on the portal ?
Answer : The complete User Manual, Contact Details of Scheme wise State Nodal Officers and other services are available under the link "SERVICES" on the Home Page of the Portal .
Question : Is the usage of Digital Signature Mandatory ?
Answer : The use of Digital Signature is not mandatory at registration / verification stage of NSP Application .
Question : How can Offline Entry be done in the Application ?
Answer : For Offline data, Bulk Download and Bulk Upload facility have been provided in the menu of State Nodal Officer . As per directions of Hon'ble Supreme Court, Aadhaar Number is not mandatory in NSP 2.0.
Those students who do not possess Aadhaar id, can enter either enrolment ID (EID) or scanned copy of their Bank A/c No or Joint Bank A/c No with Parent or Guardian's Passbook detail along with photo which are to be uploaded or submitted to the sanctioning authorities.
A new tool for uploading Offline Data (Excel File) has been developed and provided in State Nodal Officer login for entering Bulk data and uploading for both Fresh & Renewal cases.