Register School/College Details : National Scholarships Portal
You can ask questions or answer questions about this scholarship.
Please go to the bottom of this page.
Organization : National Scholarships Portal
Facility : Register School/College
Country: India
Register Here : http://aishe.gov.in/aishe/addInstitutePage
National Scholarships Register School/College
To Register School/College with National Scholarship portal follow the below steps,
Related / Similar Scholarship :
National Scholarships Portal Search School/College
** Open the URL-scholarships.gov.in in the web browser
** National Scholarship Portal Home Page is Displayed
** Click on the Services – Register School/College (In Home Page)
** Before Registering, check if it is already Registered with the Portal by using the "Find School/College".
School Not Found List
** If it is not found in the list then proceed for registration by Selecting "Register School/College" available on the right hand side of the web page.
** Fill in the Institute Registration Form as provided and click on submit button.
** Once the Online form is Successfully Submitted, The Institute will be verified and approved by the respective state Nodal Officer.
** Some states have published the details of nodal officers to the National Scholarships Portal.
** These can be viewed by clicking on "Services – Know your state nodal officer" on the home page.
** After the Verification & Approval process,the respective Login Credentials (user id and password) will on the home page.
How to Register?
Request Form for adding Institution
I. Enter Nodal Officer Profile :
Step 1 : Enter Officer Name *
Step 2 : Enter Designation *
Step 3 : Enter Email* (e.g. userid [AT] 123.com)
Step 4 : Enter Phone Landline Allowed only numbers with STD Code(e.g. 011 21221222).
Step 5 : Enter Mobile phone*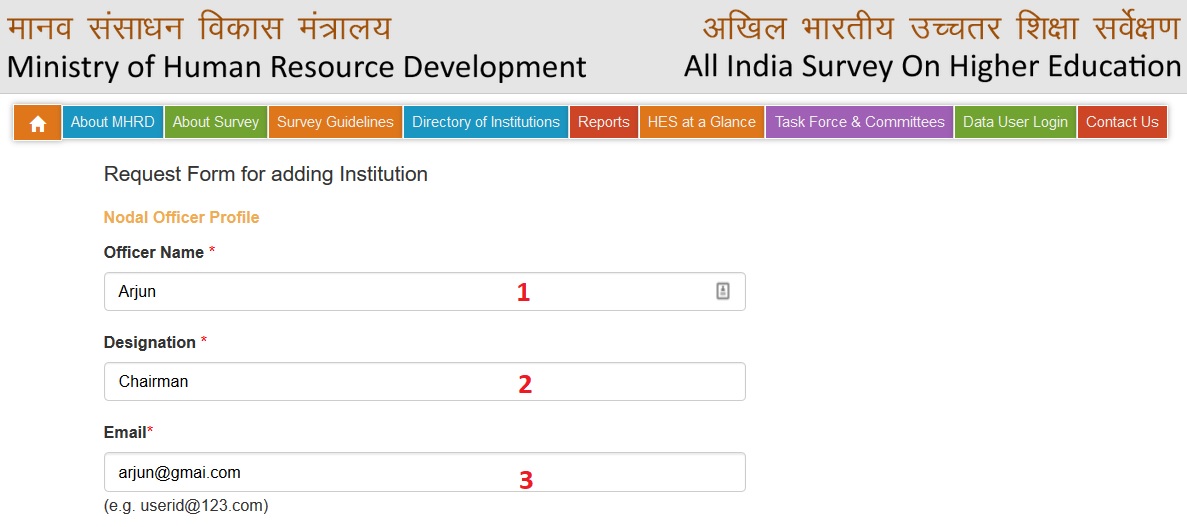 II. Institution Details :
Step 6 : Select Institution Category
Step 7 : Enter Name*
Step 8 : Select State*
Step 9 : Select District*
Step 10 : Select Location* – Rural or Urban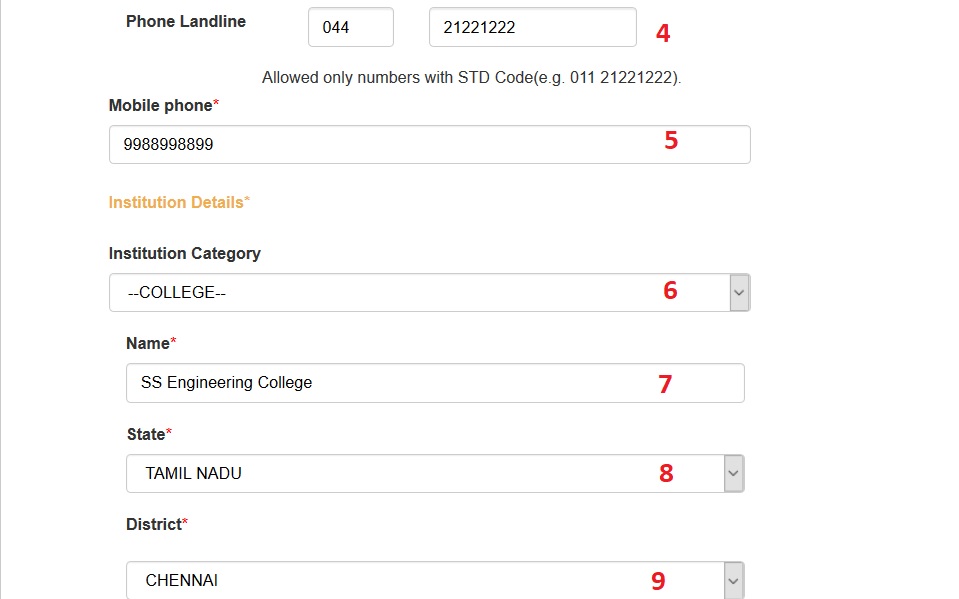 Step 11 : Select College Type*
Step 12 : Select Management Type*
Step 13 : Select Affiliating University State*
Step 14 : Select Affiliating University Name*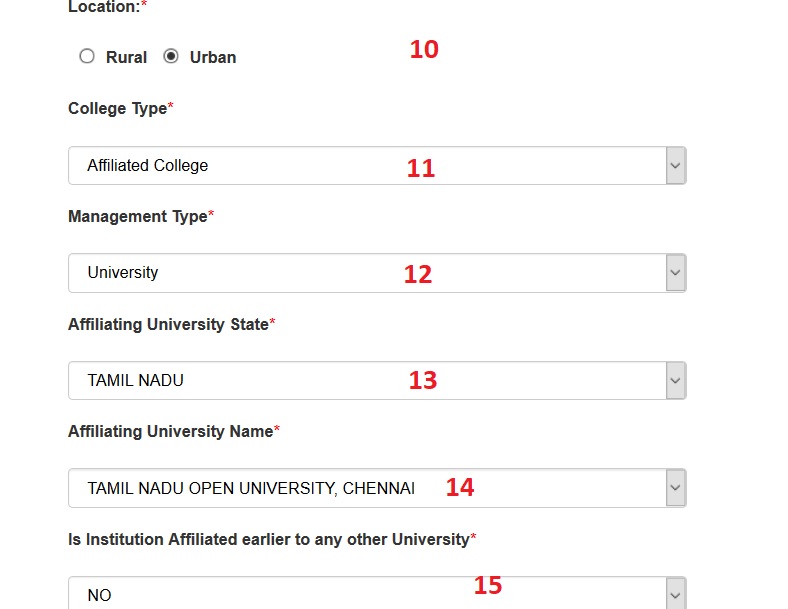 Step 15 : Select Is Institution Affiliated earlier to any other University*
Step 16 : Select Year from Which Admission Started*
Step 17 : Select a file to upload Proof of existance of an institution*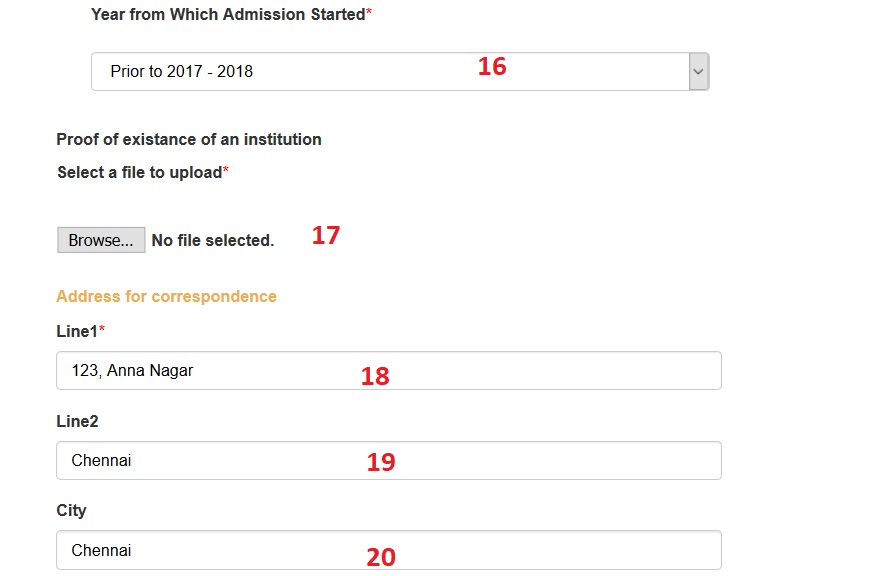 III. Address for correspondence :
Step 18 : Enter Line1*
Step 19 : Enter Line2
Step 20 : Enter City
Step 21 : Select State*
Step 22 : Select District*
Step 23 : Enter Pin Code *
Step 24 : Verification Code* Please enter the code shown in the image
Step 25 : Click on the "Submit" button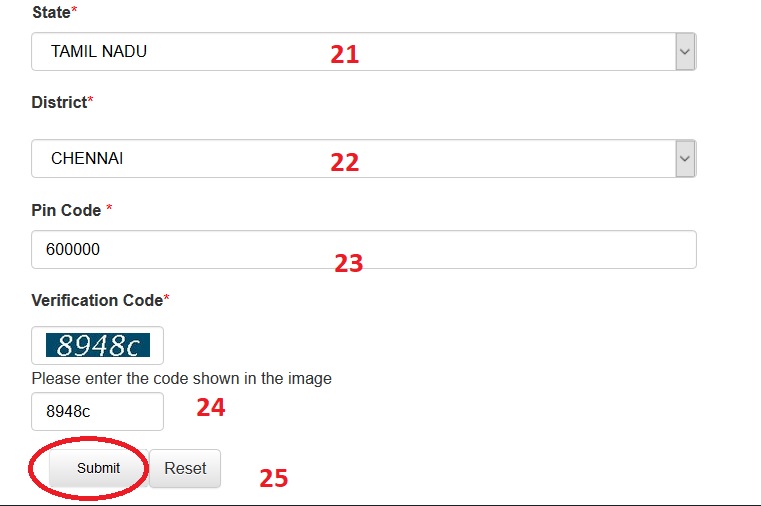 Search Institute/School/ITI
You can also Search your Institute/School/ITI registered with NSP.
Step 1 : Select Institution State
Step 2 : Select Institution District
Step 3 : Select Institute /College/ITI
Step 4 : Enter School/College/ITI Name(Optional) and follow Step 9.
Step 5 : Click on Get Institutions List button

Search By AISHE/DISE/ITI
Step 6 : Choose your Option – AISHE/ITI(NCVT) Code or DISE Code
Step 7 : Enter the Selected Option Code
AISHE Code Format :'U-09673'/'C-89353/'S-01937"
DISE Code Format : '908438734783484'
ITI(NCVT) Code Format :'GR22000096′
Step 8 : Click Get Institute based on Entered AISHE/DISE/ITI(NCVT) Code
Step 9 : Please Enter Captcha
FAQ
Question : Can I edit the information already saved and up-to what time?
Answer : All the information can be edited till the closure of application form. After final submission, your application will be forwarded to the next level and application hereby cannot be edited.
Question : Which fields in the application form are mandatory ?
Answer: Fields provided with red asterisk (*) mark are mandatory fields.
Question : What happens, if I detect mistakes after forwarding the applications to the next level?
Answer : You should separately inform the mistakes detected by you to the Institute/District/Region/State. The software provides facility at the level of the Institute & State to edit & correct limited information.
Question : Which fields Institute/State can edit ?
Answer : The Fields which can be edited are : Gender,Religion,Category,Profession,Annual Income,Aadhar Number,Disability,Day Scholar/Hostlar,Mode of Study,IFSC Code,Account No.,Admission Fees and Tution Fees.However, corrections made by the Institute/State, if any, would be conveyed instantly to the student through SMS/email.
Question : Do I have to fill up the online application in one sitting ?
Answer : No. You can fill up the online application in as many sittings as you wish, until you are satisfied that you have entered all desirable fields correctly. The software provides facility to save your application at every stage.
Question : What is UID number/Aadhaar Number?
Answer : UID number otherwise known as 'Aadhaar' number is Unique Identification Number given by Unique Identification Authority of India (UIDAI). Aadhaar is unique 12 digit number assigned after de-duplication of biometrics.
Question : Do I need to get my Aadhaar Card to apply for Scholarship ?
Answer : Aadhaar No. is not Mandatory for the Students in order to Register and fill up the application form online. Students can apply for Scholarship without entering the Aadhaar no. but in that case they have to enter Aadhaar Enrollment Id. For the States of Aasam, Meghalya and Mizoram Aadhar Number is not mandatory.
Question : Is there any permanent ID? How will it be communicated to me ?
Answer : Yes. An Application ID (Permanent ID) will be provided to the candidate once his/her Registration is done. It will be conveyed to candidates through SMS and e-mail. Students should memorize their Application ID as it will be required while applying for Fresh/renewal scholarship.