sje.rajasthan.gov.in ROSE Scholarship Online Application : Social Justice & Empowerment Department
You can ask questions or answer questions about this scholarship.
Please go to the bottom of this page.
Organization : Social Justice & Empowerment Department
Type of Facility : ROSE Rajasthan Online Scholarship System
State : Rajasthan
Website : http://164.100.153.124/rajpms/homepage.aspx
ROSE Rajasthan Online Scholarship System
ROSE Rajasthan Online Scholarship System. Using this site you can apply & check scholarship status Online.
Related / Similar Scholarship :
HTE Rajasthan Unified Scholarship Portal

Studying within Rajasthan
To apply for the Scholarship Students first Login to your Account.
1. Go to the Rajasthan Online Scholarship System website and click the Login Now button in the home page

2. Please enter the following details for Login
Step 1 : Enter your Your User Name/Applicant ID [235678]
Step 2 : Enter your Password
Step 3 : Please enter the code shown above
Step 4 : Click Login button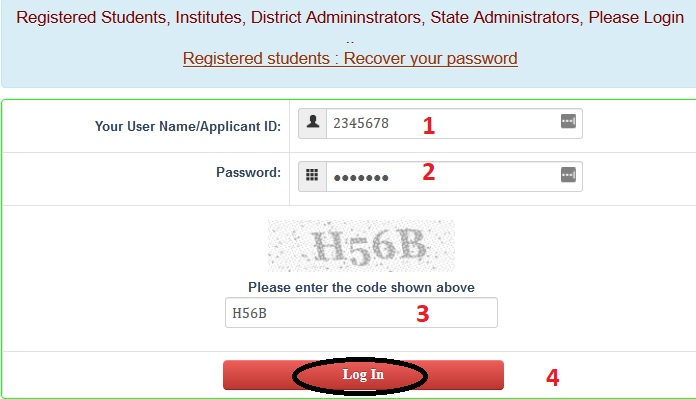 3. If you are Forget your Password then Click Recover your Password link in the Login page.

You can recover either by Application Id or Other information
Step 1 : Select Recover Choice ? – By Your Applicant ID/ By Other Information
Step 2 : Enter your Application Id [2345678]
Step 3 : Enter your Mobile Number [9876543210]
Step 4 : Click Reset Password link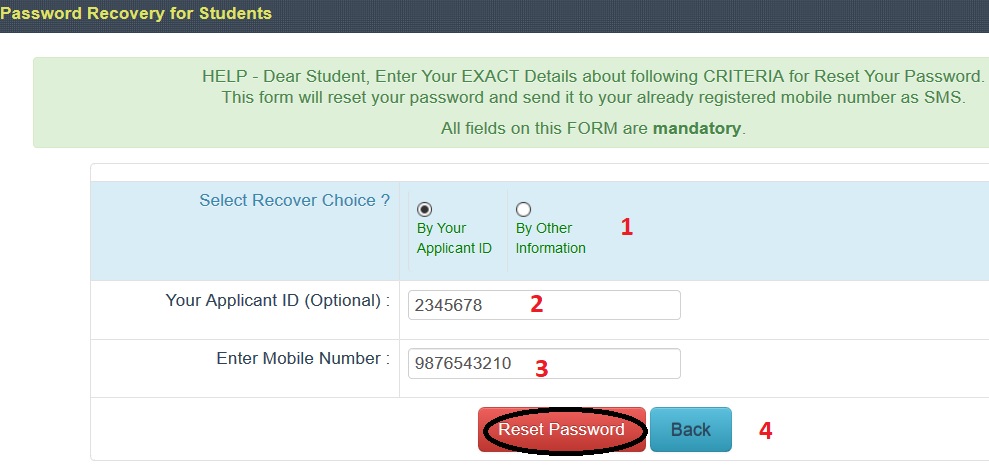 Studying Outside Rajasthan
1. Open Browser and Type Url http://rajpsm.nic.in then it will show Scholarship portal Home Page
2. Click on "Out of State Students" button it will show Home Page of Students Studying OutSide Rajasthan

** First read instructions which are available on home page.
** After that click on "New Students Registration " button it will show Student Registration page.
** After successful registration User id and Password will be given to students
3. For Registration first Students have to provide some basic information like Name, Category, Family Annual Income, Domicile state and District.then Click On "Click for Next Steps" button.

Note : While Selecting the Domicile District be careful.Domicile District must be same As mentioned in Bonafied Certificate . Online Application will automatically send to The Domicile District office which have been selected by Student.
4. After Click on button "Click for Next Steps" Next page will show where students Have provide some more information to get registered like Father's, Mother's Name Gender, Date of Birth, Religion, Marital Status, Mobile Number, Email Id, Aadhaar No. Correspondence and Permanent Address. Also enter a "Capcha Code" which is Showing on Screen. After that Click on "Save above details and Register me" Button. After Successful registration a pop window will show User id and Password.
5. Click on "Login" Button at Home Page. It will display Login page where student have to give User Id/Password. Also enter a "Capcha Code" which is showing on Screen. After that click on "login" Button.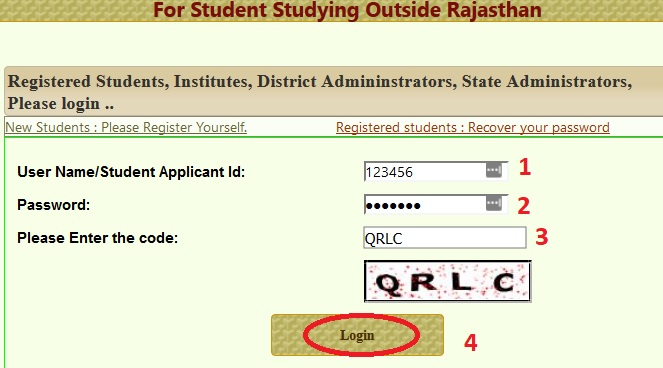 Upload Photo :
Click on Upload Photo Button then it will show upload photo utility where you have to click on "Browse" after that select your photo then click on "Upload Passport Size Photograph" button.
Edit Registration Details
To Apply Scholarship first Student has to confirm registration details which had been entered by Student himself while registration. If there is any wrong information entered by mistake student can correct those information and update same by click on "Update above details" button.
After satisfaction of that all the information is correct then click on "Confirm Details and Allow for Apply Application" button.
Print Profile :
To print Student Profile information click on Print profile button. It will show a pdf file which can be print by student.
Apply for Scholarship :
To fill online Scholarship form click on "Apply for Scholarship " button then it will display Institute/Course/Branch check utility. By this utility students should check their Institute/Course/Branch is available on portal or not.