NSEP 2023 National Scholarship Examination Portal
Want to comment on this post?

Go to bottom of this page.
Organisation : Kraftstoff Technologies Pvt. Ltd
Scholarship Name : NSEP 2023 National Scholarship Examination Portal
Applicable For : Students from School to Post Graduation Level
Applicable State/UT : All India
Exam Date : 21st December 2023
Last Date : 30th November 2023
Website : https://www.nsep.in/index.php
What is NSEP National Scholarship Examination?
NSEP examination is a merit based scholarship test conducted by Kraftstoff Technologies Pvt. Ltd. The motive is to help thousands of students in getting admission to various colleges and universities and provide them financial assistance through scholarships. The scholarship given would be upto 1 lakh rupees. Students can test their skills at all India level. Assure cash prizes upto 100 ranks and gifts upto 500 ranks and certificates to the following rank holders. Last Date of Registration is 30th November 2023.
Related / Similar Scholarship : Wisdom Mathematics & Science Scholarship Exam 2023-2024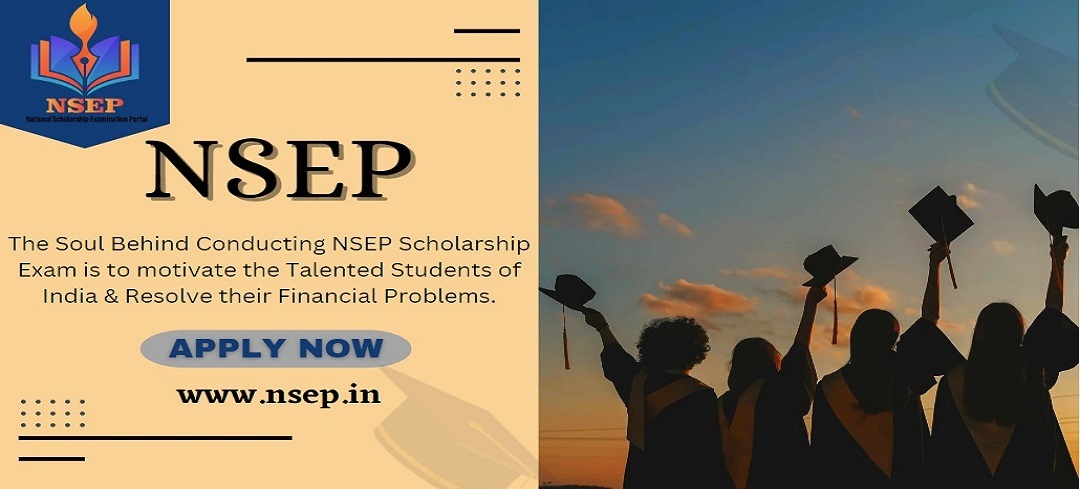 Eligibility of NSEP National Scholarship Exam
Group A : Std. 8th, 9th, 10th
Group B : Std. 11th, 12th, Diploma
Group C : All Degree Students
How to Apply for NSEP National Scholarship Exam?
Just follow the below steps to apply for the NSEP Scholarship Exam .
Step 1 : Visit the official website through provided above.
Step 2 : Next read the instructions carefully and click on the "REGISTER" button.
Step 3 : Go through Registration process with your valid E-mail id & Phone number.
Step 4 : Read all the instructions carefully before filling the Application form then Pay & Submit Form.
Documents Required Post Registration:
GROUP A :
** ID PROOF – AADHAR CARD
** LATEST SCHOOL MARKSHEET / REPORT CARD
** PASSPORT SIZE PHOTOGRAPH
** SIGNATURE
GROUP B :
** ID PROOF – AADHAR CARD
** LATEST SCHOOL MARKSHEET / REPORT CARD
** PASSPORT SIZE PHOTOGRAPH
** SIGNATURE
** HIGH SCHOOL MARKSHEET (IF AVAILABLE)
GROUP C :
** ID PROOF – AADHAR CARD
** LATEST SCHOOL MARKSHEET / REPORT CARD
** PASSPORT SIZE PHOTOGRAPH
** SIGNATURE
** HIGH SCHOOL MARKSHEET
** INTERMEDIATE MARKSHEET (IF AVAILABLE)
** LATEST DEGREE MARKSHEET (IF AVAILABLE)
Exam Details of NSEP
The scholarship exam question paper will consist of Multiple Choice Questions (MCQs). It is an online exam conducted for students from class 5 to graduate degrees. The national scholarship exam question papers are available in English language. The organisers design the scholarship exam question papers to test the students' reasoning and decision-making abilities. Therefore, the students are advised to read the questions thoroughly before answering them.
Besides recognising and nurturing young talents, the Scholarship Exam also helps students identify and work on their strengths and weaknesses. It serves as an opportunity for the applicants to test their capabilities in handling new education challenges. The exam will not have negative markings. School students from the state boards, ICSE or CBSE board can apply to the scholarship exam. Similarly, the scholarship exam for college students is available irrespective of their selected disciplines and universities.
The scholarship exam will prepare the students' rank list in descending order according to their marks. If two or more candidates have secured equal marks in the scholarship final exam, the committee will select the student who has scored more marks in the following subjects:
** Mathematics and general science
** General Knowledge
** Reasoning and analytics
** Comprehension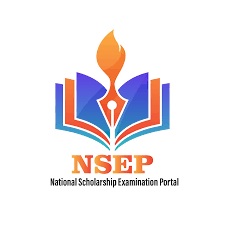 Examination Pattern of NSEP National Scholarship
1. Online Exam
2. Entire paper will be based on Objective Type.
3. Each question will be provided by 4 alternatives.
4. Total Questions – 100
5. Total Marks – 100 (Each question will carry 1 Mark).
6. Exam Duration – 90 (Total Minutes).
7. Exam Language: English.
8. No Negative Marking.
9. Syllabus: General Awareness – Exam based on Current Educational Standard / Level.
* Disha Publication, Arihant Publication, Lucent Publication, Jeevandeep Publications: General Studies / General Awareness and mental ability, aptitude books are available at stationary market or flipkart or amazon.
Exam Highlights:
** Practice & Preparation of Competitive Exams.
** Performance Analysis Report for Every Student
** Exam Application Fee Rs.200.00/-
** There is no Hall Ticket require, just need to log in student panel & start your exam on given Exam Date & Time Slot.
NSEP Events
1st FEBRUARY – REGISTRATION START
30th NOVEMBER – LAST DATE OF REGISTRATION
21st DECEMBER – EXAM DATE
15th JANUARY – RESULT DATE