Edurise India RISE 2023 Rigorous Intelligence Search Exam : eduriseindia.com
Want to comment on this post?

Go to bottom of this page.
Organisation : edurise India
Scholarship Name : Rigorous Intelligence Search Examination (RISE) 2023
Applicable For : Class 7th, 8th, 9th, 10th, 11th & 12th studying students
Exam Dates: Oct, Nov, and Dec 2023
Website : https://eduriseindia.com/welcome/rise
What is Rigorous Intelligence Search Exam?
Rigorous Intelligence Search Exam (RISE) is a national level scholarship examination that helps students take the first step towards their goal to succeed in IIT-JEE (Main + Advanced) and NEET with an opportunity to get up to 100% scholarship and awards. RISE helps students to know their standing at All India Level and prepare under the expert guidance of faculty at edurise INDIA. RISE 2023-24 will be conducted in both Online & Offline mode.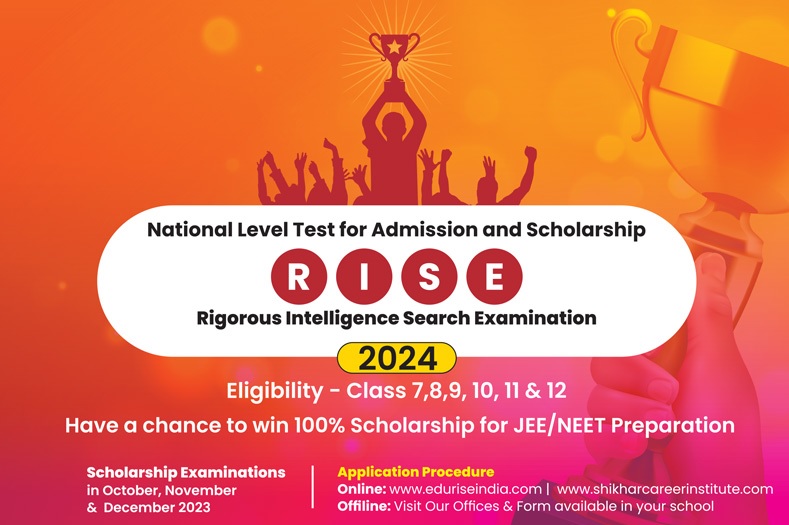 Eligibility of Rigorous Intelligence Search Exam
Class 7th, 8th, 9th, 10th, 11th & 12th studying students
How To Register For Rigorous Intelligence Search Exam?
RISE 2023-24 application forms can be filled & submitted to edurise INDIA in online and offline mode. Registration Fee of 99 Rs.
Register Here : https://www.riseexam.com/
Scholarship Based On Rank
** Special cash awards for top students in each district and top 50 students
** Top 40 Students qualify for the RISING STAR program
** Scholarships for students up to 2000 rank
** Extra reward on admission for students up to 1000 Rank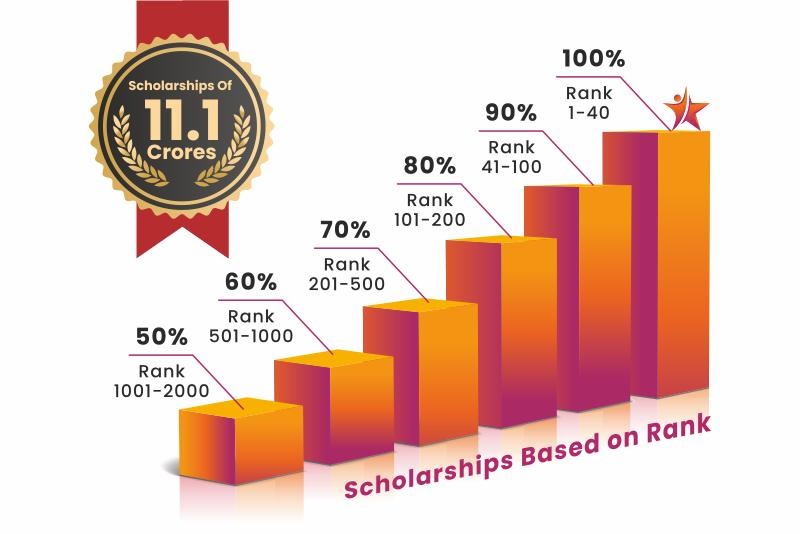 Rising Star Selection Process
** First Level exam
** Second Level exam
** Interview
Terms & Conditions
1. Cash rewards, scholarships, hostel/tuition fee benefits (at Patna) will be decided based on performance in the scholarship Examination and are subjected to score above minimum cut-off marks in all the subjects.
2. In case of more than one participating student securing equal aggregate marks in the scholarship examination, better Rank shall be given by comparing scores individually in the subjects
3. Students will be entitled for assured cash rewards based on their performance in scholarship examination irrespective of their decision to enrol for edurise INDIA Classroom program. Students eligible for cash reward (on admission) can avail it at the time of admission through waiver of fee amount equivalent to the reward amount.
4. To get the scholarships and hostel fee benefits (at Patna) related to edurise INDIA, one mustenrol for any of the classroom programs of edurise INDIA.
5. The assured cash reward shall be given to the eligible students on attending Felicitation Function to be organised by edurise INDIA. No Reward shall be handed over in person to any of student's relative/guardian or his/her representative in any case. The venue and date will be announced through SMS and telephone calls. You can also view it on our website www.eduriseindia.com after scholarship examination results.
6. Students enrolling with edurise INDIA through scholarship examination can avail another golden opportunity of fetching additional cash rewards by qualifying in JEE MAIN, JEE ADVANCED, NEET-UG.
(a) The rewards will be applicable for JEE MAIN / JEE ADVANCED / NEET-UG Rank.
(b) The rewards for regular classroom program students will be given if a student maintains 80% attendance in the Classes & Tests.
(c) Only one reward shall be given to a student. Any student claiming this reward need to be present in the Felicitation function to be organized by Edurise INDIA with selection letter showing the rank. After Felicitation function no reward will be given.
(d) Reward will be given to top 20 students enrolled with Edurise INDIA in each of JEE MAIN, JEE ADVANCED, NEET-UG each year.
7. Assured Cash Rewards will be paid to Students through a crossed cheque and shall be in favour of the Student/ Student's parent only. Hostel fee benefits (at Patna) can be availed only by those students who resides at Rising Star's Campus Hostel / Star Campus Hostel of Edurise INDIA at Patna (till seats available). Monthly charges for lodging &fooding are "Rs. 8000". Hostel benefits as per performance in SCHOLARSHIP EXAMINATION will be adjusted against this mentioned cost. Student will have to bear the difference between monthly charge of hostel & hostel fee benefits. If a student is transferred to Normal Batch due to non-performance, he/she will not be eligible for Hostel Fee waiver.
9. The final discretion of Cash rewards, scholarships for Edurise INDIA classroom programs, hostel fee benefits in each case will remain with Edurise INDIA management and this decision will be final and binding on the candidate
10. A student will have to produce required documents [SCHOLARSHIP EXAMINATION Admit Card & Aadhaar Card] to claim Cash rewards, scholarships for Edurise INDIA classroom programs, hostel fee benefits (as directed by Edurise INDIA).
11. edurise INDIA reserves the right to change/ cancel any Test Centre without any prior notice.
12. SCHOLARSHIP EXAMINATION Selection Letter will be distributed in the career counselling Seminar conducted at various cities (Test Centres of SCHOLARSHIP EXAMINATION). The date, time & venue of Seminar will be displayed on our website and will be communicated to the students on their registered mobile number by call and SMS. In the Career Counselling Seminar, you will be given important tips and tricks on how to prepare for the Competitive Exams along with your school studies and how to crack Competitive Exams with a good rank along with a good score in Board / School Exams. If for any reason, Govt. doesn't allow for educational meeting/Seminar then Online Webinar will be conducted.
13. To avail Cash reward on admission, Scholarship for Edurise INDIA Classroom Program and Hostel Fee Benefits student mustEnrol on or before the date mentioned in the SCHOLARSHIP EXAMINATION Selection Letter given to the students. In case Student approaches us to take admission after the mentioned date, then he/she must pay a late fee as mentioned in the Selection Letter.
14. Students presently studying in Class 8th, 9th & 10th and "already Enrolled" in Edurise INDIA in 5 year/ 4 year/ 3 year Integrated Regular Classroom Program will be Eligible for Rank, Special Gift and Memento through SCHOLARSHIP EXAMINATION. Students will not be Eligible for Assured Cash Reward, Cash Reward (on Admission), Cash Reward (after Admission), Scholarship, Hostel Fee Benefits and fooding Fee Benefits offered through SCHOLARSHIP EXAMINATION.