BCDD OBC Postmatric Scholarship 2021-22 For CA,CMA,CS : egrantz.kerala.gov.in
Want to comment on this post?

Go to bottom of this page.
Organisation : Kerala Backward Classes Development Department
Scholarship Name : OBC Postmatric Scholarship 2021-2 for CA,CMA,CS
Applicable For : OBC Students
Applicable State : Kerala
Application Last Date : 31.10.2021
Website : https://bcdd.kerala.gov.in/2021/09/04/applications-invited-for-ca-cms-cs-obc-postmatric-scholarship/
BCDD Kerala OBC Postmatric Scholarship
Applications invited for Postmatric Scholarship from students under OBC communities pursuing CA, CMS, CS courses having annual family income less than 2.5 lakhs. Last date for application 31.10.2021.

Who Can Apply?
Applications are invited for Postmatric scholarship, from OBC students having annual income below 1.5 lakhs, studying CA, CMA & CS courses in the institutions in Kerala
Note :
There are more than two boys in a single home.
How to Apply?
Eligible students apply the scholarship through e-grantz 3.0 portal.
Apply Online : https://www.egrantz.kerala.gov.in/
Steps :
Step 1 : Go to the official website of Kerala SC/ST Development Department provided above.
Step 2 : Then click on the One Time Registration link at the end of the page.

Step 3 : Enter your Aadhaar Number and Name of the Student to Validate your Aadhaar.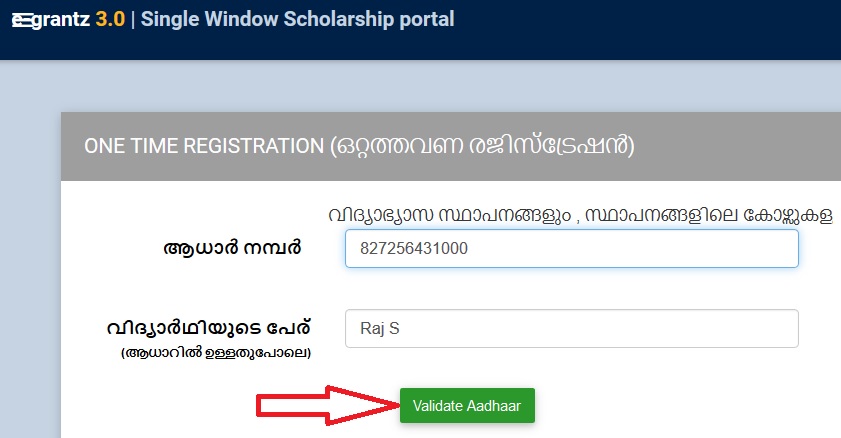 Step 4 : After validate your aadhaar enter the remaining details to complete your One Time Registration.
Step 5 : After a one-time registration, log in using the username & password.
Step 6 : Next enter your personal information by clicking "Profile" link and fill the five stages of application.
Step 7 : After submitting these 5 stages of information, you can get educational qualifications by clicking on "Add Qualification".
Step 8 : Select the scholarship, which you want to apply for the list of schemes.
Step 9 : You can also Print your application after submitting the application.
Step 10 : The applications can be tracked by entering the Aadhaar number and Date of Birth of the student.
Documents Required
** Enclosures should be attached
** Income Certificate
** Caste Certificate
** CA- Acknowledgement letter for payment of fees/ Registration form ICAI
** CS- Acknowledgement letter for payment of fees/ Registration form ICSI
** CMA- Acknowledgement letter for payment of fees/ Registration form ICMAI
** Bonafide Certificate
** Hostel Inmate Certificate from competent authority (in the case of hostellers)
** Copy of Identity Card from the institution
** Copy of Aadhar
Bonafide Certificate :
1. Certified that the above furnished details are found true with reference to the certificates and records kept in this institute.
2. Certified that the student is not in receipt of scholarship from any other agencies.
3. Certified that the attested copy of the fee structure (specify refundable & non-refundable fee) approved by state/central government is attached.
4. Certified that the student attends classes regularly and his/her average monthly attendance is more than 80%.
5. Certified that the character & conduct of the student is satisfactory/good.
About BCDD Kerala :
A long lasting dream of the Backward Communities of Kerala comes true when the Government of Kerala created a separate department for them to deal the issues related to the social and educational progression of backward communities in Kerala, in the form of planning and implementing welfare schemes.