wisdomscholarship.org 2020-21 Wisdom Mathematics & Science Scholarship Exam Result
Rate this post:
[ Votes=

0

, Average =

0

]
Organisation : WISDOM Educational Foundation
Announcement : Scholarship Exam Result 2020-21
Scholarship Exam : Wisdom Mathematics & Science Scholarship 2020-21
Website : https://wisdomscholarship.org/wef/
WISDOM Scholarship Exam Result
WISDOM Mathematics & Science Scholarship Examination 2021 Results 2020-2021 declared
How to Check Result?
To View the WISDOM Scholarship Exam Result 2020-21 please follow the below steps
Step 1 : Go to the official website of WISDOM Educational Foundation through the URL http://wisdomscholarship.org/wef/
Step 2 : Then scroll the page down and click 'View Result' button
Step 3 : After that please enter the following details to check your Result
i. Enter Your Exam Seat Number
ii. Select your subject
iii. Enter Your Birth Date (dd/mm/yyyy)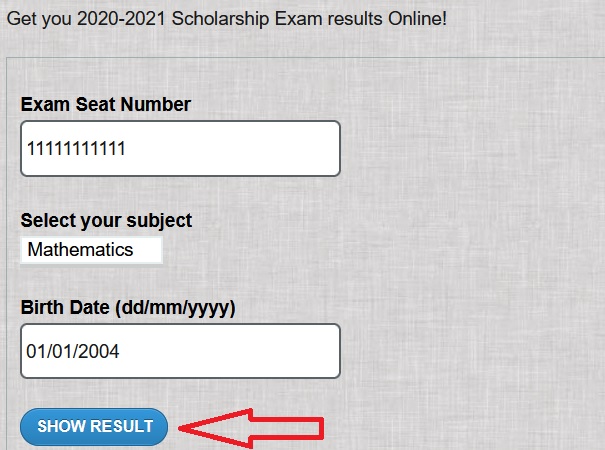 Step 4 : Finally click 'Show Result' button ti view your results
Your Results contains the following details :
** Standard
** Seat No.
** School Code
** District
** Subject
** Marks
Note :
** Students who have appeared in the merit list should email the following details to claim their scholarship.
** Scholarship amount will be transferred to the given account after 1 st August 2021.
Details Required
1. Name of student
2. Merit rank
3. Subject
4. Name of account (as printed on your passbook – The account should be a saving account either of father/Mother/Student. Amount will not be transferred on business account)
5. Account number
6. Bank Name
7. Branch
8. IFSC Code
FAQs
1. Is it necessary to appear through school?
A. No. You can appear privately. Please download the application form. Fill it and send it along with the D.D. of applicable registration fees. You can also order the text books, question paper sets and model answer sets by sending us a letter with requirement details and a DD of the requisite amount.
2. Why there is a difference between registration fees for students appearing through schools and private students?
A. The students registering through schools get their hall tickets, result, mark sheets, certificates through school. Whereas private students get all these things delivered directly to their correspondence address.
To help us cover the correspondence cost, we have to add Rs.50 to the registration fees of private students.
3. Where can we get the WEF books?
A. You can order the books either through your schools or your tuition class teachers. You can also order the books to be delivered directly to your correspondence address by sending a DD with additional postage of Rs.50/- over and above the cost the set of three books of Rs.260/- making the entire cots Rs.310/- per standard.
4. What is the last date of registration?
A. 31st October.( Refer application form for updates)
5. Can we use spare paper for rough work in the exam hall?
A. No. Spare paper is not allowed though you can use the empty space on the question paper and the space provided on the answer paper for rough work.
6. Are there any other books that can be used for extra practice?
A. It is not necessary to use any other books apart from WEF set of books. The WEF question appear set contains 15 question papers having 40-42 problems each. So, more than 600 problems can be solved using the set. That should provide enough practice for any student.