Vapim Educare V-SAT 2021 Scholarship Aptitude Test
Want to comment on this post?

Go to bottom of this page.
Organisation : Vapim Educare
Scholarship Name : V-SAT 2021 Vapim Scholarship Aptitude Test
Applicable For : Diploma & UG Students
Applicable State/UTs : All India
Last Date : 30.06.2021
Website : https://v-sat.in/vsat2021
Vapim Educare V-SAT
VAPIM Scholarship Aptitude Test is a scholarship test that aims to provide a platform to all Indian Students who get admission to various reputed Govt. & Private Universities/ Colleges of their choice through up to 100% scholarship or a maximum of Rs. 2 Lakhs.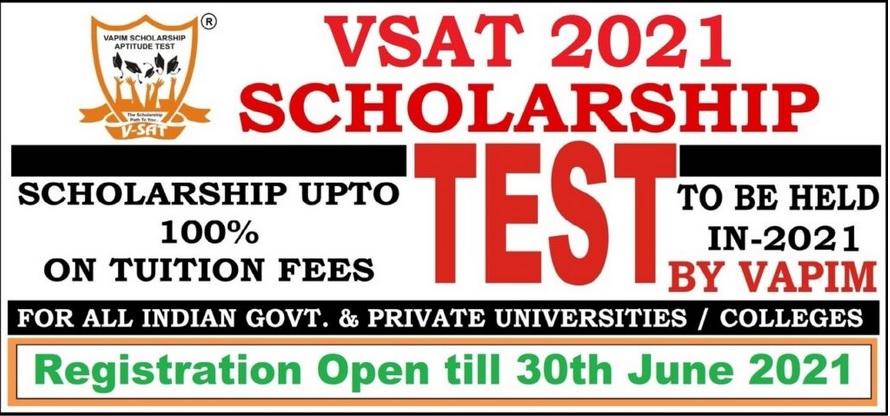 V-SAT is a combined entrance cum scholarship test certified by various Universities & Colleges and Candidates needn't fill various Scholarship Forms for different Universities & Colleges.
Who Can Apply?
** For Diploma Courses- All Indian Students who are appearing 10th in Current Session and who are Pass out in Previous Session
** For UG Courses-All Indian Students who are appearing 12th in Current Session and who are Pass out in Previous Session
Why V-SAT?
V-SAT is a pathway to secure the scholarship amount to urge admission in various reputed Universities and Colleges. This can be the only test that is privately conducted by VAPIM Educare Private Limited on PAN INDIA Basis and the syllabus is based on their last academic qualifications and aptitude. VAPIM offers scholarship up to 100% of tuition fees for selected students and others supported our scholarship criteria.
Application Process
Steps :
Step 1 : Students have to apply online through the website only https://vapimeducare.com or https://v-sat.in
Step 2 : Students have to note down the login detail for further reference.

Step 3 : Students will be provided the date of the examination and admit card.
Step 4 : Students have to bring their admit card, two photos and one GOVT. identity proof to the examination hall.

Step 5 : The Online V-SAT portal will be open for the students for filling the details about the University/college and Course they have taken admission in with registration number.

Step 6 : Students will be awarded scholarship after verification from the concerned University/college.
Step 7 : V-SAT result will be announced.

Step 8 : Students have to select a Minimum Five Preferences of University / College from the University / Colleges list of V-SAT.
Scholarship Criteria
Our Scholarship criteria based on V-SAT result
| | | |
| --- | --- | --- |
| S. No | Percentage score in V-SAT 2020 | Scholarship in Tuition Fees |
| 1 | 95 % and above | 100% |
| 2 | 85-94.99% | 70% |
| 3 | 75-84.99% | 50% |
| 4 | 65-74.99% | 20% |
| 5 | 50-64.99% | 10% |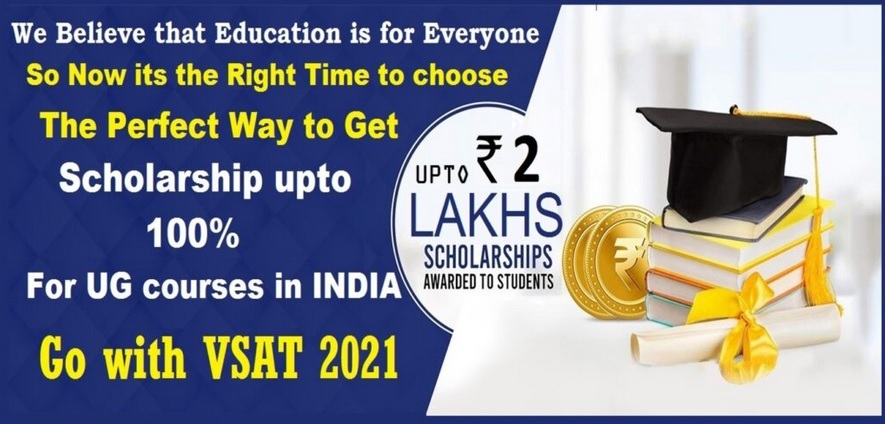 FAQs
1. Where can I get the update for online examination of V-SAT?
Visit the website at https://vapimeducare.com or by SMS (registered users)
2. How can I get the information about the V-SAT scholarship?
Student will get the update about the V-SAT scholarship via. email, sms and their login.
3. Will exam be online or Offline?
It will be Online mode or as directed by VAPIM EDUCARE.
4. Will I can change my city location for the examination?
It can be change by there login dashboard or students can be mail us at v-sat [AT] vapimeducare.com and tell about the preferred city. The student can change it only single time but before issuance of Admit card.
5. What is time duration & number of questions in V-SAT Exam?
V-SAT Exam to be performed in 120 minutes which consists 100 objective type questions.
6. If any enquiry is required at what time I can contact and which no. I have to contact?
Student can Contact from 10 am to 7 pm from Monday to Saturday and student can contact at our official no: +91-9911311200, 9911311200.