Sood Charity Foundation SAMBHAVAM Free IAS Coaching Scholarship 2021 : soodcharityfoundation.org
Rate this post:
[ Votes=

0

, Average =

0

]
Organisation : Sood Charity Foundation
Scholarship Name : SAMBHAVAM Free IAS Coaching Scholarship 2021
Applicable For : Aspirants of Civil Services
Applicable State/UTs : All India
Last Date : 30.06.2021
Website : https://soodcharityfoundation.org/campaigns/
Sood SAMBHAVAM Free IAS Coaching Scholarship
Divine India Youth Association (DIYA), Delhi Chapter, in collaboration with Sood Charity Foundation presents "SAMBHAVAM", a unique program for aspirants of Civil Services. A one of it's kind initiative to provide quality coaching facility to needy aspirants at top civil services institutes of India.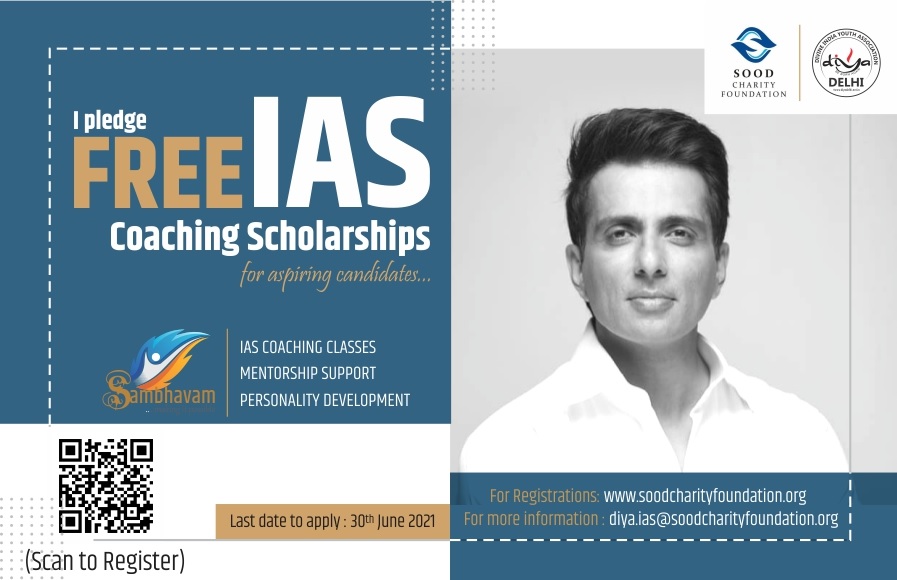 Objective
It aims to provide free IAS Coaching facility to the aspiring students of India, along with mentorship support and holistic personality development, opening new possibilities for youth empowerment and nation building and is poised to play a game changing role in helping build a new India in times to come.
Major Highlights
Major highlights of the program –
1. Free coaching classes to deserving students (Online/Offline).
2. Mentorship support from UPSC selected candidates, interview appeared candidates and top educators.
3. Special group sessions for Personality Development by leading educators and trainers.
How to Apply?
Just follow the below steps to apply for the SAMBHAVAM Free IAS Coaching Scholarship 2021.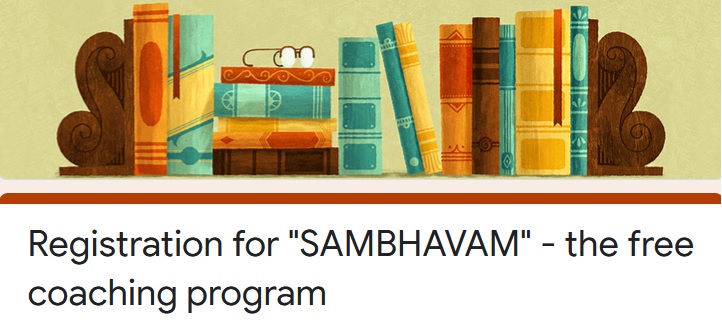 Steps :
Step 1 : Visit the official website through provided above.
Step 2 : Read the instructions carefully and click on the "Register Now" button.
Step 3 : Fill the "Registration Form" with the required details.
Step 4 : Finally click on the "Submit" button to complete your registration.
Instructions
1. You can fill the form in Hindi or English.
2. This form is a key part of Admission Process. Incomplete or false information will make your candidature null and void.
3. Candidates will be selected based on financial criteria, merit and vulnerability.
4. They will be asked to produce their academic and income credentials/documents at a later stage.
5. In all matters relating to admission, the decision of the SAMBHAVAM Team will be final and binding on the applicants. No correspondence will be entertained from the applicant regarding his/her non-selection.
Terms & Conditions
1. Submission of your entry / form does not guarantee scholarship to the requestee under this campaign.
2. At no point in time can any claim be made in any aspect on SCF, DIYA Foundation and its Board Members.
3. SAMBHAVAM team holds the right to withdraw Scholarship at any time, from students they find non-serious or involved in any activities which are unwarranted and against the basic ethics of our scholarship program.
4. No correspondence will be entertained or guaranteed to non-selected students.
5. Decision of the Sambhavam team, SCF & DIYA Foundation will be final and binding on any / all aspects of the scholarship program.
6. All disputes, if any, will be subject matter jurisdiction in Mumbai courts.
Last Date
Last Date to apply for the SAMBHAVAM Free IAS Coaching Scholarship 2021 is 30th June, 2021