Gurukripa GSAT 2021 June Scholarship Cum Admission Test
Rate this post:
[ Votes=

0

, Average =

0

]
Organisation : Gurukripa Career Institute
Scholarship Test Name : GSAT 2021 Gurukripa Scholarship Cum Admission Test June
Applicable For : Class 5th to 12th
Exam Date : 13.06.2021
Last Date : 12.06.2021
Website/Apply Online : https://www.gurukripa.ac.in/gsat
Gurukripa GSAT
GSAT Analyze your Learning Skills to crack JEE/NEET/NTSE/Olympiad/IJSO/KVPY Gurukripa's Scholarship Cum Admission Test For Class 5 to Class 12 moving students.
Eligibility
Any student studying in class 5th, 6th, 7th, 8th, 9th, 10th, 11th Sci., 12th Sci. of any Board (CBSE, ICSE, State Boards etc.) can participate in GSAT.
Test Details
Syllabus :
** Mental Ability
** Physics & Chemistry
Eligibility :
Students moving fromClass 5 to Class 12
Mode :
Online Test (Take from your home)
Benefits to Students
** Analyse your strengths and key areas of improvement with respect to the skills required to qualify JEE/NEET/NTSE/Olympiad/IJSO/KVPY.
** Analyse your interests and inclinations through a psychometric test to make an informed career decision.
** Assess their understanding of basic concepts.
** Benchmark themselves against other students at the state and All-India Level.
** Understand the gaps in their preparation for future competitive exams and take corrective actions.
How to Register?
Just follow the below steps to register for GSAT June 2021
Steps :
Step 1 : Visit the official website through provided above.
Step 2 : Next, click on the "Register Now" button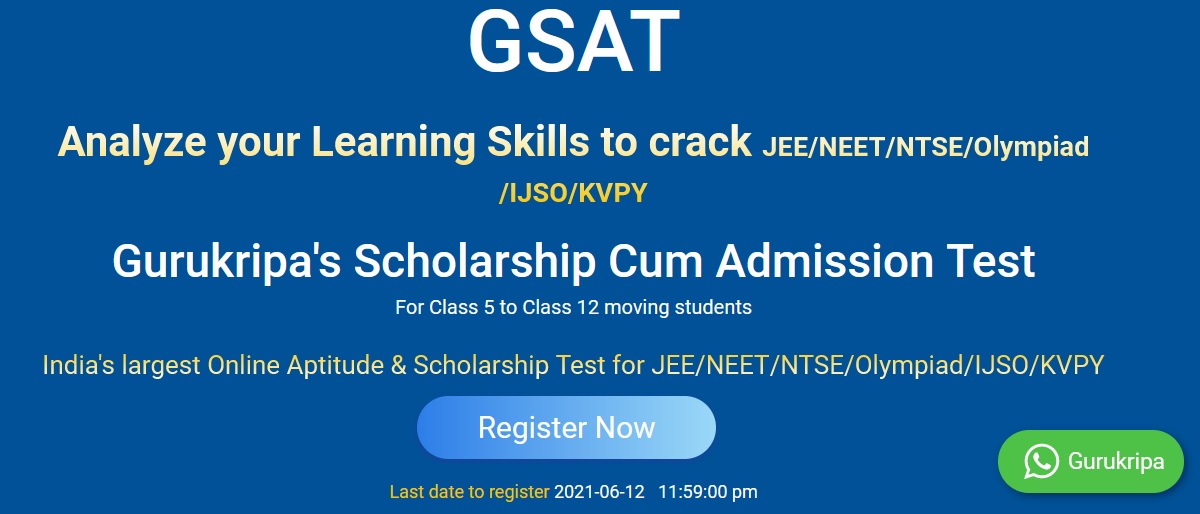 Step 3 : Share your details
Step 4 : Verify your phone number with OTP and submit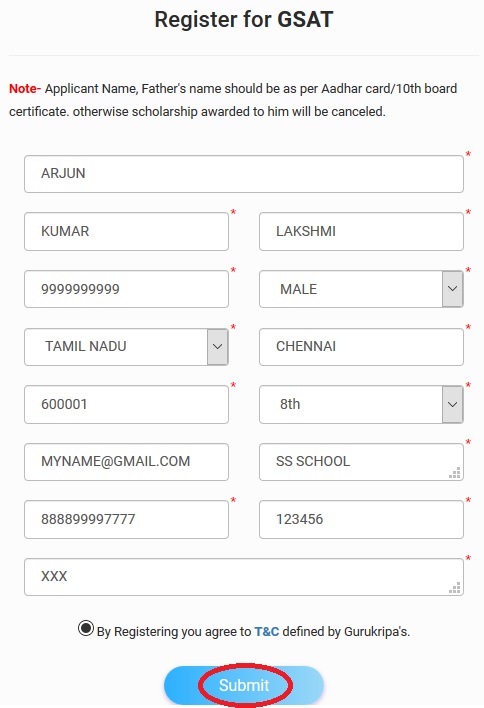 Step 5 : You have now successfully registered for GSAT
Registration Fee
GSAT registration 100 Rs. and open to all eligible students. You only need to give 1 hour of your valuable time. Remember Time is Money!
How Can I Login?
To appear in Online GSAT, student needs to follow these steps at https://spms.gurukripa.ac.in or GCI e-Learning App
Steps :
Step 1 : Enter your usename & password and then you have to click on login.
Step 2 : On the next window, student will be having options to select any mobile number to receive OTP for mobile number verification.
Step 3 : Enter the 6 digit OTP in the space provided on screen.
Step 4 : After successful verification through OTP, you will be able to fill your Academic details.
Step 5 : Before proceeding, kindly check your GSAT details. For any discrepancy in details contact on 1800-123-5088.
Step 6 : Read all the instructions carefully to appear in ONLINE GSAT and then click the check box.
Step 7 : Click on Attempt, at the time of Test
Step 8 : Read instruction after choose language and YOU ARE READY TO BEGIN.
FAQs
1. Can I download my ONLINE GSAT paper?
No, question paper is not downloadable.
2. Can I appear my ONLINE GSAT without internet connection?
No, stable internet connection is required to appear in ONLINE GSAT.
3. Can I switch my screen and go to another tab during ONLINE GSAT?
Switching device/minimizing Test Window during Online GSAT is not allowed. Doing this will submit your Test and Exit you from Online GSAT.
4. What will happen if some problem occurs in my computer during the ONLINE GSAT?
You can contact us at our Helpline Number 1800-123-5088 if you face any issue while appearing ONLINE GSAT.
5. How will I get Result of Online GSAT?
GSAT Result (Qualified / Disqualified / Scholarship) will be available within 72 hrs on our website gsat.gurukripa.ac.in. Candidates will be intimated by SMS on registered Mobile No. as filled in Application Form.