Meri Scholarship 2021 National Olympiad : merischolarship.org
Rate this post:
[ Votes=

0

, Average =

0

]
Organisation : MeriScholarship , Pragyavid India Pvt. Ltd .
Scholarship Name : National Scholarship Olympiad 2021
Applicable For : Students studying in Class 4th to 12th & graduation
Exam Date : 29th August, 2021
Website : https://www.merischolarship.org/scholarship
Meri Scholarship National Scholarship Olympiad
National Scholarship Olympiad 2021 Worth Rs. 1,00,00,000/-
Related /Similar Scholarship : Analytics Vidhya All India Data Science Student Scholarship Test 2021
Who Can Apply?
All students studying in Class 4th to 12th and graduation are eligible to appear for the exam.
How to Apply?
To participate in the National Scholarship Olympiad 2021, you can register via our website www.merischolarship.org or you can install MeriScholarship mobile app from Google Play Store.
Just follow the below steps to register for the National Scholarship Olympiad 2021 via website.
Steps :
Step 1 : Visit the official website through provided above.
Step 2 : Read the instructions carefully before you are applying.
Step 3 : Fill the form with the required details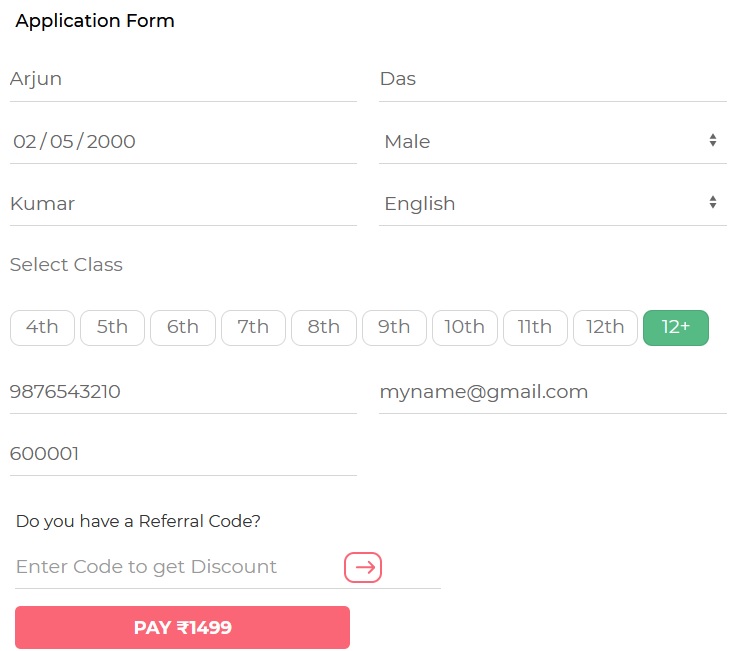 Step 4 : Pay your exam fee Rs. 1,499
Step 5 : Finally click on "Submit" button to complete your register for the examination.
Exam Date
Eligible candidates will be allowed to appear in the exam on Sunday, 29th August, 2021. In the rare case of any changes in exam date, all the candidates will be informed in advance.
Exam Syllabus & Pattern
Class 4 to 8 :
** Duration : 60 Minutes | 50 Questions
** General Aptitude
** Logical Reasoning
** Mental Ability
Class 9 to 12+ :
** Duration : 120 Minutes | 100 Questions
** General Aptitude
** Logical Reasoning
** Mental Ability
FAQs
1. How many marks do I need to score to get the Scholarship?
Answer. Scholarships would be awarded on the basis of ranks achieved. A total scholarship of worth Rs.1,00,00,000 will be distributed to students based on performance in the exam.
2. What are the system requirements for appearing in the exam?
Answer. You can take the exam on mobile/tablet/laptop/desktop using any browser. However, for the best experience, we recommend taking the test on a laptop/desktop using Chrome.
3. What if I have more queries?
Answer. In case your queries, please feel free to contact us through call at +91 8094418888, we will be glad to help you as soon as possible.
About Meri Scholarship
We are a team of people, who had real life experiences of scarcity in life in early age of career building. We faced criticality of differences in education level. We were amongst the majority, who were unable to get right tutor for subject and moreover a guide for career development.
Whenever we see back through our life we find the potholes on the road which would have been filled by some guide and help. Somehow by god's grace we covered that gap, but we still breathe in same conditions we faced.
Here a student get chance to be part of scholarship competition, Top rankers of each class get scholarship rewards for their education. We also provide study material, online preparation exam papers and doubt clearing facility on our Portal.