Vels V-SAT 2021 Scholarship Admission Test : vsat.velsuniv.ac.in
Rate this post:
[ Votes=

0

, Average =

0

]
Organisation : Vels Institute Of Science, Technology & Advanced Studies
Scholarship Name : V-SAT 2021 Vels Scholarship Admission Test
Applicable For : +2 Completed Students
Exam Date : 18th June to 22nd June, 2021
Applicable State/UTs : Tamil Nadu
Website/Apply Online : https://vsat.velsuniv.ac.in/
Vels V-SAT
Vels Scholarship Admission Test 2021 Scholarship Opportunities like never before
V-SAT aims to identify 500 meritorious students in the order of merit and offers 100% Scholarship in Tuition fee to join any of the over 100+ courses on offer at VISTAS.
Who Can Apply?
Students who have completed or awaiting results for Standard XII – State Board / CBSE / Diploma / ISC/ IGCSE / Others Biology l Computer Science l Commerce l Vocational
How to Apply?
Just follow the below steps to apply for V-SAT 2021.
Steps :
Step 1 : Visit the official website of Vels University through provided above.
Step 2 : Read the instructions carefully before you are applying.
Step 3 : Fill the Registration Form with the required details.
Step 4 : Finally click on "Submit" button to complete the registration.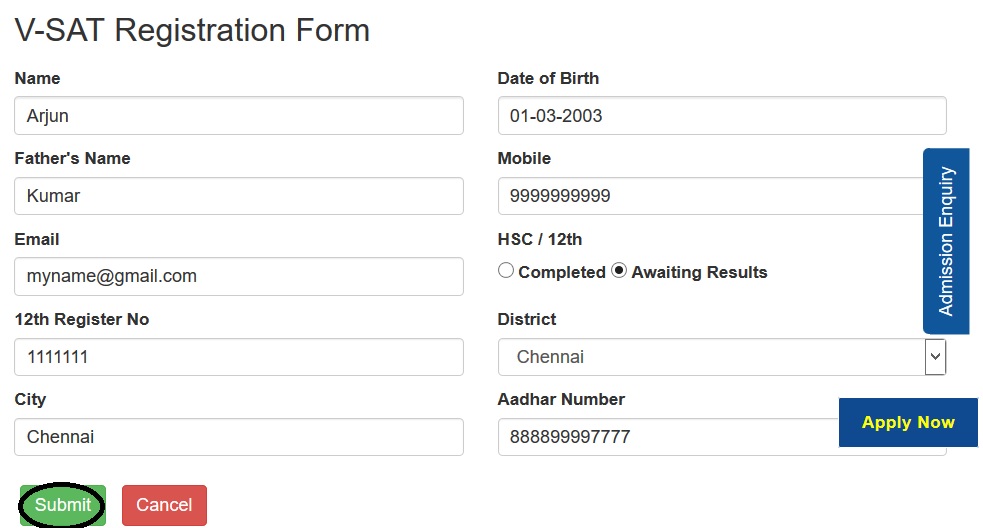 Exam Details
The test will be of 45 min duration and will be an aptitude test comprising Quantitative aptitude, Verbal ability and analytical reasoning.
Instructions :
** This is a 45 minutes' paper
** +4 for every correct answers
** -1 for every wrong answer
** You cannot open another window during the 45 minutes of VSAT. When you do so, the exam window will close automatically and you will be forfeited from taking the exam
** After 45 minutes, the window will save the responses you have provided so far and will prompt end of exam.
Exam Schedule
Date : 18th June to 22nd June, 2021
Time : 9am to 5pm (Any suitable slot
Online Exam Duration : 45 Minutes
Quantitative / Verbal l Logical Reasoning
Valid for more than 100 courses at VISTAS
Scholarship Details
Merit Scholarships of upto 75% of the tuition fee are also offered to all the other participants who attempt the test and in the order of their merit.
About V-SAT
The VELS SCHOLARSHIP ADMISSION TEST (V-SAT) is an online Scholarship test for students who have completed +2 or are awaiting results in the year 2021.
The test will be of 45 min duration and will be an aptitude test comprising Quantitative aptitude, Verbal ability and analytical/logical reasoning. The test will be conducted online between 18th June and 22nd June.
Candidates can choose their preferred date and slot between 9am & 5pm and take the test from the comforts of their home
Terms and Conditions
** Each candidate should read and understand all the terms and conditions before registration. Feel free to clarify any doubts with us.
** Candidates should meet the necessary age and eligibility requirement for the Programme / Courses concerned.
** V-SAT scholarship is applicable only for the Programme / Courses mentioned in the V-SAT Flyer.
** Only Limited number of seats in each Programme / Course is reserved for V-SAT Scholarship. If more than the reserved number of the students opt for the same course, the courses will be allotted to students based on the V-SAT Ranking and mark scored, subject to availability.
The remaining students will be given the option to choose from other available Courses/Programmes.
** In case of a tie between more than one candidate, priority shall be given to the time taken for completion of V-SAT test, or as per the discretion of the authorities of VISTAS.
** After the written examination, shortlisted candidates should attend a Personal Interview.
** Based on the rankings, V-SAT rank holders can avail 10%, 25%, 50%, 75% & 100% scholarship in the tuition fee. Scholarship is applicable only on the tuition fee payable and all other fees will have to be paid by the candidate.
** Each candidate should indicate the clear communication address and contact number and should inform if there is any change in the same.
** The V-SAT scholarship candidates selected should submit Identity card, proof of age, Aadhar, Community Certificate etc., as required.
** Selected students have to enroll in the Programme/Course within the stipulated period of time prescribed in the selection order, In case of any delay, selection offer will be automatically cancelled.
** Students interested in VSAT have to get the updated information regarding entrance exam and selection list from the website of VISTAS or VSAT Helpdesk by themselves.
VISTAS authorities will not be responsible / liable for communicating directly to the student in any part of VSAT till the commencement of the admission process.
** Aspirants who want to pursue their higher education in VISTAS are advised to directly approach the Admission office at Pallavaram or visit velsuniv.ac.in, for all relevant information. All disputes are subject only to the jurisdiction of the courts in Chennai.
** The decision of the authorities of VISTAS shall be final and binding on the ranking of all the test participants of V-SAT and no correspondence in this regard will be entertained.