NFI Fellowships 2021 For Independent Journalists : National Foundation for India
Want to comment on this post?

Go to bottom of this page.
Organisation : National Foundation for India
Fellowship Name : NFI Fellowships 2021 for Independent Journalists
Applicable For : Independent Journalists
Application Last Date : May 21, 2021
Website : http://nfi.org.in/fellowships
NFI Fellowships
NFI Fellowships 2021 for Independent Journalists Round 2
Related / Similar Scholarship : HCL Grant 2021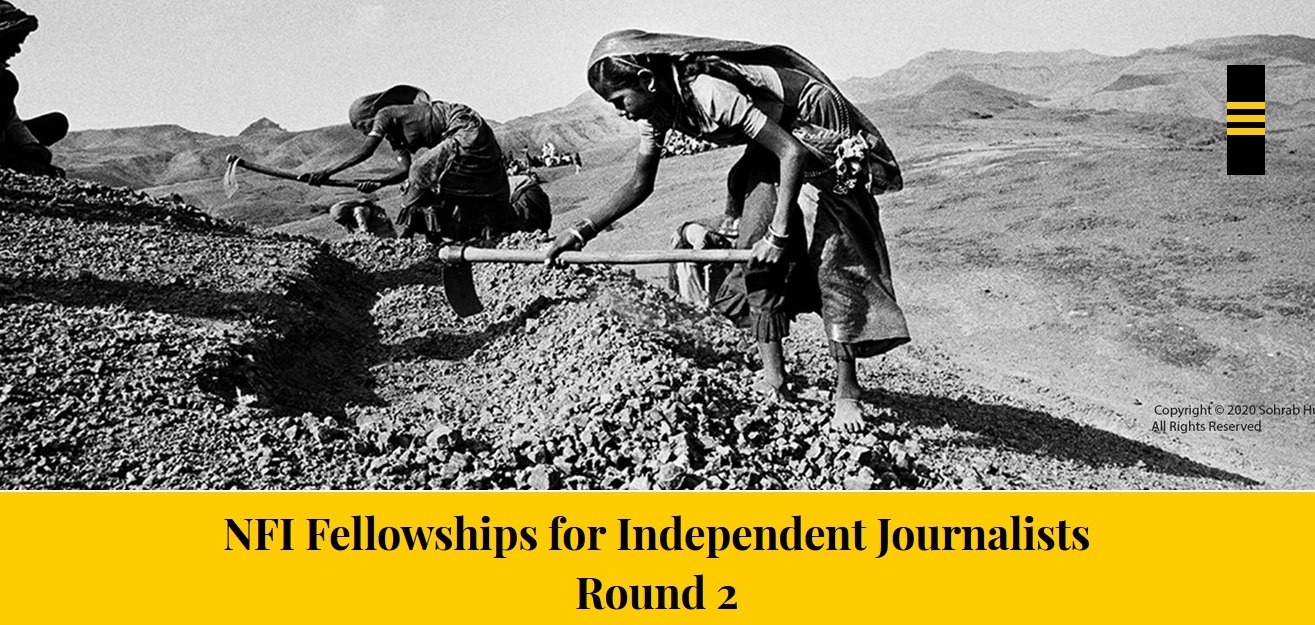 Who Can Apply?
Journalists who meet the following two criteria
1. Independent journalists not engaged on a full-time basis with any media organisation.
2. Journalists who are Indian citizens and residing in India outside the six metropolitan cities of Delhi-NCR, Mumbai, Kolkota, Chennai, Hyderabad and Bengaluru.
How to Apply?
All the details in application form for both, fellowships in English and Malayalam must be filled only in English. (We apologise but we are unable to accept applications in Malayalam due to resource availability).

To apply in the current round, you should have the following ready:
1. For fellowships in English: your story idea written in English in less than 400 words. For fellowships in Malayalam: your story idea written in Malayalam in less than 400 words.
2. Your CV in English in a word or pdf format.
3. One unedited version of your best published work or an unpublished journalistic work of not less than 400 words in MS Word or PDF format. (Those applying for Malayalam Fellowships need to attach their unedited work in Malayalam)
To strengthen your pitch, please consider the following elements in your proposal :
1. The most recent development, event, incident or an emerging trend you want to report on.
2. Explain the context in which the development has happened or is happening (Editors find it easy to review the pitch when it is presented with the right context).
3. Summarise why this development matters, which is to say, why should anyone who consumes this news or analysis care about this development.
4. Give us a sense of what evidence, data or reporting you are already armed with and what else you would gather if you are granted the fellowship.
Fellowship Amount
** Each fellow will be granted INR 30,000 to publish one story of 1,000-1,500 words on a broad range of themes and issues of public interest, reported in depth over one month.
** If required, NFI will connect the grantee to a senior journalist as a mentor to guide and help the grantee in reporting better.
** We will aid the grantee in publishing the stories with different media organisations. The reportage in Malayalam will be published by our partner Azhimukham.
Selection Process
** An NFI-appointed jury of eminent journalists selects the grantees based on the detailed application. For the fellowships to report in Malayalam, the editorial leadership of Azhimukham and NFI will jointly select fellows.
** Weightage is given to candidates from disadvantaged backgrounds.
** Early submissions get additional weightage during the selection process.
** Fellowship grants are announced within 15 days of the application window closing. Successful candidates are informed by email and through announcement on the NFI website.
FAQs
1. Can those who have earlier received a NFI fellowship apply for the current fellowship?
Yes, former NFI fellows may apply for the current fellowship. But the jury will give a higher preference to first time applicants.
2. I grew up in a metropolitan city listed in the fellowship form (Delhi-NCR, Mumbai, Kolkota, Chennai, Hyderabad, or Bengaluru), but now reside elsewhere. Am I eligible to apply?
If in the previous six months, you have resided in places other than the six metropolitan cities mentioned in the fellowship announcement, you are eligible to apply.
3. How Does the Programme Define an Independent Journalist?
The following fall into our working definition of 'independent journalists':
You are either
A "working journalist", whose primary vocation and source of livelihood is journalism. But you are not employed on a full-time basis with benefits of a salaried employee by any organisation. Or,
You are a pass-out from a journalism college and not employed full-time by either a media organisation or any other kind of organisation.