IIT Hyderabad CfHE Fellowship 2021-22 : Center for Healthcare Entrepreneurship
Rate this post:
[ Votes=

0

, Average =

0

]
Organisation : IIT Hyderabad
Fellowship Name : Center for Healthcare Entrepreneurship (CfHE) Fellowship 2021-22
Applicable For : Entrepreneurs
Application Last Date : 15.05.2021
Website : https://cfhe.iith.ac.in/fellowship.html
IIT Hyderabad CfHE Fellowship
IIT Hyderabad invites applications for Center for Healthcare Entrepreneurship (CfHE) Fellowship for the year 2021-22.

Objective
This program aims at bringing together engineers, clinicians, entrepreneurs and the business community on a single platform to design and innovate in the field of healthcare, biomedical devices, and services to create a social impact.
CfHE Fellowship Eligibility
Minimum eligibility criterion includes –
** Btech/ BE degree or higher
** M.B.B.S/B.D.S or higher
** B.Des or higher
This is just minimum requirement. Successful candidates are expected to show prior track records in entrepreneurship or demonstrable intent in that direction.
CfHE Fellowship Application Process
Just follow the below steps to apply for Center for Healthcare Entrepreneurship (CfHE) Fellowship 2021-22.
Steps :
Step 1 : Go to the official website of IIT Hyderabad CfHE portal through provided above.
Step 2 : Next read the instructions carefully and click on the "Apply Now" button.
Step 3 : Fill the application form with the required details and click on "Next" button
Step 4 : After that fill the remaining details and upload necessary documents to complete the application.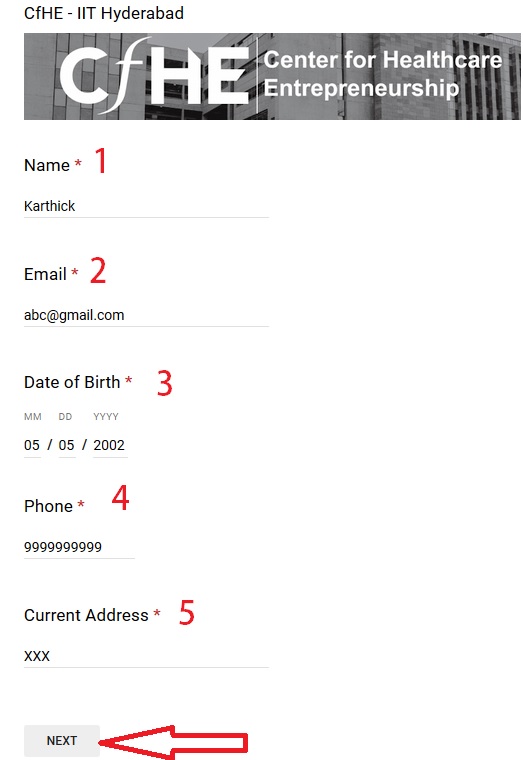 CfHE Fellowship Last Date
** Submitting of Online Application before – 15th May 2021
Fellowship Outcomes
Entrepreneurs, products, companies in the field of Healthcare
Curriculum Highlights
1. The curriculum focuses on biodesign innovation through a structured plan of Product development containing
** Clinical immersion to identify the unmet needs
** Needs filtering and Needs Statement development
** Ideation and brainstorming to develop solutions to the problems
** Implementation – Product Prototyping, Design, Validation
** Regulatory aspects and Intellectual Property
** Business plan development and Strategies for marketing
2. The fellows get exposure to experts from clinic, medical device industry, entrepreneurs, IP/ legal and safety and regulatory experts.
3. Hands on training on 3-D rapid prototyping for quick designing of products, validation of ideas etc
4. A basket of technology electives from IITH to bridge the gaps in expertise related to the project
5. The fellows get training on how to form start up /new ventures and writing business plan for their start up and proceed to incubating the companies
6. The fellows would present a workable prototype of their idea and present the business plan at the end of the program leading to a startup and pitching to VCs
About Us :
The Foundation for the Center for Healthcare Entrepreneurship, is sponsored by two IIT Bombay alumni, and is focused on making universal healthcare a reality. The Center's objective is to catalyze healthcare innovation to bring about affordable solutions to address healthcare needs of India.
The Center hopes to foster entrepreneurs to deliver a pipeline of cost-efficient solutions, which are increasingly 'commercialized'.