Toprankers Legaledge AISAT 2021 : All India Scholarship & Admission Test
Rate this post:
[ Votes=

1

, Average =

4

]
Organisation : Legaledge & Toprankers
Scholarship Name : Legaledge AISAT 2021 All India Scholarship & Admission Test
Applicable For : All CLAT 2022/2023 Aspirants
Applicable State/UTs : All India
Exam Date : 25.04.2021
Website : https://www.toprankers.com/
Legaledge AISAT
Legaledge All India Scholarship & Admission Test For All CLAT 2022/2023 Aspirants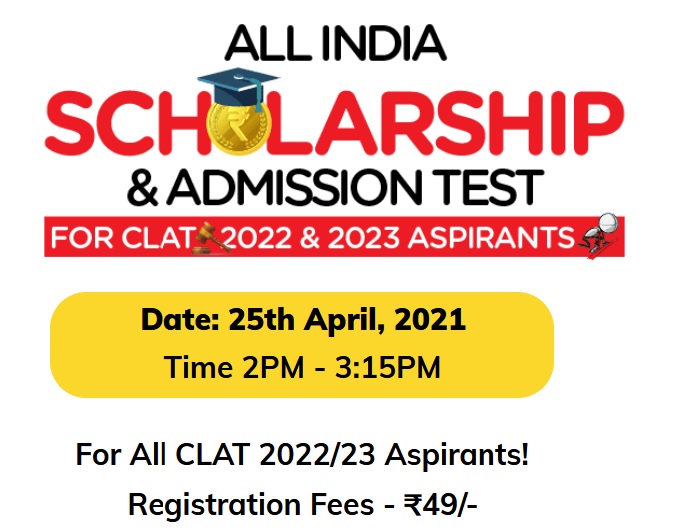 Why Should You Attend AISAT?
** Get Scholarships up to 100% on Tuition Fees
** Benchmark your performance against your competitors.
** Get a reality-check of your standing and plan your preparation 'better' in the coming months.
Eligibility
Anyone preparing for CLAT 2022/23 Examinations are eligible to apply for Legaledge AISAT 2021.
How to Register?
Just follow the below steps to register for AISAT 2021.
Steps :
Step 1 : Visit the official website of Toprankers through provided above.
Step 2 : Read the instructions carefully and click on the "Register Now" button.
Step 3 : Fill the registration form with the required details.
Step 4 : Finally click on the "Register for Free" button to complete the registration.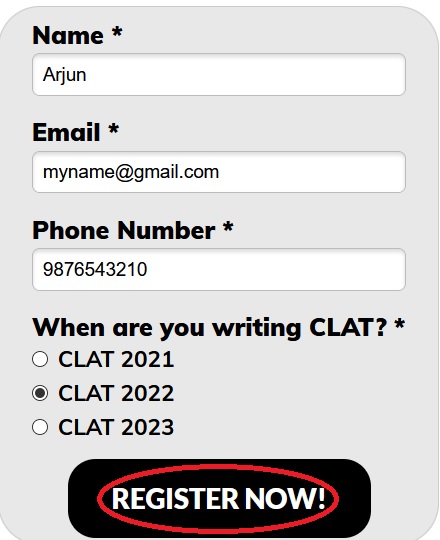 Test Pattern
The Test would comprise of two sections with Sectional Time Limit
CLAT Pattern : (50 Questions)
** English Language – About 25 questions
** Logical Reasoning – About 15 questions
** Legal Reasoning – About 10 questions
** Time Limit – 45 Minutes
AILET Pattern : (25 Questions)
** Analytical Reasoning – 15 Questions
** Elementary Mathematics – 10 Questions
** Time Limit – 30 Minutes
Important Dates
** Dates For AISAT 25th April 2021
** Registration Ends on 24th April 2021
** Result to be announced on 26th April 2021
FAQs
1. What is the cost?
It is Rs. 49/-!
2. How and where will I be able to attempt the LegalEdge AISAT?
You'll be able to attempt the AISAT on this page itself with the credentials of Toprankers.com.
3. When should I write the test?
Test on 25th April 2021 from 2PM to 4PM.
4. What are the DOs and DONTS of attempting the LegalEdge AISAT?
a. Take the test in one sitting.
b. Read the instructions VERY CAREFULLY before starting the test. They'll be given at the beginning of the test.
c. DON'T click on 'Submit' unless you want to submit the test before the completion of 120 mins.
d. Don't try to Google! You anyway won't find answers to the questions we'll be framing.
5. For how long are the Scholarships valid?
Scholarships of the AISAT shall expire within a week of getting the Scholarships.
6. I'm an existing LegalEdge student. Can I get Scholarship?
Yes, you can get Scholarship on the new courses that you may enrol for. Note that there is no Scholarship/Cashback on any of the existing courses.
About Us :
We at TopRankers aim to provide most comprehensive content & test for practice which is carefully divided into various chapters and topics to help you focus on your weak areas.
Our Practice mock test gives you unmatched analytics to help you realize your strong areas,time management and improvement areas.Our Short & Crisp notes on each topic will help you to quickly revise the topic along with the tips & tricks of the exams.
Contact Us :
Toprankers Edtech Solutions
127,2nd Floor, Zone-II
M P Nagar,
Bhopal
Madhya Pradesh – 462011