Vidya Poshak Financial Support 2021 For Engineering & Medical Courses : vidyaposhak.ngo
Rate this post:
[ Votes=

0

, Average =

0

]
Organisation : Vidya Poshak
Scholarship Name : Vidya Poshak Financial Support 2021 For Engineering & Medical Courses
Applicable For : Students Aspiring to join Engineering or Medical course
Applicable State : Karnataka
Website : http://www.vidyaposhak.ngo/financial-support-for-engineering-medical-courses/
Vidya Poshak Financial Support
Vidya Poshak has invited applications for financial assistance (Scholarships) to needy students joining engineering and medical course.
Related / Similar Scholarship : Vidya Poshak Yuva Fellowship 2021
Eligibility
** Student should have appeared for the II PUC examination for the first attempt in March/ April 2020
** Aspiring to join Engineering or Medical course
** The Student should have scored at least 80% in the II PUC Board examination
** Student should have secured below 15000 ranking in CET and below 3000 ranking in NEET examination in Karnataka
** Total family income should be less than Rs 15,000 per month
How to Apply?
Just follow the below steps to apply for the Vidya Poshak Financial Support 2021 For Engineering & Medical Courses.
Steps :
Step 1 : Visit the official website of Vidya Poshak through provided above.
Step 2 : Please read carefully instructions &eligibility criteria before filling the form
Step 3 : Please click the link at the bottom of the page to apply for financial assistance
Step 4 : Fill the application form with the required details
Step 5 : Finally click on Submit button to complete the application.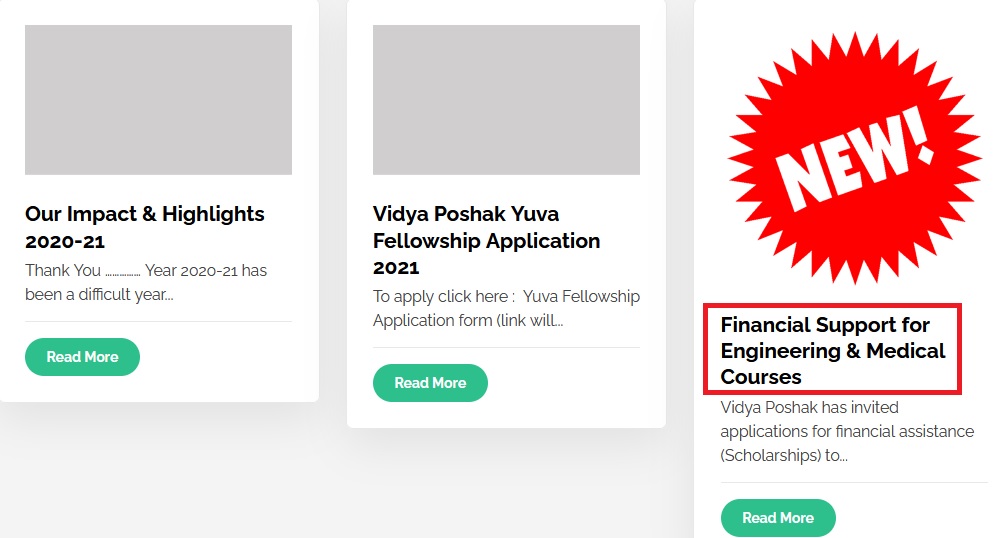 Documents Required
Keep the following documents & information ready before filling the form
1) PU II year Marks card
2) CET/NEET Rank sheet
3) Latest electricity bill
4) Bank passbook pages of the earning members in the family. (1st page & Last transaction page)
5)Dwelling unit photo (Photo along with family members in front of house)
6) Ration Card.
Only students joining Engineering/Medical should apply
VP Programs
Nurturing Merit :
Nurture Merit Program Is a well-designed, structured and focused program to support bright students coming from economically challenged families for their College Education to complete their Graduation degree leading to a meaningful employment/self-employment. The program has the following integrated services.
** Financial Assistance – This will cover college fees, transportation and exam fees. Along with this additional amount for coaching is given for a few performers.
** Books & Library Services – Academic text books, Computers with Internet facility & Career guidance programs are provided to the students through libraries and book banks located in rural places.
** Training through Residential Camps – Various skill and need based training for the students to enhance communication/life skills and employment opportunities. Along with this to ensure creating good, sensitive citizens for the society.
eVidyaloka :
The objective of this program is to connect teaching volunteers from across the world to remote & rural schools using Digital Classroom technology. The online classes are two way, live & interactive are conducted within the government schools framework of functioning.
eVidyaloka focuses on delivering core subjects – Maths, Science & English – to rural children through a remote delivery model, in the local medium of instruction that both complements and supplements existing school curriculum, by bringing together three levers – People, Technology & Process..
Contact
For more details please contact 8861201828 / 9845038017