Kerala Pareekshabhavan LSS/USS 2021 Scholarship Examination : bpekerala.in
Want to comment on this post?

Go to bottom of this page.
Organization : Office of the Commissioner for Government Examinations Pareekshabhavan
Scholarship Name : LSS/USS Scholarship Examination 2021
Applicable For : Students of Class 7
Applicable State : Kerala
Exam Date : April 2021
Website : http://bpekerala.in/
Kerala Pareekshabhavan LSS/USS Scholarship
LSS/USS Examination April 2021 Registration Started.
The government of Kerala started a scholarship program with an intention to encourage each student of state for further studies. A huge number of students take part in this test to grab a scholarship amount for their better future.
LSS/USS Scholarship Registration
Just follow the below steps to register for LSS/USS Scholarship Examination 2021.
Steps :
Step 1 : Go to the official website of Kerala Pareekshabhavan through the URL provided above.
Step 2 : Then click on the "LSS/USS Examination Registration Login" link


Step 3 : Next enter your User Id and Enter Your Password
Step 4 : Enter the captcha as shown in the image
Step 5 : Finally click on "Sign In" button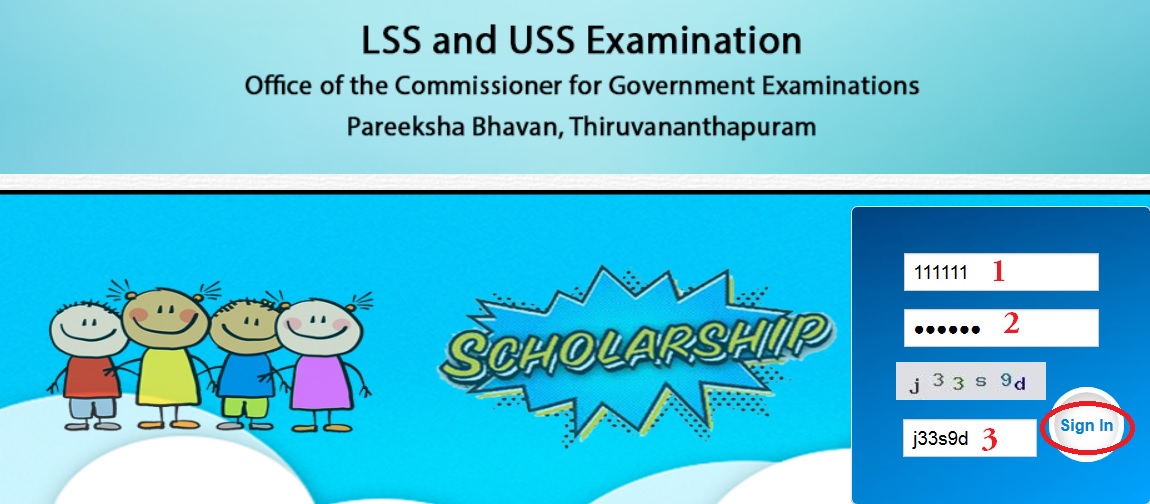 Step 6 : After online registration, a printout of the application form must be submitted along with a fee of Rs.100/- to the Sub district Education Officer.
Notification :
https://www.scholarships.net.in/uploads/pdf2021/50656-Advt.pdf
Note :
** For Password Reset (Password forgot / invalid password) Contact Your AEO office
** For school level login contact AEO
LSS/USS Exam Pattern
Paper 1 :
Language 1 – 40 Marks
Language 2 – 40 Marks
General Knowledge – 40 Marks
Paper 2 :
Science – 40 Marks
Mathematics – 40 Marks

The examination pattern of the USS Examination includes two papers of 1.5 hours each. The examination was held across every panchayath in the state.
To be considered for the USS scholarship students should get 63 or more score out of 90 i.e. 70% or more. A total of 20 students per sub-district will be considered for the scholarship. General- 15, OEC- 1, SC- 2, ST- 1,CWSN- 1
LSS/USS Model Questions
Questions 1 to 5 : Read the following passage and select the correct answer for the questions after it
Banks are places where people can keep their money. Most people use banks to save money in their savings accounts and to pay or withdraw money from their accounts.
Today, when one earns money from his/her job, their salary is often electronically deposited (put) into their savings account. Then, he/she can pay their bills by writing cheques from their accounts or pay online where their bills are electronically connected to their bank accounts.
Banks also give loans to people. Banks use the money that their customers deposit to lend to people to buy new houses, cars, or to start business and for many other reasons. The bank makes money from lending and charging interest.
In other words, people have to pay back more than they borrowed. This amount depends on how risky the bank thinks the borrower is and how fast the loan is paid back among other things
1. Which of the following is not a function of banks  :
A) Impose tax on people
B) Allow people to pay bills online
C) Charge and give interest
D) Provide loans
2. How do banks get money :
A) Having a number of accounts
B) Giving interest to depositors
C) Electronically
D) Collecting deposits from customers
3. What does 'interest on loan' mean  :
A) Banks pay more money to people than they have borrowed.
B) Banks require people to pay back the same amount they have borrowed.
C) Banks require people to pay back more money than they have borrowed.
D) Banks require people to deposit more.
4. Which one of the following is not a purpose for lending money  :
A) for depositing in the bank
B) to buy new or old cars.
C) to break the laws of lending
D) how fast the loan is paid back
5 Which of the following means 'withdraw' :
A) Take on
B) Take up
C) Take out
D) Take into