Career Launcher Talent Hunt Aptitude & Scholarship Test 2021 : careerlauncher.com
Want to comment on this post?

Go to bottom of this page.
Organisation : Career Launcher
Scholarship Name : Talent Hunt National Level Aptitude & Scholarship Test 2021
Applicable For : Classes VIII, IX, and X (For Engineering & Medical Aspirants)
Exam Date : April 4, 2021
Website : https://www.careerlauncher.com/talent-hunt/
Career Launcher Talent Hunt
Career Launcher's Talent Hunt is a national-level scholarship test. It helps students take the first step towards their goal of becoming a doctor or an engineer by providing them with an opportunity to get up to 100% scholarship, as well as cash rewards.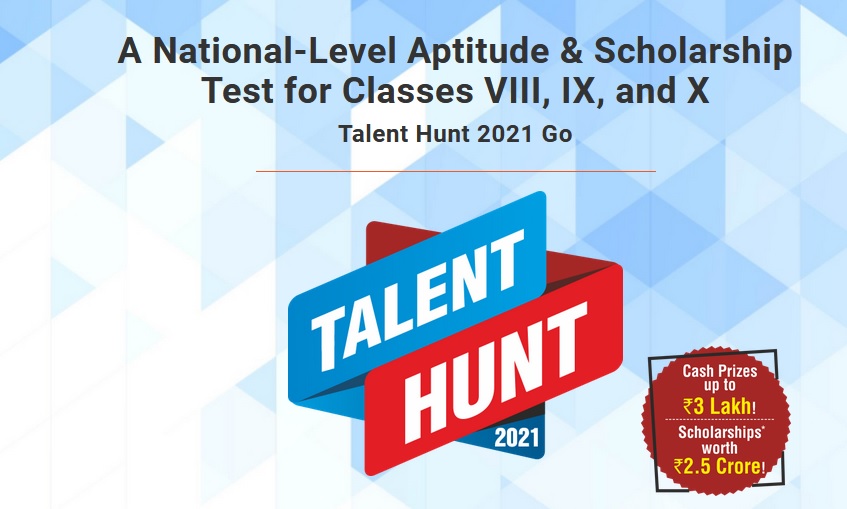 To help young minds take better and informed career choices, and to help them get a glimpse of the nature of various competitive exams, the 1st edition of Talent Hunt was conducted in 2012. This is the 10th consecutive year that we are conducting this test. More than 5 lakh students from 1,000+ schools have participated and benefited from Talent Hunt.
Career Launcher's Talent Hunt is a golden opportunity for students to benchmark themselves against test-takers across India. It is a unique platform for them to evaluate their aptitude; and excel in their chosen field of interest.
The test-takers will also be able to engage with experts, who will help them gauge their performance in the test; and guide them towards their dream career. Talent Hunt also has in store lucrative cash prizes and scholarships to Career Launcher's two-year & one-year programs for IIT-JEE, NEET, and Foundation.
Exam Details
Test Date : April 4, 2021 (Sun.)
Slot 1: 10:00 – 11:00 hrs
Slot 2: 17:00 – 18:00 hrs
Format : Online MCQ (with -ve marking)
Syllabus : Science (PCB), Mathematics & Aptitude
Class : VIII, IX, X
Exam Fee : 49/- (+GST)
How To Register?
Registration Process
Step-1 : Logon to https://www.careerlauncher.com/talent-hunt/
Step-2 : Submit your details
Step-3 : Make Payment
Step-4 : Confirmation
Prizes
Prizes to be won
Rank 1 : Rs.30,000
Rank 2 : Rs.20,000
Rank 3 : Rs.10,000
Other Features
** National / Zonal / State Rank & Performance Analysis
** Free Career Guidance Assistance After the Test
** Merit & Participation e-Certificates
** Evaluation of Individual Aptitude
Frequently Asked Questions
Can I register for both the slots?
Yes, you can but you have to use different email ids for registration and the higher score of the two will be considered.
In how many stages is the test conducted? What are the details of eligibility, mode & venue?
It's a single-stage exam. All students from Classes VIII to X, who have successfully registered for Talent Hunt will be eligible to take the test. It is an open book online test to be taken from the comforts of a student's home.
Is there any negative marking?
Yes, there will be 1/4th negative marking deducted for every incorrect answer.
What will be the syllabus?
NCERT syllabus of a student's previous and current class, plus common aptitude.
What all documents are required to claim the cash prize?
Any Govt ID Proof along with the last year mark-sheet from your school.
Can I take the test on any desktop/laptop/mobile?
You can take the test on any PC/Tablet/Laptop/Mobile that has Google Chrome/Mozilla Firefox browser installed.
When will the results be declared?
The results will be declared a week after the test.
What will be the paper pattern? Will it be different for the three classes?
Yes. There will be different test papers for each of the classes. The questions will be of MCQ type.
Can I take the test offline?
Talent Hunt 2021 will be conducted through online mode only.