LNTECC BIS 2016 Build India Scholarship : L&T Construction
Organization : L&T Construction
Scholarship Name : BIS 2016 Build India Scholarship
Application Last Date : 8th December, 2015
Website : http://www.lntecc.com/HRMNet/HRMPages/CR/HrmCareersBIS.html
Apply Online : https://www.digialm.com/EForms/configuredHtml/1133/3178/application.html
BIS 2016 Build India Scholarship :
L&T Construction will sponsor fresh, deserving engineering graduates interested in pursuing an M.Tech. in Construction Technology & Management in IIT (Madras / Delhi) and NIT (Surathkal / Trichy) and developing as Project Managers. L&T Construction is part of the Larsen & Toubro conglomerate, and a leader in the field. The scholarship reinforces L&T Construction 's keenness to enhance industry academia interface.
Related / Similar Scholarship : LNTECC BIS 2017
Eligibility Criteria :
Qualification :
Only first class graduates in Civil/Electrical Engineering who will past out in 2016 from a recognized Indian University/institute with the following consistent academic record:
10th Std: Minimum 60% or CGPA of 6.50 on a scale of 10
12th Std: Minimum 60% or CGPA of 6.50 on a scale of 10
B.E./B.Tech. : Minimum 60% or CGPA of 6.75 on a scale of 10

Age Limit:
Not more than 23 years as on 1st July, 2016.
Scholarship Details & Application :
Scholarship :
For the 24 month course, L&T will pay candidates a stipend of Rs. 13,400/- per month as well as sponsorship and tuition fee to IIT/NIT.
Selection Process:
Involves Written Test (Subject & Aptitude) & Interview conducted by IIT (Madras/Delhi) and NIT (Surathkal/Trichy) in co-ordination with L&T Construction. Final selection will be subject to medical fitness.
How To Apply :
Eligible candidates may apply online in the application format for the Build India scholarship on the 'Careers' page of our website within 15 days giving accurate and complete details.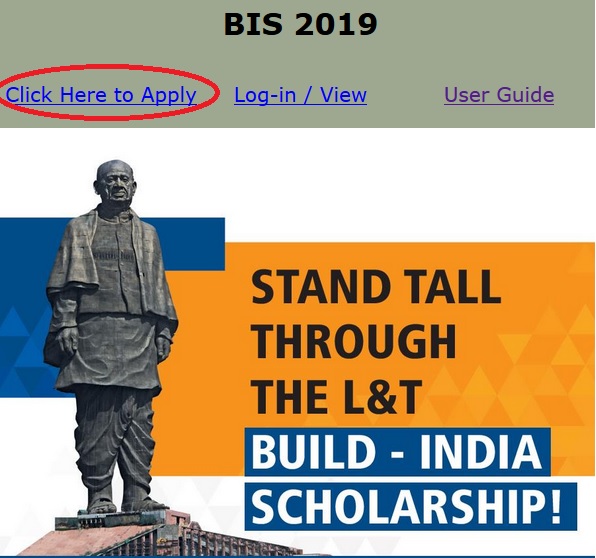 Employment:
Those who successfully complete the course as per the requirements of the institute will be considered for employment in permanent cadre in accordance with the terms and conditions of the Company. Total emoluments on absorption currently exceed Rs. 6.0 Lakhs per annum on cost-to-company basis. The Company offers excellent career prospects.
Undertaking:
Before the course, candidates selected will have to execute an undertaking for a value of Rs. 3.0 Lakhs to complete the course and subsequently, if selected for employment, to serve the company for five more years.