Berows BISPT 2021 International Scholarship Program Test
Rate this post:
[ Votes=

0

, Average =

0

]
Organisation : Berows
Scholarship Name : BISPT 2021 Berows International Scholarship Program Test
Applicable For : Meritorious Students from all over the world
Exam Date : 11/04/2021
Last Date : 31/03/2021
Website : https://bispt.com/
BISPT
BISPT 2021 Berows International Scholarship Program Test Win Cash Awards Upto Rs. 12 LAKHS And Free Online Courses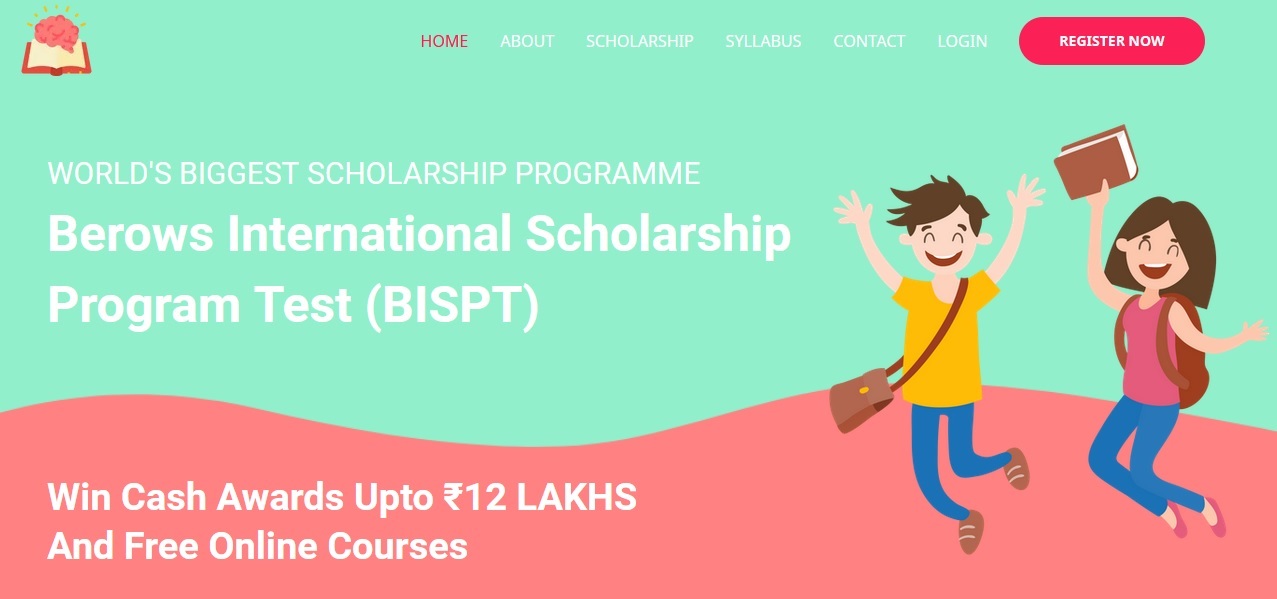 Objective
Berows International Scholarship Program Test (BISPT) is a scholarship program to provide financial aid to meritorious students from all over the world.
The BISPT scholarship program's objective is to motivate the students by providing the scholarship and making students independent. This program aims to solve a student's financial problems so students can progress in life without taking any loan for their education.
Eligibility
BISPT scholarship is available for students in 3 groups as per their educational level. They have been divided into three groups named Junior Champions, Graduate Champions, and Senior Champions.

Scholarship Amount
BISPT will be providing scholarships to a total no. of 5,000+ students with cash awards up to ? 12,00,000 ( $16,000 USD) all over the world.
How to Get Scholarship?
1. All the Students are requested to read & select the Eligibility Criteria
2. Now Register for the BISPT Scholarships & Submit Application Successfully.
3. Students have to appear for the BISPT Examination which will be conducted through Online examinations Only.
4. Students have to clear the examination & also get a higher rank to get a higher scholarship amount.
Note :
(1) Every Participant has to pay one-time registration fees of ?150 INR ($2 USD) only.
(2) Scholarships will be awarded by Cash, Cheque & Bank Account transfer only.
Registration Fee
** Early Bird Applications – Rs. 150 (Inr) / $2 (Usd)
** Late Applications – Rs. 350 (Inr) / $7 Usd
Important Dates
| | | |
| --- | --- | --- |
| S. No. | Particulars | Date |
| 01 | Registration Starts | 10/01/2021 |
| 02 | Last Date for Early Bird Applications | 15/02/2021 |
| 03 | Last Date to Apply with Late Application Fee | 31/03/2021 |
| 03 | Day of Examination | 11/04/2021 |
| 04 | Result Day | 15/04/2021 |
Instructions
** PLEASE NOTE THAT YOU ARE APPLYING TO PARTICIPATE IN OUR ONLINE TEST SCHEDULED FOR 11th April 2021 (SUNDAY) TO WIN A Berows International Scholarship Program Test (BISPT) BASED ON MERIT.
** You can apply for JUNIOR, GRADUATE, and SENIOR CHAMPION only if you are appearing in or passing out your class 9th, to 12th or Diploma or Under Graduation 1st to 5th Year And Post-graduation 1st and 2nd Year exam of a degree, Any course in any school/college/university in the year 2021.
** The test will be conducted online only. You can appear in it from your Phone or Tablet or Laptop.
** Carefully Fill Your Details
i. Write your Full Name as it appears in your school/college certificates.
ii. Write the Full Name of your father.
iii. Fill up your date of birth as per your High School certificate.
iv. Give your full and correct address for correspondence along with the correct Pin Code of the area/town.
** Write your correct permanent and functional Land-line OR Mobile numbers as well as any other alternative telephone number to enable us to instantly inform you about any important matter regarding the test. Please do not change your numbers till your final result is declared. Alerts will be sent to your first mobile number.
** Write the full name of your College and its Location (i.e. town/city) where you are currently a bona fide student and pursuing your studies for 2020 exams.
** Please note that any incorrect information provided by you in the application form may lead to the rejection of your application and candidature for the test. You must undertake the responsibility of the correctness of all the information that you give in the application form.
** You must upload your latest and clear photograph as proof of your identity in the application form (If asked).
The photo must either be in (JPG, JPEG, GIF, TIF) format & it should be of a passport-size and its memory size should not exceed 100 KB. Please keep the scanned copy of your photo-ready before you start the registration process.
NOTE :
Please also go through other important instructions as –
** Results may sometimes be delayed due to unforeseen reasons. So, you need to keep patience while waiting for it. Winners of scholarships will be informed individually as soon as the final list is ready.
The result will be displayed in the RESULT menu of our website WWW.BISPT.COM on 15th April 2021. You will be able to download your Score Card and Certificate of Appreciation with Ranking in one 1 or 2 weeks from the date of the exam.
** Admit Cards of all the candidates will be sent by e-mail just one week before the date of the test. It will also be available on our website www.Bispt.com.
** Please visit the website regularly to know more about any issues related to your admit card, venue address, result, etc., or call our executives on students' support lines as given below.