Gradeup National Scholarship Test 2021 for GATE & PSU's CS
Rate this post:
[ Votes=

0

, Average =

0

]
Organisation : Gradeup
Scholarship Name : GNST 2021 For GATE & PSU's CS
Applicable For : Students preparing for GATE & PSU's CS
Online Exam Date : 28th Feb 2021
Website : https://gradeup.co/national-scholarship-test-gate-3rd-gnst/computer-science-engineering-exams
Gradeup GNST
3rd Gradeup National Scholarship Test for GATE & PSU's CS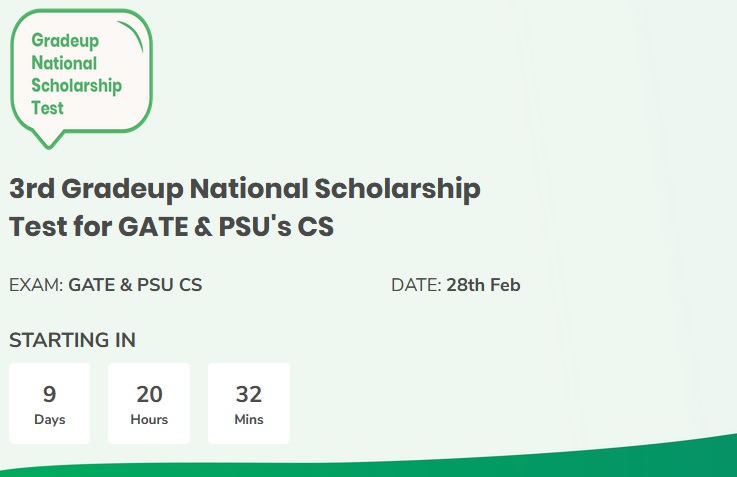 About GNST
Gradeup GATE Computer Science Engineering Scholarship Test 2021. GNST for ESE & GATE CE is a talent search competition that tests the students' proficiency.
After clearing, every participant is rewarded with a scholarship & participation certificate. GNST ESE & GATE CE Test results will be announced after completion of every stage separately on Gradeup website and app.
Eligibility
If you are preparing for the GATE & PSU's CS, then you are eligible for this test.
How Can I Participate?
It is completely online. Take the test from the comfort and safety of your home. The Scholarship Test is being held on 28th February when students can attempt this test.

Test Pattern
Gradeup UPSC Scholarship Test will be a 120 mins long and a 200 marks test. The total number of questions asked will be 100. Every correct answer will carry +2 Marks, however, every incorrect answer will deduct 1/3rd marks.
** Correct Answer = +2 Marks
** Incorrect Answer = -0.66 Marks
Terms & Conditions
** The selection of the model for every gift is the sole discretion of Gradeup.
** Actual product may vary from the image shown.
** Winner's selection is at the sole discretion of the company.
** Any information shared by the student if found invalid will lead to disqualification.
** Fake attempts will be monitored through our AI-based algorithm.
** Any information shared by the student if found invalid will lead to disqualification.
** Gifts will be delivered within 60-90 days of the announcement of the final result.
Result
The results of GATE Computer Science Engineering Scholarship Test 2021 Stage 1 will be announced on 3rd March, 2021 at 4 pm IST. Stage 2 result will be announced on 10th March, 2021 at 4 pm IST.
FAQs
1. How much is the registration fee for GNST?
The registration for GNST is completely FREE.
2. Can I take the test on my Desktop?
GNST can be taken by logging into gradeup platform using a smartphone, laptop, and desktop. However, device switching won't be possible during the test.
3. Will I get a reward for attempting GNST?
All students who attempt the test will be given participation certificates from Gradeup
About Us :
Gradeup is an online platform to turn your dreams into reality and help you find a better job in the government sector. Gradeup provides daily current affairs, study material, notes, preparation tips, mock test, online coaching and more to help you crack the government job exams effortlessly.
Practice papers, online coaching and online test series are key for any competitive exam preparation. Thus, Gradeup personalised your learning and provide all the required materials for Banking, SSC, Railway, NRA CET, Teaching, UPSC, CLAT, CAT, GATE, AE/JE, BBA, Hotel Management and other competitive exams in India.
Helpdesk
Please email us at help [AT] gradeup.co or call us at +919650052904 in case you face any issues. We will be glad to help you as soon as possible.