Rice Talent Scholarship Test 2021 : riceindia.org
Rate this post:
[ Votes=

0

, Average =

0

]
Organisation : Roy's Institute Of Competitive Examination
Scholarship Name : Rice Talent Scholarship Test 2021
Applicable For : Student pursuing UG or PG
Exam Date : 20th or 21st Feb '21
Last Date : 18th Feb '21
Website : https://scholarship.riceindia.org/
Rice Talent Scholarship Test
RICE Talent Scholarship Test is the Largest Online Merit Test which provides a golden opportunity for students preparing for Government jobs. Enrol for the Test and get upto 100% scholarship on RICE courses. Over Rs. 1 Crore Scholarships* to be won.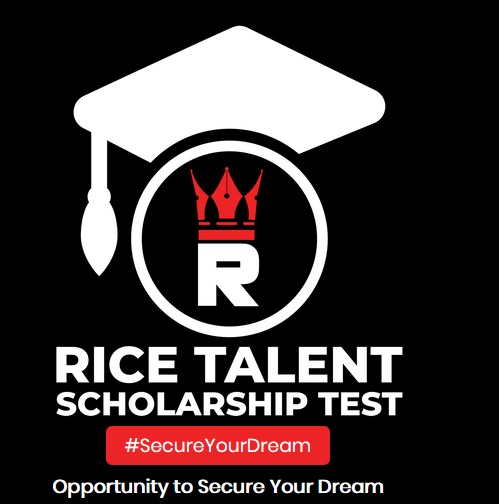 Each test date has multiple exam slots to choose from. Select your preferred time slot for taking the test. Duration of Test is 1 Hour for 60 marks. The test will be based on Multiple Choice Questions from English, Mathematics, Current Affairs and General Knowledge.
Eligibility
** Any student pursuing Undergraduation or Post graduation.
** Any Graduate or Post Graduate
How to Apply?
Register at www.scholarship.riceindia.org and share some basic information about yourself. You will also be allowed to select your preferred date and time slots and can take the test at your preferred date and time.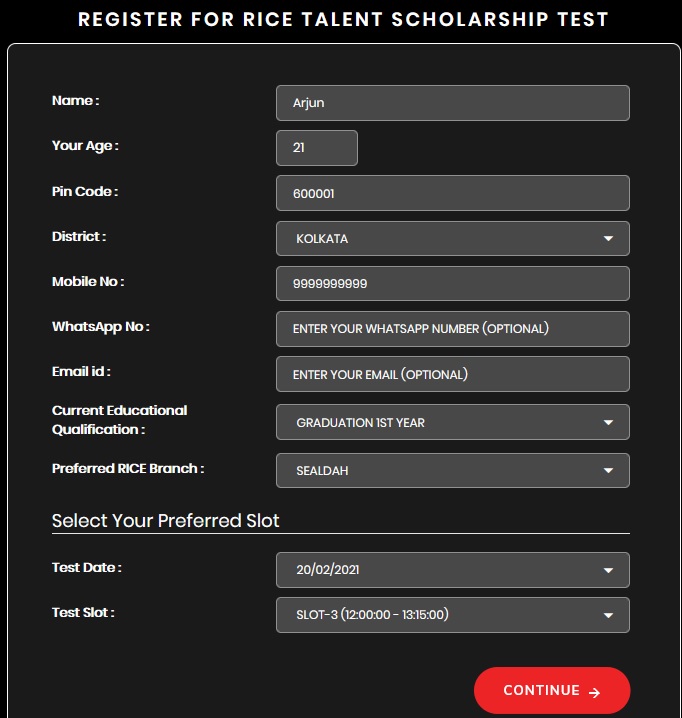 Important Dates
** Scholarship Test Date – 20th or 21st Feb '21
** Last Date of Registration – 18th Feb '21
Terms & Conditions
** RICE TALENT SCHOLARSHIP TEST (hereinafter referred to as Test) is being conducted by ROY'S INSTITUTE OF COMPETITIVE EXAMINATION PVT LTD (hereinafter referred to as RICE) to identify merit based talents to enrol in preparatory courses for various competitive examinations for Government Jobs and provide them with an opportunity to pursue the said course at RICE at discounted rates.
** Participation in Test does not guarantee scholarship.
** Scholarship is based on your performance in the test.
** The offered scholarship is only applicable when you finish the test on the designated date and time and if admissions are taken by 28th February 21.
** The scholarship is applicable on MRP of the course of RICE.
** The scholarship entitles you for a fee waiver on our classroom & online coaching programs at RICE Branches.
** All decisions regarding the admission and scholarship test results, scholarships awarded, and fee waiver rest with RICE.
** RICE may, at its discretion, use the name, photograph and other details of the candidates who would register for the Test, for various promotional campaigns for which no separate consent will be required.
** The Scholarship Scheme may be withdrawn by RICE at any point of time without any notice.
** RICE shall have exclusive right to use name, photograph and other details of successful candidate who qualify in one or more competitive examinations for promotional campaigns without any further consent from the candidate.
FAQs
1. How do I win the scholarship?
You will appear for the RICE Talent Scholarship Test and as per the scores you will be eligible for scholarship upto 100% on the fee amount of your chosen courses at branches of their choice of RICE
2. Will the test be online or offline?
The test is completely online. The link, username and password will be sent to you via sms/email prior to the Test. You can be at any location of your comfort and take the test from your system.
3. How long will be the test?
The test will be 1 hour long.
4. What should one prepare for the test?
The test will mainly have questions on General Knowledge, Current Affairs, Mathematics and English.The test will be of 10th standard level.
5. What is the scholarship that one can win?
On the basis of your scores, you can get a scholarship upto 100% of the amount of RICE course fees for your chosen course at your selected branch of RICE.
6. Where are the branches located and what are the courses of RICE on the offer?
RICE has 16 branches across West Bengal and has blended courses (both online and offline) available for WBCS, other PSC exams, SSC, Banking, Railway, other competitive exams for preparation of Govt. Jobs. Please visit our website www.riceindia.org to know more.
Result
** Contact your preferred RICE Branch to know the results from 23rd Feb '21.
** For details call 98747 12112