Vidyamandir Classes NAT 2021 National Level Online Test for Admission & Scholarship
Organisation : Vidyamandir Classes
Scholarship Name : NAT 2021 National Level Online Test for Admission and Scholarship
Applicable For : Students going to class VI, VII, VIII, IX, X, XI, and XII for admissions to VMC
Exam Date : 7th February 2021
Website : https://www.vidyamandir.com/nat-national-admission-test.html
Vidyamandir Classes NAT
VMC NAT National Level Online Test for Admission and Scholarship

Note :
In lieu of the COVID 19 pandemic, VMC NAT will be conducted online. Details will be shared after the registration.
Advantages
** Save Minimum 40,000 on Fee and get upto 100% Scholarship
** Study at Last Year Fee
** Upto 120 Hrs of Live Classes Free till March 2021
** Easy EMI Options available for Fee
** Book your seat with Registration Fee of Rs. 9,999.
** Pay balance before April 2021
How To Register?
Students can register online by paying Rs. 99 or through promotional codes here https://www.vidyamandir.com/NAT-admission-test.html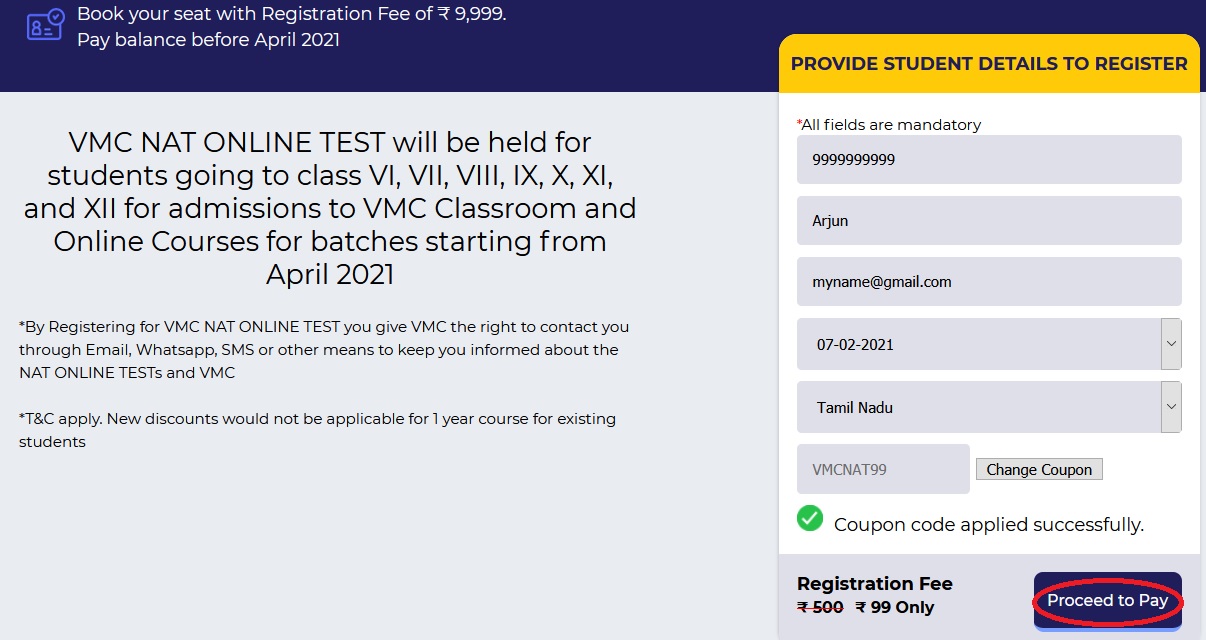 Additionally students can also register through their nearest centres
Generating Roll No.
** After following all steps and filling details, students will receive the admit card on their registered email ID.
** Students must check all details on the admit card and validate them. In case of any discrepancy, they should contact VMC support team or their nearest centres
Note :
In case students have not received the admit card after making payment, this may be due to the following reasons
** Incomplete registration process : Students would have made the payment but did not complete the process of filling details after payment
** Students would have completed the process but have not received the email : In such cases students must check the inbox and spam folder and if they have not received the mail, they need to contact support team or their nearest centre and keep their Order ID /Registered mobile ready to be shared
Post Registration For NAT
Mock Test :
Students will receive a mock test link after 10th December to check the login process and how the test would look and feel. This would be a short test of 30 minutes and not as the normal test which is of 3 Hours.
For the students who register after 21st October, they may receive the mock test link 24-48 hours after registration on their registered mobile numbers/Registered Emails.
Test Link :
Students will receive Test Link with the instructions 24 hours before the test.
Steps to be followed on the Test day to give NAT
** Click to open the link
** Please mention in the email field your rollno@vmc.com
** Ex: If your Roll No. is 556677880 please enter 556677880@vmc.com
** Second field for Name, please enter your First name ONLY
** Ex. If your name is Anuj Sharma, please enter anuj (all letters should be small)
** Agree to the terms and conditions
** Provide your snapshot (If asked by the system)
** Take Snapshot of ID card (Valid Govt. ID – Aadhaar or School ID) (If asked by the system)
** You can start the test now. Please follow the instructions to navigate on screen.
** Enable desktop view if you are giving test on mobile
Steps To Start & Give The Test
** Please check if the course mentioned on the communication is correct.
** You must start the test within 30 minutes of test start time, failing which you will start to lose time from the 3 hours allocation
** You must click the link and enter 15 minutes before the test
** In case of any issues pertaining to login, course, etc., please call +91 8585947897 / +91 8588836977 or email us on support [AT] vidyamandir.com
** Please ensure you have good net connectivity.
** In case the test stops due to connectivity issues or you are accidentally logged out, please login again by following steps 1 to 4 and you can resume from where you left within 20 minutes.
** During the test, candidate's screen activity will be monitored and in case the candidate tries to switch the test screen then the test will be auto submitted.