e Kalyan Jharkhand Post Matric Scholarship 2020-21 Within & Outside State Registration : ekalyan.cgg.gov.in
Organisation : e Kalyan Jharkhand Welfare Department
Scholarship Name : Post Matric Scholarship Application 2020-21 Within & Outside State Registrations
Applicable For : ST/SC/BC Students
Applicable State : Jharkhand
Website : https://ekalyan.cgg.gov.in/Login.do
eKalyan Jharkhand Post Matric Scholarship
eKalyan Jharkhand Welfare Department invites Post Matric Scholarship Application for the year 2020-21 (Within State & Outside State).
Note :
** Post Matric (Within State & Outside State) Upload the Documents by the students ( Status is pending at Institution level on or before 31st January 2021 )
** Post Matric(Within State & Outside State) – Edit Application available in student login ( Status is pending at Institution level on or before 31st January 2021 )
Mandatory Guidelines
** Along with registration of new institutions and already existing institutions renewal process, A letter head will be compulsory.
** On the letter head of the institute, The email ID and Phone no. shall be mentioned which is to be used for providing login ID and Password. The letter head shall be signed by the head of institute/Dean/Principal along with full name, mobile no.
On the left side of this signature, the attestation of the name/phone/sign of the head of the institute shall be done by another member of the board/trustee with his sign, full name and the phone no.
For existing institutes, the old registered email ID and the mobile no. should be mentioned in the letterhead meant for use of sending login ID or password for verification purpose.
Who Can Apply?
1. Student must be of Jharkhand State.
2. Student must be either Schedule Tribe (ST) or Schedule Caste (SC) or Backward Class (BC).
3. Students Annual Family Income from all sources should not exceed as per the list given below.
(i) Schedule Tribe (ST) or Schedule Caste (SC) Rs. 2,50,000/- (Rupees Two lacs Fifty thousand only)
(ii) Backward Class (BC) Rs. 1,00,000/- (Rupees One lac only)
How to Apply?
One Time Registration is required by the Students on the e-Kalyan Portal by, filling a generic application form which would capture the basic personal details of the Student.
Just follow the below steps to apply for the Post Matric Scholarship Application Within & Outside State Registrations 2020-21.
Steps :
Step 1 : Go to the official website of eKalyan Jharkhand Welfare Department through the URL provided above.
Step 2 : Then Click on the Scholarship Registration link in the menu bar.
Step 3 : Read the instructions carefully and then click Register/Sign up link

Step 4 : Fill up the application as per the instructions given by the system then click on save button.
Step 5 : After successfully student registration,student will receive sms/email for his/her login details.

Step 6 : Upon Student Registration – For Signing In the system will instruct the applicant to login with required details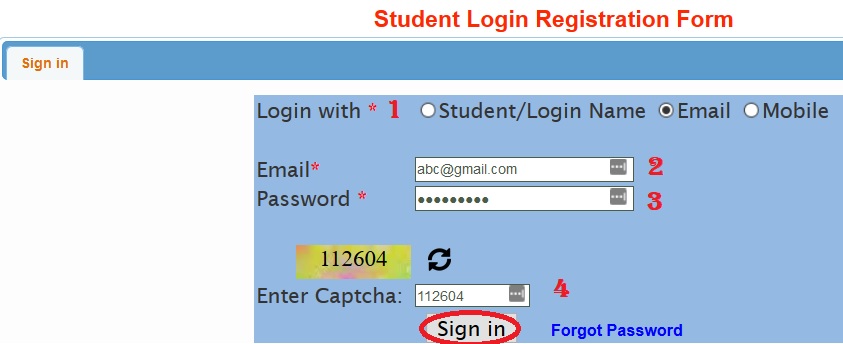 Step 7 : Once Logged in, Student is required to fill the Application form in Details and Click Save Upload the Documents on the website.
Step 8 : Student should take a print out of the application by clicking on Print button, then sign and upload the requisite documents.
Change/Edit Details
Please follow the below steps to change your Login details/Aadhaar details like Student Name, Father Name, DOB, Aadhaar No
Steps :
Step 1 : Visit the official website provided above
Step 2 : Then click on the Change Student Details link in the Scholarship Registration Page.

Step 3 : Next Enter your Registered Mobile Number and Click Send OTP button

Step 4 : After enter the OTP number you can edit your details.
Forgot Password
If you don't remember your password the fill the below details to reset your password
Steps :
Step 1 : Enter Your Name [John S]
Step 2 : Enter Your Father Name [Sukumar K]
Step 3 : Enter Your Date of Birth [17/08/2000]
Step 4 : Enter Your Mobile Number [9999999999]
Step 5 : Enter Your Email Id [abc@gmail.com]
Step 6 : Click on the Submit button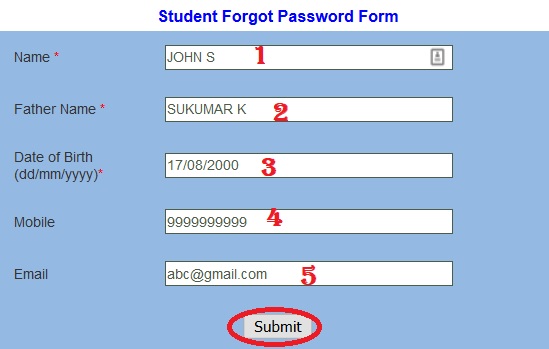 Required Documents
Only Scanned copies for all the Original Documents (Latest Documents only) should be uploaded. The List of Documents Includes
** Student Photograph
** Bonafide Certificate (with Fee structure )
** The validity of Income Certificate should be from 1 April 2018
** Residence Certificate
** Caste Certificate
** Previous Year Mark Sheet
** Bank Pass Book Scan
** Scanned Copy of Application Form (Signature of Student and Parent/Guardian)
Reasons for Rejection
1. If not the bonafide student.
2. Incorrect Caste Certificate , Income Certificate .
3. Non Upload of caste, Income certificate.
4. Incorrect course and year of study.
5. If Student not uploaded all documents like Student Photo,Bonafide Certificate,Caste Certificate,Residence Certificate,Income Certificate, Student Previous Marks Sheet,Bank Pass Book Scanned copy, Scanned copy of Online System generated application.
6. Non Upload of Scanned copy of Online System generated application duly filled and signed with concern person.
Helpdesk
For any technical queries, Contact Helpdesk No's: +91-8409588101, +91-7258010024, 040-23120591, 040-23120592, 040-23120593 (from 10:30AM to 5:00PM Monday to Saturday working days) or email to helpdeskekalyan [AT] gmail.com