Jamiat Ulama-i-Hind Trust 2020-21 Scholarship/ Financial Assistance : jamiatulamaihind.com
Organisation : Jamiat Ulama-i-Hind (Arshad Madani) Public Trust
Scholarship Name : Financial Assistance Application Form 2020-21
Application Last Date : 30.01.2021
Website : http://www.jamiatulamaihind.com/home.html
Jamiat Ulama-i-Hind Financial Assistance
Jamiat Ulama-i-Hind (Arshad Madani) Public Trust invites application form for Financial Assistance for the year 2020-21.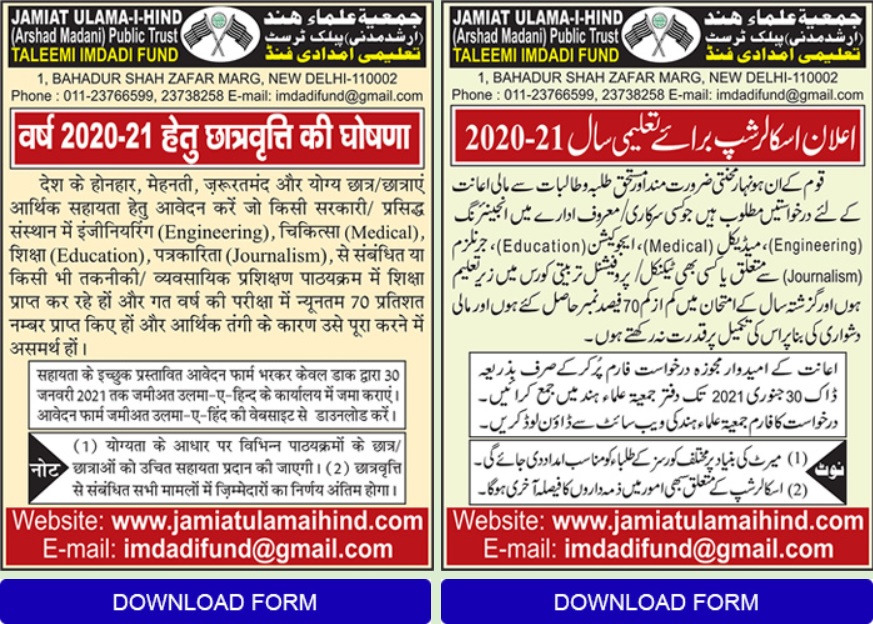 How to Apply?
Just follow the below steps to apply for the Financial Assistance 2020-21.
Steps :
Step 1 : Go to the official website of Jamiat Ulama-i-Hind (Arshad Madani) Public Trust through the URL provided above.
Step 2 : Download the application form from the official website or you can directly download it from below mentioned link
Download Application Form :
https://www.scholarships.net.in/uploads/pdf2020/46211-Form.pdf
Step 3 : Fill the application form with the required details and attach the below mentioned documents along with the application form.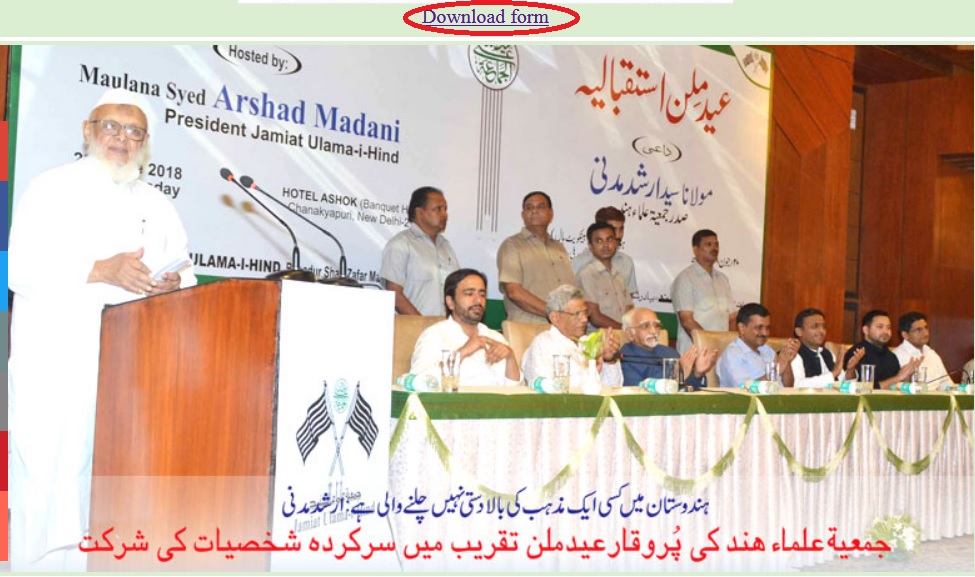 Step 4 : Completed application form should be sent it to the following address,
Jamiat Ulama-i-Hind (Arshad Madani) Public Trust
Taleemi Imdaadi Fund
1, Bahadur Shah Zafar Marg,
New Delhi-110002
Application Format
1. Enter the Name of the course/training for which the candidate has been admitted
2. Enter your %age of marks in the qualifying examination
3. Enter your Name & Address of institution / University
4. Enter your Tuition Fee of 1st year (2020-21) Rs.
5. Enter the Name the Candidate. (BLOCK LETTERS)
6. Enter your Aadhar No.
7a. Enter your Father's/Guardian's Name
b. Enter your Tel/mobile number
8. Enter your Postal Address
9. Contact details of the applicant
a. Enter your Mobile No.
b. Enter your Email ID
10. Write 50 words why you are suitable for this scholarship.
Verification :
This is to certify that Mr./Ms……………………………..….. S/o and D/o Mr./Ms…………………..……. has been admitted in …………… (Name of course) as a full time regular student in the academic session 2020/2021.
He/She has paid Rs………………… towards fees on dated…………….…….. vide receipt No……….. This further certified that he/she is not getting any financial assistance from any source.
Required Documents
Attach photo state of the following documents:
(a) Receipt of the tuition fee paid at the time of admission.
(b) Mark sheet of qualifying Exam 2019-20/ Final Examination.
(c) Latest and currently valid Identity Card issued by the university/institution.
(d) Copy of the bank pass book showing details about the bank and the account holder.
(e) BPL Ration Card photo state copy if you have it.
(f) Bonafied certificate issued by institution/university.
(g) Income certificate of father issued by district authority/from 16.
Last Date
Last date to submission of application form is 30 January 2021
About Trust :
Janab Maulana Qari Asghar Ali Saheb(ra) Assistant and Khalifa-e-ajal late Shaikhul Islam Hazrath Maulana Syed Husain Ahahad Madni. Completed Hifz-e-Quraan at the age of 8 years and first recited at Barkundi, Assam to late hazrath Shikhul – Islam.
Educational and Public welfare Services :
Established Madani Charitable Trust in1997. Under this he first arranged for contemporary education in religious atmosphere. Started a school in the name of Maulana Madani Memorial English medium school in Deoband for this purpose.
Began Two centers of religious and contemporary education in peer zaadgan of gangwah and anbeetah in western Uttar Pradesh which include ITI with residential facilities.