scstwelfare.delhigovt.nic.in Dr. B.R. Ambedkar State Award 2020-21 : Delhi ST/OBC/Minority Welfare
Organisation : Delhi Department for the Welfare of SC/ST/OBC/Minority
Scholarship Name : Dr. B.R. Ambedkar State Award 2020-21
Applicable For : SC/ST/OBC/Minority Students
Applicable State/UT : Delhi
Application Last Date : 28/02/2021
Website : http://scstwelfare.delhigovt.nic.in/wps/wcm/connect/DoIT_Welfare/welfare/home/
Delhi Dr. B.R. Ambedkar State Award
Delhi Department for the Welfare of SC/ST/OBC/Minority invites application for Dr. B.R. Ambedkar State Award to SC/ST/OBC/Minorities students for the year 2020-21.
Related / Similar Scholarship : Delhi Reimbursement of Tuition Fees 2020-21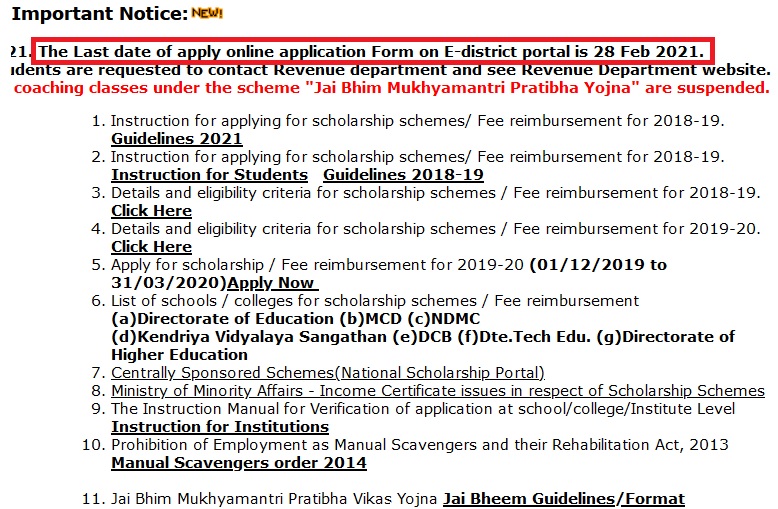 Who Can Apply?
** The student must have passed his/her 10th and 12th class from Delhi.
** The award is given to a student, who tops among the SC/ST/OBC/Minorities in each discipline of the professional/Technical degree course.
How to Apply?
Applicants can be submitted their Application online on e-district portal for the Financial Year 2020-21.
Apply Online : https://edistrict.delhigovt.nic.in/
Steps :
Step 1 : Applicants can apply online through E-district Portal of NIC Delhi provided above.
Step 2 : If you are already registered user, Click Registered User Login link and Enter the below details
Registered User Login
Step 1 : Enter Your User Id [12356]
Step 2 : Enter Your Password
Step 3 : Enter Your Type the code shown
Step 4 : Click Login button
Citizen Registration Form
New User click the Registration link in the Login page and follow the below steps
Step 1 : Select Your Document Type [Aadhaar/ Voter Id]
Step 2 : Enter Document No. As per your Selection [1234560000]
Step 3 : Type the security code
Step 4 : Accept the terms & conditions and Click Continue button
Get UserId & Password
You can get your User Id & Password if you forget your mobile no. on e-district Portal.
Step 1 : Select Whether you had availed any service/Certificate form e-District Delhi [Yes/ No]
Step 2 : Select the Document Type [Aadhaar]
Step 3 : Enter your Document No. [123456780000]
Step 4 : Enter the Name on Document [Azar]
Step 5 : Enter your Date of Birth [15/03/1997]
Step 6 : Select your Gender [Male/ Female/ Transgender]
Step 7 : Enter your Mobile No.[9876543210] OR Enter your Email ID
Step 8 : Type the code and Click Get User Id & Password button
Amount of Assistance
An award of Rs.25,000/- is given to each of the toppers in each discipline after completion of degree course in each university, if student belongs to SC/ST/OBC/Minorities category
Terms & Conditions
** In support thereof must produce SC/ST/OBC caste certificate issued by the competent authority of Delhi. In case of Minority, a declaration by the student that he/she belongs to particular minority community by means of an affidavit(in non-judicial stamp paper of denomination by Rs. 10)
** The topper student is awarded only once after passing out of the final examination of the course.
** The award is conferred among the toppers of all professional/technical courses. Being a merit based award, no family income limit has been laid down.
Last Date
The applicant can apply online application Form on E-district portal till 28th February 2021.
Contact/Helpdesk
For any queries/problems in applying for scholarship on E-district portal send e-mail to dscstschscheme.delhi [AT] gov.in