scstwelfare.delhigovt.nic.in 2020-21 Post Matric Scholarship For SC Students : Delhi SC/ST/OBC/Minority Welfare
Organisation : Delhi Department for the Welfare of SC/ST/OBC/Minority
Scholarship Name : 2020-21 Post Matric Scholarship For SC Students
Applicable For : SC Students
Applicable State/UT : Delhi
Application Last Date : 28/02/2021
Website : http://scstwelfare.delhigovt.nic.in/wps/wcm/connect/DoIT_Welfare/welfare/home/
Delhi SC ST Welfare Post Matric Scholarship
Delhi Department for the Welfare of SC/ST/OBC/Minority invites applications for Post Matric Scholarship For SC Students for the year 2020-21.
Related / Similar Scholarship : Delhi Post Matric OBC Scholarship 2020-21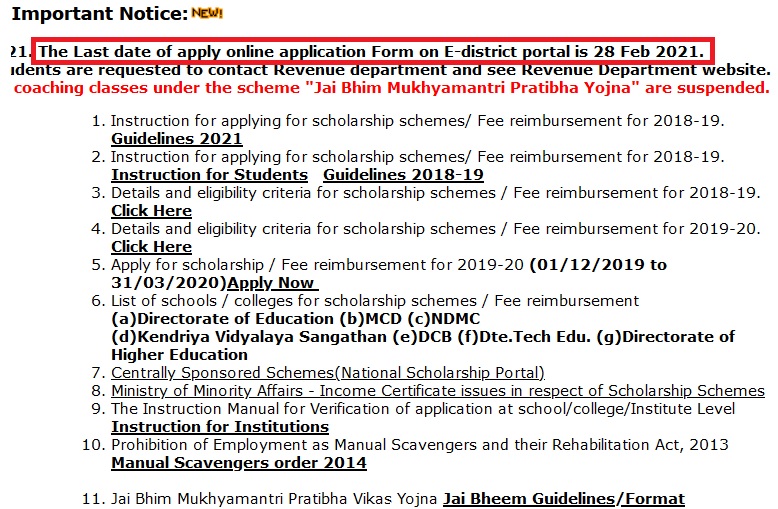 Objective
Department for the Welfare of SC/ST/OBC/Min. have taken over implementation of Centrally Sponsored Scheme of Post Matric Scholarship to the students belonging to SC category for pursuing further studies at post matriculation / post secondary (college/University) levels within India.
Eligibility
** Scholarship is available to all SC students whose parents/ guardians income from all sources does not exceed Rs. 2.5 Lakh per annum who are studying in Govt. Recognized institution.
** All the children of same family/parents are also eligible subject to the income limit of the parents.
How to Apply?
Applicants can be submited their Application online on e-district portal for the Financial Year 2020-21.
Apply Online : https://edistrict.delhigovt.nic.in/
Steps :
Step 1 : Applicants can apply online through E-district Portal of NIC Delhi provided above.
Step 2 : If you are already registered user, Click Registered User Login link and Enter the below details
Registered User Login
Step 1 : Enter Your User Id [12356]
Step 2 : Enter Your Password
Step 3 : Enter Your Type the code shown
Step 4 : Click Login button
Citizen Registration Form
New User click the Registration link in the Login page and follow the below steps
Step 1 : Select Your Document Type [Aadhaar/ Voter Id]
Step 2 : Enter Document No. As per your Selection [1234560000]
Step 3 : Type the security code
Step 4 : Accept the terms & conditions and Click Continue button
Get UserId & Password
You can get your User Id & Password if you forget your mobile no. on e-district Portal.
Step 1 : Select Whether you had availed any service/Certificate form e-District Delhi [Yes/ No]
Step 2 : Select the Document Type [Aadhaar]
Step 3 : Enter your Document No. [123456780000]
Step 4 : Enter the Name on Document [Azar]
Step 5 : Enter your Date of Birth [15/03/1997]
Step 6 : Select your Gender [Male/ Female/ Transgender]
Step 7 : Enter your Mobile No.[9876543210] OR Enter your Email ID
Step 8 : Type the code and Click Get User Id & Password button
Upload Documents
1. Upload a copy of certificate, Diploma, Degree etc. in respect of all previous examination passed.
2. Income certificate issued from the office of SDM of Delhi valid on the date of submission of application
3. A certificate from the institution to the effect that the student is not getting any other scholarship/stipend.
4. Upload a copy of Caste certificate issued by the Govt. of NCT of NCT of Delhi.
5. For Institutes situated outside Delhi, the Institute Verification page and parent/guardian verification page should be uploaded by the applicant on E-district portal.
Value of Scholarship
The value of scholarship includes the following for complete duration of the course
i. Maintenance allowance,
ii. Reimbursement of compulsory non-refundable fees,
iii. Study tour charges,
iv. Study tour charges,
v. Thesis typing/printing charges for research scholars.
vi. Book allowance for students pursuing correspondence courses,
vii. Book bank facility for specified courses, and
viii. Additional allowance for students with for the complete duration of the course.
Terms & Conditions
1. Incomplete application will be treated as cancelled.
2. Hostel rent will be given as per guide lines of the scheme.
3. Fee structure should be on the official letter head of concerned institute with stamp and signature of head of institute.
4. Candidates who after passing one stage of education are studying in the same stage of education in different subject e.g. I.Sc. After I.A. or B.Com. After B.A. or M.A. in other subject will not be eligible.
Last Date
The applicant can apply online application Form on E-district portal till 28th February 2021.