mahadbtmahait.gov.in Guidelines For Changing Profile & Submitting Applications 2020-21 For Already Registered Candidates
Want to comment on this post?

Go to bottom of this page.
Organisation : Aaple Sarkar DBT, Directorate of Medical Education Research
Scholarship/ Service Name : Guidelines For Changing Profile & Submitting Applications 2020-21
Applicable State : Maharashtra
Website : https://mahadbtmahait.gov.in/Home/Index
Maha DBT Changing Profile & Submitting Applications
Guidelines for changing profile and submitting applications for the new academic year, for candidates already registered in the portal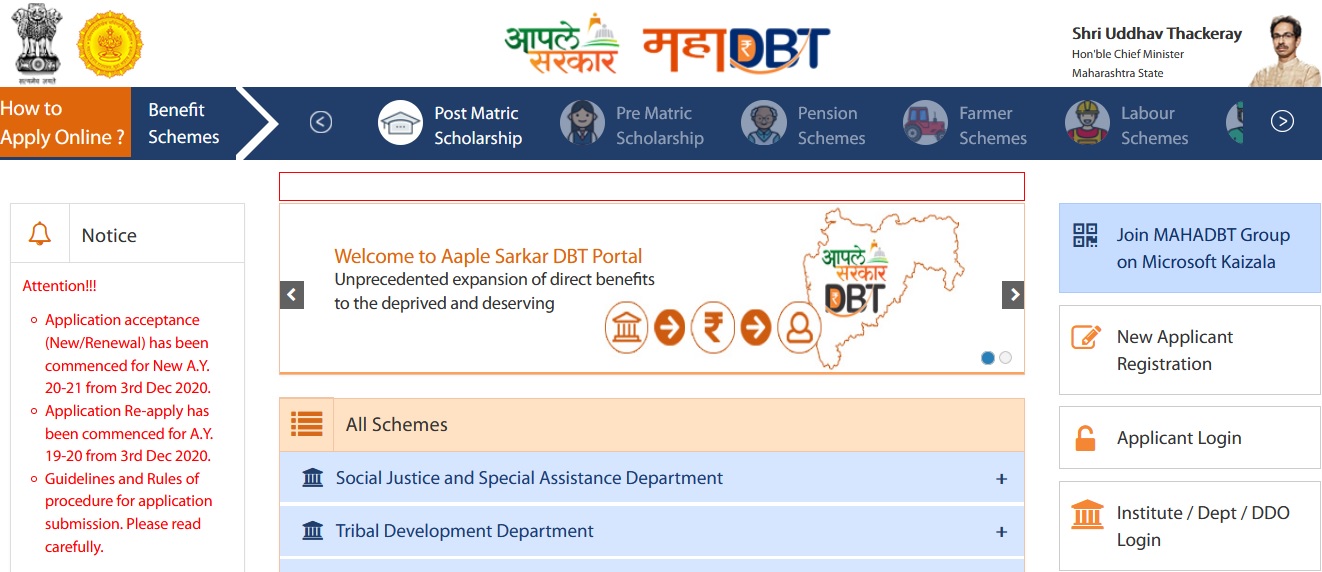 Steps to Apply
Dear Applicant,
In order to apply the scheme for new academic year, make sure below changes should be done in your user profile (Note: User profile is in editable format)
Step 1 : Personal Information: If any updation done in your aadhaar card then in Personal information tab click on Update Profile as per Aadhaar.
Step 2 : Address Information: Update address information Correspondence Address Details.(Only if Required)
Step 3 : Other Information: Update Other information.(Only if Required)
Step 4 : Current course:1. In Current Course Section following details needs to be updated.
Example I :
If your current course was first year pursing for A.Y 2018-19 then for A.Y 2019-20 follow the below steps
1. Click on delete button to delete the entirely filled pursuing course information and again fill all details of last year pursuing course and select as completed and then fill current year pursuing course details accordingly
2. Enter Percentage
3. Select from drop down for Result
4. Upload Mark sheet.
5. Add Second year details as pursuing
6. Update Admission date
7. Update fees paid
8. Upload fee receipt
Example II :
If the Applicant Current course for Under Graduate Course was last year pursuing and now applicant is pursuing his first year Post Graduate Course then follow below step.
1. Delete all Under Graduate Course details from Current course and put the same in Past qualification.
2. In current course for A.Y 2019-20 Insert first year Post Graduate Course details.
Example III :
If Applicant changes his course for first year even after receiving scholarship for his old course.
1. Delete all details from Current course.
2. Add New Details in Current Course.
Step 5 : Past Qualification: Make the changes in the past qualification (if applicable).
Step 6 : Hostel Details: Make the changes in the Hostel Details(if applicable).
FAQs
1. Can we register/ change mobile number online?
For any online update request, including updation of mobile number, resident should already have an active number registered with UIDAI where person can receive OTP SMS and authenticate himself/herself. Otherwise you would need to visit nearest UIDAI permanent enrollment center.
2. Do I need Aadhaar to get my DBT?
Government Of Maharashtra encourages all citizens of Maharashtra to have Aadhaar number so as benefits can be directly transferred to Aadhaar seeded Bank account. DBT portal navigates citizens to visit nearest PEC center to enroll themselves for Aadhaar.
3. Why are Government schemes asking for Aadhaar?
It helps schemes to clean out duplicates and fakes, to provide accurate data and enable implementation of direct benefit programmes. Use of Aadhaar reduces the costs of identifying persons and provides Increased transparency to the government in implementation of its schemes.
4. How to check the eligibility for the scheme?
The basic objective of the Check eligibility is to fetch relevant schemes that are applicable to the Applicant on the basis of the input provided by the applicant for eligibility Check.