Zidni Ilma Trust Scholarship/ Financial Aid 2020-21 : zidniilma.com
Want to comment on this post?

Go to bottom of this page.
Organization : Zidni Ilma Charitable Trust
Scholarship Name : Scholarship/ Financial Aid 2020-21
Applicable For : Admission in XI or XII Students
Application Last Date : 30th October 2021
Website : http://www.zidniilma.com/Scholarships.php
Zidni Ilma Charitable Trust Scholarship
Zidni Ilma Charitable Trust invites applications for Scholarship/ Financial Aid for the academic year 2020-21.
Who Can Apply?
** Only bright students from financially weaker families need to apply.
** Student must have secured admission in Std. XI or XII Science stream.
** For students applying for Std. XI – Min. 255/300 marks required in Maths, Science and English subjects in Std. 10th.
How to Apply?
Just follow the below steps to apply for the Zidni Ilma Charitable Trust Scholarship 2020-21.
Steps :
Step 1 : Go to the official website of Zidni Ilma Charitable Trust through the URL http://www.zidniilma.com/index.php
Step 2 : Then Click on the Apply for Scholarship link in the right top corner of the home page.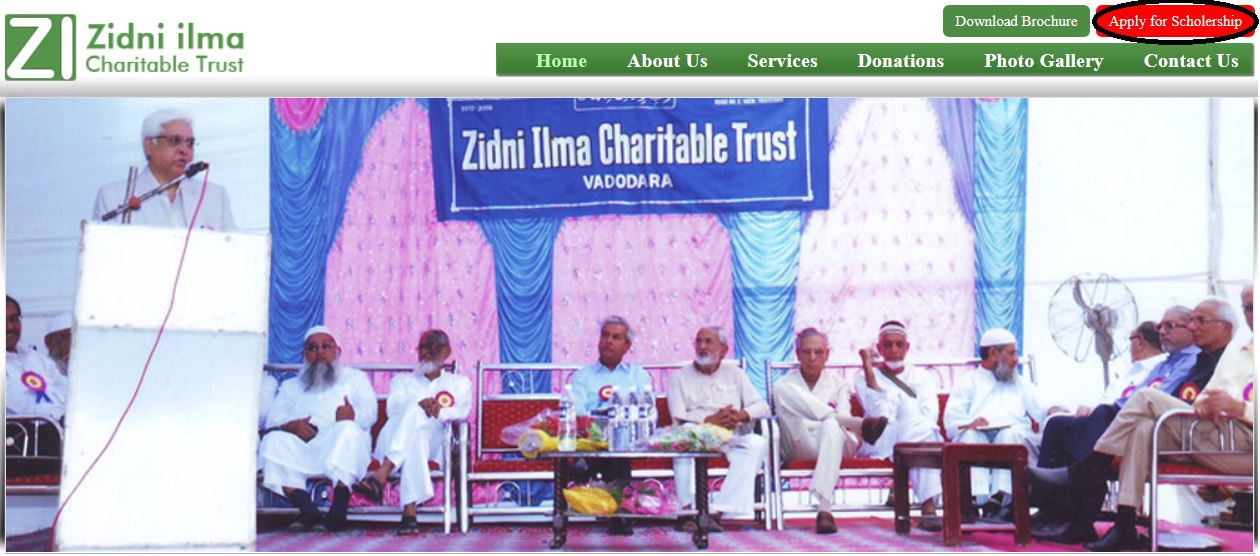 Step 3 : Read the information carefully and click on Start Application button at the end of the page.

Step 4 : Next fill the Application Form with the following details,
** Personal Information
** Contact Information
** Educational Qualifications
** Fees
** Particular about earning members of your family
** Past Scholarship Details

Step 5 : Take a printout of the completely filled form, sign it and send it with all necessary documents.
Completed Application Form should be sent it to the following address,
Zidni Ilma Charitable Trust
Regd. Under – Bombay Trust Act: 1950 No.: E/6831/Vadodara
C/o, Dudhwala Traders,
Opp M.E.S. High School,
Nagarwada,
Vadodara – 390 001.
Documents Required
Please send the following details along with your form.
1. The signature of the father / guardian etc. in the form should be original.
2. Apply a photo of the passport size on the application form.
3. Issue of Bonafide Certificate from the concerned institution (school / college).
4. Introducing the standard 10 marks sheet.
5. The second year and beyond students of the year should present the marks sheet of the last two semesters.
6. Students who have received previous assistance from our institution who have passed the examinations of that year should submit an attested copy of their results.
7. Submit a copy of the lightbill from your residential home for the past two years.
Instructions
1. All the above details are required to receive financial assistance.
2. Applications with incomplete information or incorrect information will be rejected.
3. Don't change your mobile number and EMAIL address until your course is completed. Regularly check your SMS and EMAIL. All correspondence from the organization will be done on your SMS / EMAIL.
4. The institution shall have full authority to make the decision regarding assistance.
5. Properly filled 8 application forms will be accepted till 30/10/2021.
6. For any inquiries contact EMAIL at info@zidniilma.com.
7. The selected students will be informed about the date and place of the check distribution ceremony.
8. Only the selected students have to be present at the ceremony. Absent student's complaint / application will not be heard for any reason, as well as cancellation of their assistance.
Last Date
** Last date for submitting online application is 30th October 2021
** Last date for sending completed application via post/ Courier is 30th October 2021
About Zidni Ilma Trust :
Zidni Ilma Charitable Trust is a voluntary educational NGO, dedicated solely to work for the betterment of the economically weak families giving top priority to education in its objectives.
Since its inception, ZICT is on the march with absolute dedication to bring about a social and educational change in the present conditions of the economically weak by awarding scholarship to the needy students in pursuit of their higher professional education.