Inventors Educare I-SAT 2020-21 Scholarship Cum Ability Test : inventorsisat.com
Organisation : Inventors Educare
Scholarship Name : Inventors Educare I SAT Scholarship Exam 2020-21
Applicable For : For Students Presently Studying in Class 7, 8, 9, 10, 11 & 12
Exam Date : 24-01-2021
Last Date : 20-Jan-2021
Website : https://www.inventorsisat.com/apply
Inventors I-SAT
Inventors Educare is established in Patna for the preparation of IIT JEE, Engineering examination and Inventors Genome is established for NEET. We provide best coaching classes for JEE Mains & JEE advance, NEET, AIIMS entrance exam by expert faculty.

We offer foundation courses for the students moving from class 7 to class 8 for initial phase of preparation and aims at building story foundation for JEE( MAIN & ADVANCED), NEET & AIIMS Exams. We are recognised as a institute having proven faculty team of coaching industries.
Who Can Apply?
For Students Presently Studying in Class 7, 8, 9, 10, 11 & 12 are eligible to apply for Inventors Educare Scholarship Exam 2020-21.
How to Apply?
Just follow the below steps to apply for the Inventors Educare Scholarship Exam 2020-21.
Steps :
Step 1 : Go to the official website of Inventors Educare through the URL provided above.
Step 2 : Next, read the instructions carefully and fill the application form with the following details,
** Personal Details
** Residential Address
** Exam Centre Details
Step 3 : Then, Upload your recent passport size photo and finally click on "Submit" button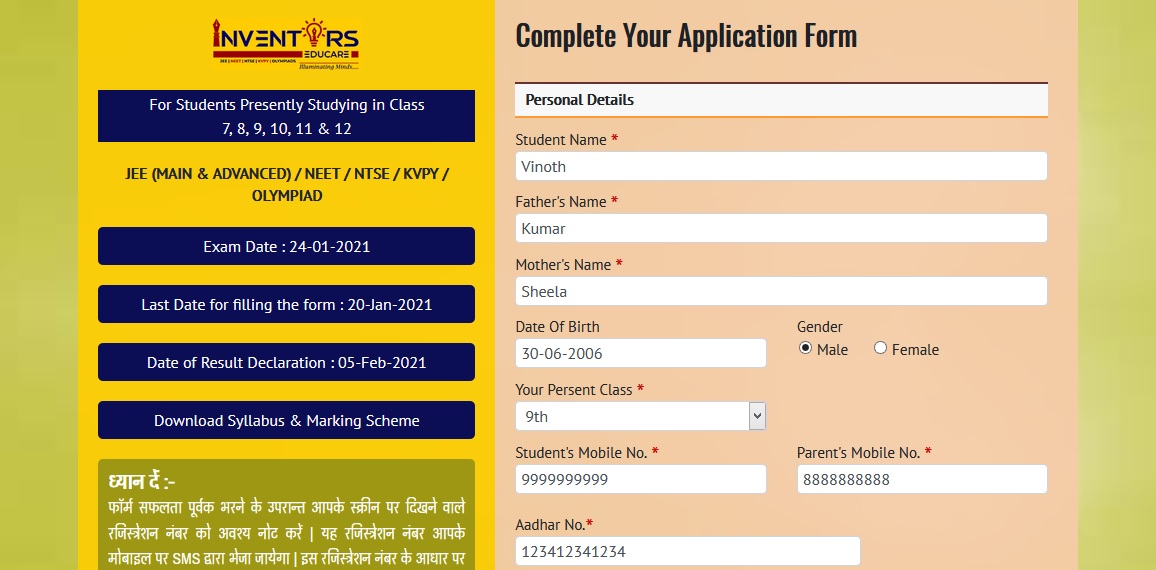 Note:
** After filling the form successfully, please note the registration number that appears on your screen. This registration number will be sent to your mobile via SMS.
** Based on this registration number, your admission in the examination hall will be possible.
** At the examination center, your face will be matched to the photo given by you in the form.
Test Centre
** Patna
** Muzaffarpur
** Bhagalpur
** Purnia
** Katihar
** Samastipur
** Hazipur
** Chapra
** Siwan
** Betiah
** Motihari
** Arrah
** Buxar
** Begusarai
** Nalanda
** Lakhisarai
** Sasaram
** Darbhanga
** Munger
** Saharsa
** Madhubani
** Aurangabad
** Khagaria
** Sheikhpura
** Nawada
** Jamui
** Araria
Exam Instructions
[A] General:
1. This Question paper contains FIVE Parts, A to E (Physics, Chemistry, Biology, Mathematics & Mental Ability).
2. This Question Paper contains 12 pages including cover page.
3. This question paper contains total 75 questions (15 questions each in Physics, Chemistry, Biology, Mathematics and Mental Ability).
4. The Question Paper has blank spaces at the bottom of each page for rough work. No additional sheets will be provided for rough work.
5. Blank papers, clip boards, log tables, slide rule, calculators, cellular phones, pagers and electronic gadgets, in any form, are NOT allowed.
6. The OMR (Optical Mark Recognition) sheet shall be provided separately.
[B] Answering on the OMR:
7. In all the parts, each question will have 4 choices out of which only one choice is correct.
8. Darken the bubble with Ball Pen (Blue or Black) ONLY.
[C] Filling OMR:
9. On the OMR sheet, fill all the details properly and completely, otherwise your OMR will not be checked.
10. Do not write anything or tamper the barcode in the registration no. box.
Important Dates
Exam Date : 24-01-2021
Last Date for filling the form : 20-Jan-2021
Date of Result Declaration : 05-Feb-2021
Contact
For any problem in filling the form, mobile no. Contact 8092830988.