Dakshana JDST 2021 Joint Selection Test For JEE/NEET Coaching Scholarship Program
Organisation : Dakshana Foundation
Scholarship Name : JDST 2021 Joint Dakshana Selection Tests
Applicable For : Student studying in class 10th & class 12th at JNV
Exam Date : April 2021
Website : https://dakshana.org/become-a-scholar/
Dakshana JDST
Selection of scholars for the Dakshana Two-year and One-year JEE/NEET Coaching Scholarship Program will be done through the JDST (Joint Dakshana Selection Test) 2021, respectively.
Related/ Similar Scholarship : Dakshana NDST 2021

Due to the pandemic the JDST 2021 is being postponed from December 2020 to April 2021. We are awaiting the reopening of schools in all states of India. The exact date for the test will be declared here soon.
Students wishing to apply for the Dakshana One-year Scholarship Program and who may appear for the JDST 2021 should continue preparing for the test.
They are encouraged to watch video lectures in the Dakshana e-Classroom on YouTube as the JDST will be based on the topics covered by the videos.
About JDST
Dakshana offers free coaching scholarship for JEE & NEET over a year after Class 12 for students studying Science in a government school/college. The scholarship is offered to students who are selected through the Joint Dakshana Selection Test (JDST).
How to Apply?
Just follow the below steps to apply for the JDST 2021.
Steps :
Step 1 : Go to the following link http://tiny.cc/1q4nqz
Step 2 : Fill the application form with the following details and click on "Next" button
** Full name of school/college *
** School/college UDISE code (Please write 11-digit code; write NA, if your school/college does not have UDISE code) *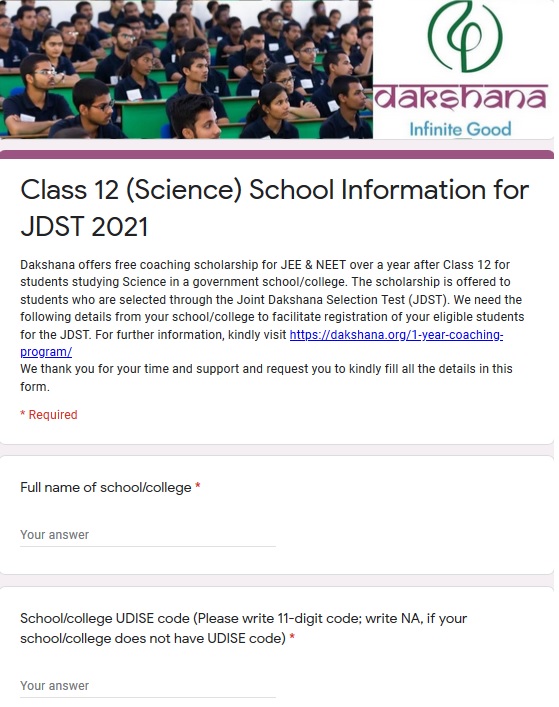 ** Email address of school/college (Write NA, if not available) *
** Website of school/college
** Name of school/college Principal *
** Contact number of Principal (Write 10-digit mobile number; do not write extra zero or +91) *
** Email address of Principal *
** Name of any other teacher/official of school/college
** Contact number of teacher/official (Write 10-digit mobile number; do not write extra zero or +91)
** Email address of teacher/official
** School Address
** School/college address *
** Landmark
** Name of village/town/city *
** School/college district *
** Select State/Union Territory *
** PIN code *
Step 3 : After that, Fill the remaining details to complete your registration
JDST 2021 Format
** Considering COVID19, JDST 2021 will be conducted in online mode.
** Aspirants will take the test on their Android mobile phone (Android version 8 and above) which they will bring to the examination centre.
** JDST 2021 will be of 3-hr duration and divided in four parts – Part 1: Logical Reasoning; Part 2: Mathematics/Biology; Part 3: Physics andPart 4: Chemistry.
** The tests are in Multiple Choice Question format (Single Option Correct type) with 25 questions in each part.
** Each right answer is awarded 3 marks and 1 mark is deducted for each wrong answer.
** No calculators are allowed.
JDST 2021 Syllabus
The syllabus for JDST 2021 has been reduced considering COVID19. Aspirants can watch video lectures, of the topics short-listed for JDST 2021, on the Dakshana YouTube Channel.
Click on the name of the topic for each subject given below, to watch the video lectures. Questions for JDST 2021 will be based on the lectures.
Note : Though the title of some videos for Physics/Chemistry on Dakshana YouTube Channel may mention that the topic is for NEET, but JEE Aspirants can also watch those lectures.
Logical Reasoning :
Verbal : Number Series, Letter Series, Analogies, Cause & Effect, Verbal Classification, Blood Relations, Logical Sequence of Words, Direction Sense Test, Logical Venn Diagram, Data Sufficiency, Coding Decoding, Assertion and Reason, Analysing Arguments, Logical Problems, Course of Action, Matching Definition, Syllogism, Statement and Assumptions
Non-Verbal : Image Series, Construction of Shapes, Classification, Picture Analogies, Rule Detection
Helpdesk
If you have any queries, please email to scholarship [AT] dakshana.org. All clarifications related to the JDST will be addressed on the above email address ONLY. Kindly do not call or write to any other Dakshana email address.