NSP Manipur Post Matric Scholarship To ST Students 2020-21 : scholarships.gov.in
Want to comment on this post?

Go to bottom of this page.
Organisation : Government of Manipur
Portal Name : National Scholarship Portal NSP 2.0
Scholarship Name : Post Matric Scholarship To ST Students 2020-21
Applicable For : ST Scheduled Tribe Students
Applicable State : Manipur
Application Last Date : 30.11.2020
Website : https://scholarships.gov.in/
NSP Manipur ST Post Matric Scholarship
Online Applications are invited for Post Matric Scholarship To ST Students of Manipur for the year 2019-20.
Related / Similar Scholarship : NSP ST Pre Matric Scholarship 2020-21
Who Can Apply?
(a) XI Class, BA/BSc-I, MA-Previous, MBBS-I etc.
(b) XII Class, BA/BSc-II/III year, MA-Final,6 MBBS-II/III/IV etc. who did not apply in the previous year(s) ].
(c) Students whose parents'/guardians' annual income does not exceeds Rs.2,50,000/-
How to Apply?
Just follow the below steps to apply for the Post Matric Scholarship To ST Students 2020-21.
Steps :
Step 1 : Go to the official website of National Scholarship Portal through the URL provided above.
Step 2 : Then Select State Schemes tab and Click on Manipur in the drop down list.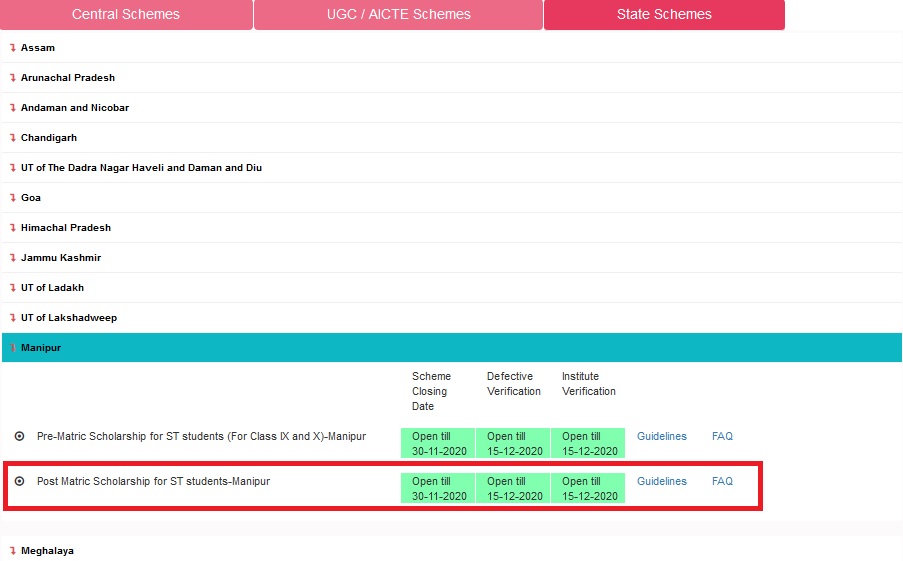 Step 3 : If you are a New User then Click on the Register link in the Login Page.
Step 4 : Enter all required details for registration to get your user id and password. After register your account you can Login and apply the scholarship.

Step 5 : Enter your Application Id, Password and Captcha for Login.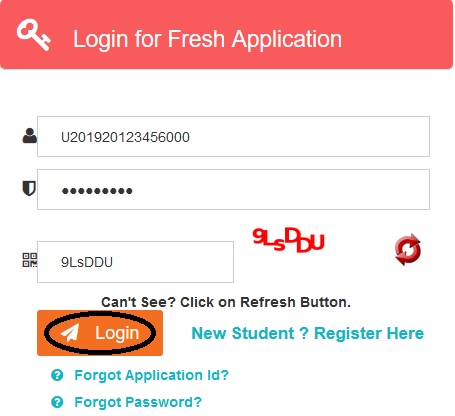 Step 6 : After Login to your account select the Scholarship scheme and fill the required details to apply for the scholarship.
Step 7 : After complete your application you will get a confirmation message to your registered email id & mobile number.

Note : Application complete in all respects, shall be submitted to the Head of the Institution/School.
Documents Required
To Be Enclosed/Attached With This Application Form
(a) Self attested copies of Certificates, Mark Sheets, Admit Card of exam passed as at Sl. No. 4 of Part –A.
(b) Income Certificate of father/mother/guardian/husband ending 31st March of the current year in original issued by the competent authorities/executive magistrates.
(c) Scheduled Tribe Certificate of the applicant issued by the competent authorities/ executive magistrates (original copy).
(d) Certificate in support of claim as Hosteller, issued by the warden of the hostel as at Sl. No. 3 (j) of Part – A. (The Certificate must be countersigned by the head of the Institution if not run by the Institution).
(e) Break Certificate, if any (as stated at Sl. No. 2 above).
(f) Self attested copy of Aadhaar Card.
(g) A copy of the first page portion of the Bank Passbook/Bank Statement wherein account number, IFSC code, etc. are visible should also be attached in the application form.
Terms & Conditions
** Direct individual submission of this application form will not be accepted in case of students studying inside the State.
** Payment will be made electronically by transferring into the respective bank account of the applicant, so each applicant is required to open a bank account in his/her own name and should compulsorily furnish his/her bank account details neat & clearly in the annexures – I and ii attached herewith this form.
** The decision of the awarding authority is final
Last Date
** Closing date for Post-Matric Scholarship for ST students is 30-11-2020
** Defective Verification is Open till 15-12-2020
** Institute Verification is Open till 15-12-2020