digitalgujarat.gov.in Post-Matric Scholarship 2020-21 For SC/ST/OBC Students : Digital Gujarat
Organisation : Digital Gujarat Portal
Scholarship Name : Post-Matric Scholarship 2020-21
Applicable For : SC/ST/OBC Students
Applicable State : Gujarat
Application Last Date : 10.02.2021 (Date is Extended)
Website : https://www.digitalgujarat.gov.in/loginapp/CitizenLogin.aspx
Digital Gujarat Post-Matric Scholarship
Online filling form for Post Matric scholarship of SC/ST/OBC students for year 2020-21 is started from 10/11/2020.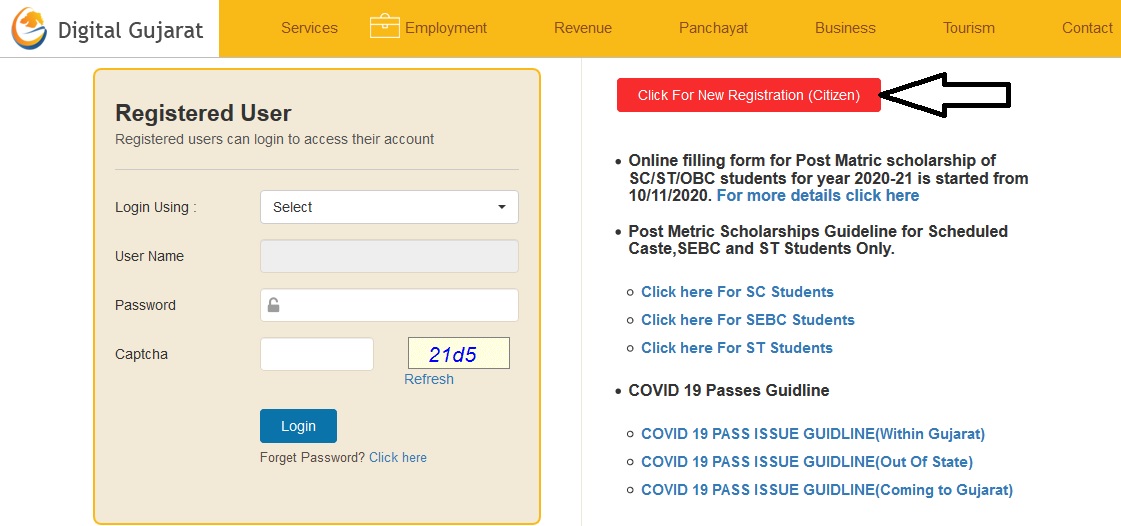 Important Notice :
** All students are directed to approach their institution for Updating/Editing your application. Other state students have to approach their respective district officer.
** All students are directed to fill their Bank Account number with proper IFSC code. Jandhan Bank Account/Minor Account are credit limit account so check the total approximately scholarship amount will receive if it is more than your account credit limit and you have already filled same should be change immediately.
** All students are directed to enter only his/her mobile no in application form.
Who Can Apply?
** Students from the domicile state of Gujarat
** Students belongs to SC/ST/OBC Category
Scheduled Time Table
** Last date for Submission of Online Applications Students is 15.12.2020
** Last date of taking a printout of Submitting the same, along with the Scheme Specific Documents by the Students to their respective Institutes is 20.12.2020
** Last date for Scrutiny & Forwarding of Online Applications by Institutes is 22.12.2020
** Last date of Submission of the duly attested Verified Students Lists & Printed Applications Forms by Institution to the respective Department District Officers is 31.12.2020
Note :
It may be noted that above stated dates shall not be extended under any circumstances.
** Students are hereby requested to keep their Digital Gujarat User ID & Password confidential. In case of any mis-credit/malfunction happens due to sharing of credential, student will be held responsible.
** Students have to be very careful while furnishing their bank account information any wrong entry department will not be held responsible for mis- credit.
How to Apply?
To Apply for the Scholarship you have to register your account. Follow the below steps for Online Registration,
** Visit the Official website. (digitalgujarat.gov.in)
** Select the particular Scholarship you want to apply.

** Accept the Terms & Conditions and Click on the "Apply Online" button. Enter the following details for Online Registration.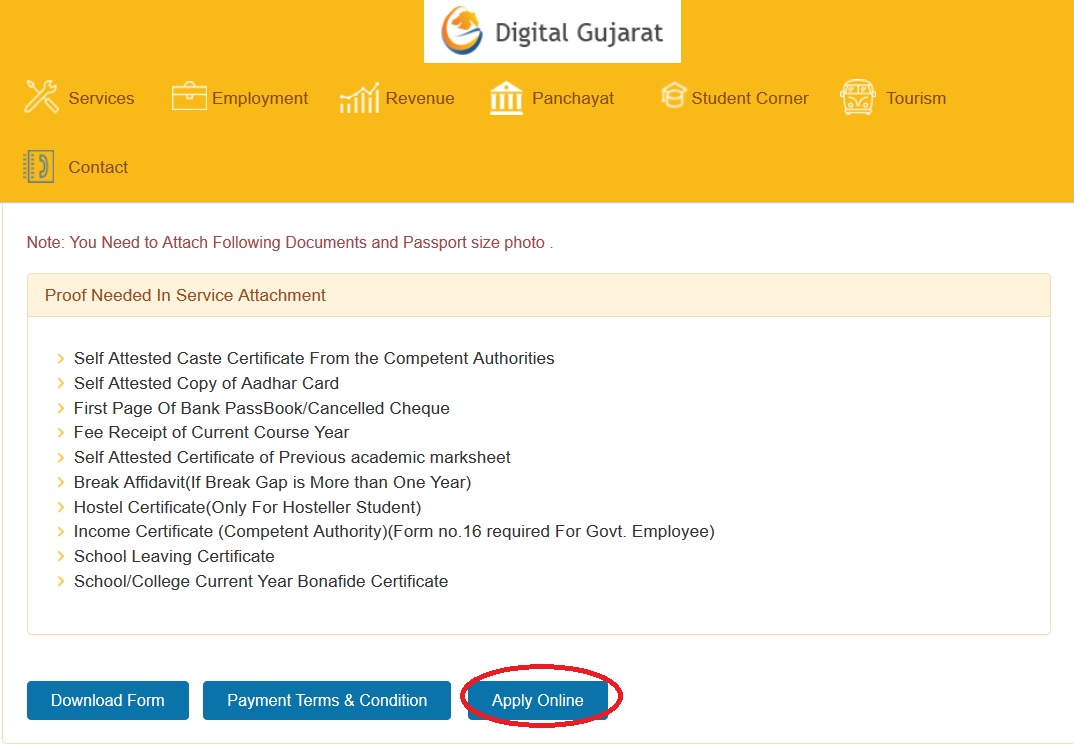 Step 1 : Enter Your Aadhaar No [111122223333]
Step 2 : Enter Your Date of Birth * [12/07/1991]
Step 3 : Enter Your Mobile* [9988998877]
Step 4 : Enter Your Email * [hashini@gmail.com]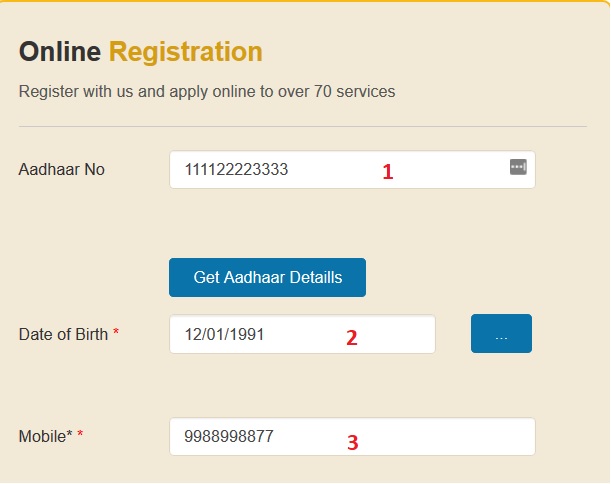 Step 5 : Enter Password * (#)
Step 6 : Retype password *
Step 7 : Enter text * Enter the word that you see in the image
Step 8 : Click on the Save button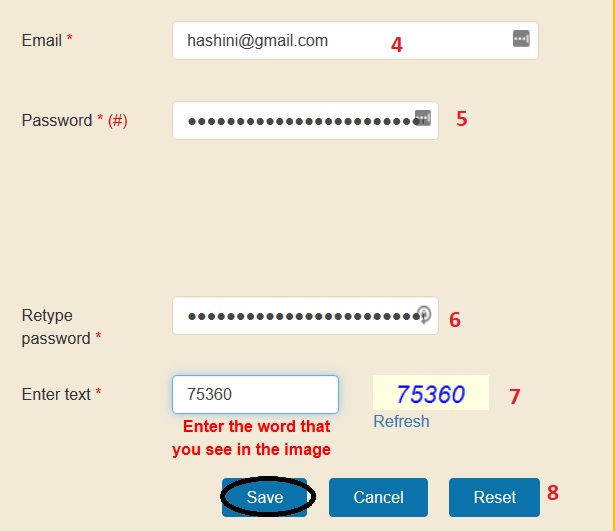 # Password Policy :
Password must be between 6-40 Characters, combination of alphanumeric letters with at least one numeric,one upper case character , one lower case character and one special character.
** After register your account you can Login with the required details and fill the remaining details to complete the scholarship application Form.
Documents Required
** Self Attested Caste Certificate From the Competent Authorities
** Self Attested Copy of Aadhar Card
** First Page Of Bank PassBook/Cancelled Cheque
** Fee Receipt of Current Course Year
** Self Attested Certificate of Previous academic marksheet
** Break Affidavit(If Break Gap is More than One Year)
** Hostel Certificate(Only For Hosteller Student)
** Income Certificate (Competent Authority)(Form no.16 required For Govt. Employee)
** School Leaving Certificate
** School/College Current Year Bonafide Certificate
Important Instructions
** All fields marked with *(star) are mandatory fields in Online Application.
** Only one application per applicant will be acceptable for scholarship. If any student submits more than one application his/her all applications will be rejected.
** Any wrong/misleading information provided then the Application will be rejected.
** Student has to fill his/her application carefully as there is no provision for institution change once the application submits successfully.
** The Validity of Income Certificate is 3 years. It is advised to check the Income Certificate issue date before uploading the document.
** Direct Individual submission of this application form will not be accepted in case of students studying inside the state. Only outside students have to fill there form online and submit his/her application form to their native district officer.