NSP 2020-21 Himachal Pradesh Centrally Sponsored Post Matric Scholarship For SC Students
Organisation : Government of Himachal Pradesh
Portal Name : National Scholarship Portal NSP 2.0
Scholarship Name : Centrally Sponsored Post Matric Scholarship Scheme For SC Students 2020-21
Applicable For : SC Students
Applicable State/UTs : Himachal Pradesh
Application Last Date : 30.11.2020
Website : https://scholarships.gov.in/
NSP HP SC Post Matric Scholarship
Online Applications are invited for Centrally Sponsored Post Matric Scholarship Scheme For SC Students Himachal Pradesh for the year 2020-21.
Related/ Similar Scholarship : NSP CSS Post Matric ST Scholarship 2020-21
Who Can Apply?
Under this Scheme, all SC students whose parents/guardians annual income from all sources does not exceed Rs 2,50,000/-, are eligible for full scholarship (i.e. Maintenance Allowance + Compulsory Fee) for all courses, provided they are pursuing their studies in Govt./Govt. Aided/ Recognized Private Recognized Institutions, as regular students.
How to Apply?
Just follow the below steps to apply for the Centrally Sponsored Post Matric Scholarship Scheme For SC Students 2020-21.
Steps :
Step 1 : Go to the official website of National Scholarship Portal through the URL provided above.
Step 2 : Then Select State Schemes tab and Click on Himachal Pradesh in the drop down list.

Step 3 : After that Click Apply link in the "Centrally Sponsored Post Matric Scholarship Scheme For SC Students" under Himachal Pradesh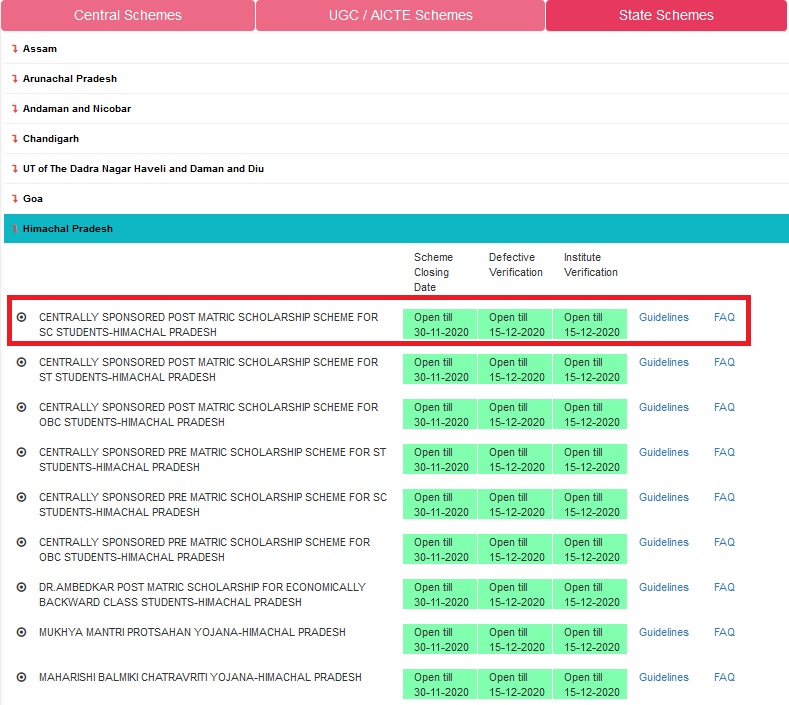 Step 4 : Read the instructions carefully and enter your Application Id, Password and Captcha for Login.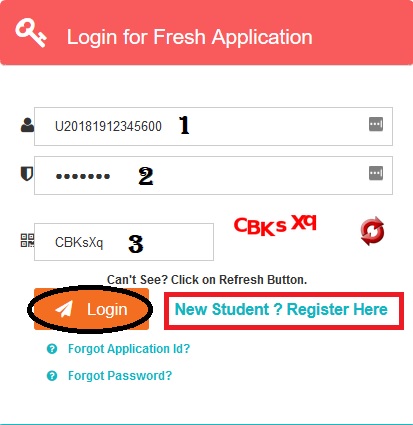 Step 5 : After Login to your account select the Scholarship scheme and fill the required details to apply for the scholarship.
Step 6 : If you are a New User then Click on the Register link in the Login Page.
Step 7 : Enter all required details for registration to get your user id and password. After register your account you can Login and apply the scholarship.
Step 8 : After complete your application you will get a confirmation message to your registered email id & mobile number.
Step 9 : The printed copy of the Online Scholarship Form (after successful online submission of form), along with all requisite documents, needs to be submitted by the student to his / her Head of the Institute, who will retain it in the institution.
Step 10 : The Institution will forward the duly attested printed form along with the Verified Candidate List(s) to the concerned DDHE (in case of Govt. / Private Recognized Schools) & to this Directorate (in case of Private Recognized Colleges), for online verification & cross-checking.
Step 11 : The Govt. Colleges (within state) need to forward only the Verified Candidate List(s) (on the prescribed format) to this Directorate.
Rates of Scholarship
Group
Course
Monthly Rates
Day Scholars
Hostellers
Group I
  (i) Degree and P.G Level Courses (Including M.Phil., Ph.D. and Doctoral research) in Medicines       (Allopathic,Indian and other recognized system of medicines), Engineering, Technology, Agriculture,       Veterinary and Allied Sciences, Management, Business Finance, Business Administration and Computer  Applications.
(ii) Commercial Pilot Licence (Including helicopter Pilot and Multi Engine rating) course.
(iii) Post Graduate Diploma courses in various branches of multiengine rating) course.
(iv) CA. / ICWA / CS / I.C.F.A etc.
(v) M.Phil., Ph.D. and Post-Doctoral Programmes (D.Litt., D.Sc., etc.)
In existing Group II courses
In existing Group III courses
(vi) L.L.M.
Rs 550/-
Rs 1200/-
Group II
  (i) Graduate / Post Graduate courses leading to Degree, Diploma, certificate in areas like Pharmacy (B       Pharma) Nursing (B Nursing), LLB, BFS, others para-medical branches like rehabilitation, diagnostics       etc. Mass Communication Hotel Management & Catering, Travel / tourism / Hospitality Management,       Interior Decoration, Nutrition & Dietetics, Commercial Arts, Financial Services (e.g. Banking, Insurance,       Taxation etc.) for which entrance qualification is minimum Sr. Secondary (10+2).
(ii) Post Graduate courses not covered under Group-I e.g. M.A. / M.Sc. / M. Ed. / M. Pharma,etc.
Rs 530/-
Rs 820/-
Group III
  All other courses Leading to a graduate or above Degree (not covered in Group I & II).
Rs 300/-
Rs 570/-
Group IV
  All post-matriculation level non-degree courses for which entrance qualification is High School (Class X),   e.g. senior secondary certificates (class XI & XII, both general and vocational stream, ITI courses, three   years diploma courses in Polytechnics, etc.
Rs 230/-
Rs 380/-
Document(s) Required
1. Passport Size Photo(Self Attested).
2. AADHAAR Card(UID / EID No).
3. Himachali Bonafide Certificate.
4. Previous Year(s) Result Card(s) from Matric onwards.
5. Latest Bank Statement of the Students Bank Account.
6. SC Category Certificate (Issued by an officer not below the rank of Tehsildar).
7. Income Certificate of Parent / Guardian (Issued by an officer not below the rank of Tehsildar).
8. Gap Year Affidavit, for Post Matric Scholarship Scheme for SC / ST / OBC Students (in Original).
9. Fee Structure approved by the University / Board / State Govt. / Centre Govt. Self-approved Fee Structure by the Head of the Institution is not valid, in case of Private Recognized Institutions.
10.Fee Payment Receipts.
Important Dates
** Centrally Sponsored Post Matric Scholarship Scheme For SC Students Himachal Pradesh is Open till 30-11-2020
** Defective Verification – Open till 15-12-2020
** Institute Verification – Open till 15-12-2020