National Scholarship Portal : Himachal Pradesh Mukhiya Mantri Protsahan Yojna 2020-21
Organisation : Government of Himachal Pradesh
Portal Name : National Scholarship Portal NSP 2.0
Scholarship Name : Mukhiya Mantri Protsahan Yojna 2020-21
Applicable State/UTs : Himachal Pradesh
Application Last Date : 30.11.2020
Website : https://scholarships.gov.in/
NSP HP Mukhiya Mantri Protsahan Yojna
Online Applications are invited for Mukhiya Mantri Protsahan Yojna for the year 2020-21.
Related / Similar Scholarship : NSP HP Maharshi Balmiki Chattervritti Yojna 2020-21
Objective
Under this Scheme, a one-time incentive / award of Rs 75000/- will be given to all Himachali students, who are selected and take admission for a degree course in any Indian Institute of Technology (IITs) or All India Institute of Medical Sciences (AIIMSs) or for a Post Graduate Diploma Course in any Indian Institute of Management (IIMs).
Indian School of Mines (ISM) Dhanbad at Jharkhand & Indian Institute of Science (IISc) at Bangalore, have also been added to the list of institution eligible for award under this scheme.
How to Apply?
Just follow the below steps to apply for the Himachal Pradesh Mukhiya Mantri Protsahan Yojna 2020-21.
Online Application
Steps :
Step 1 : Go to the official website of National Scholarship Portal through the URL provided above.
Step 2 : Then Select State Schemes tab and Click on Himachal Pradesh in the drop down list.

Step 3 : After that Click Apply link in the "Mukhiya Mantri Protsahan Yojna" under Himachal Pradesh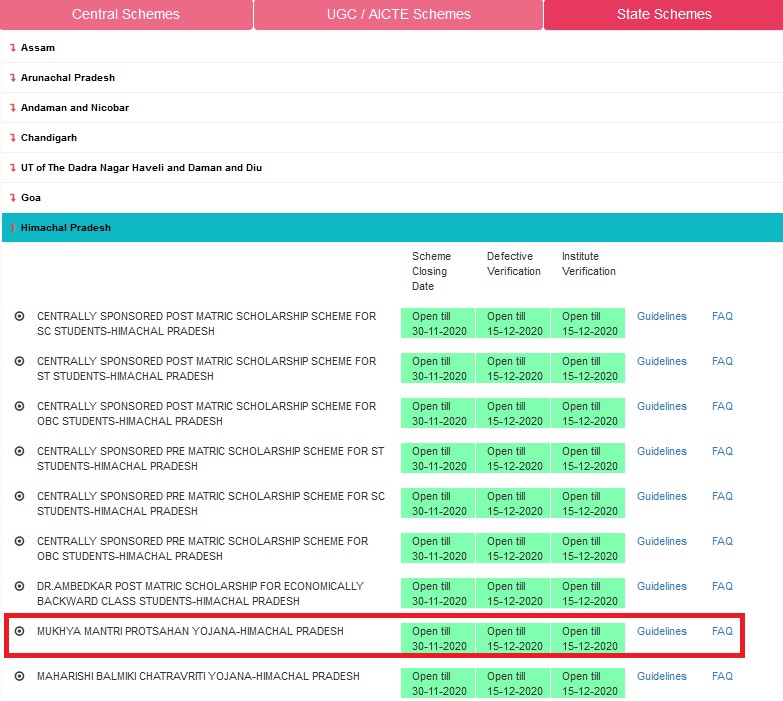 Step 4 : Read the instructions carefully and enter your Application Id, Password and Captcha for Login.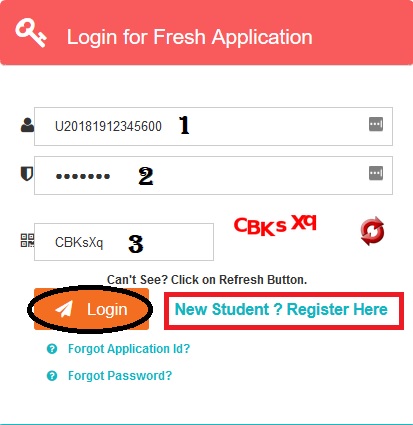 Step 5 : After Login to your account select the Scholarship scheme and fill the required details to apply for the scholarship.
Step 6 : If you are a New User then Click on the Register link in the Login Page.
Step 7 : Enter all required details for registration to get your user id and password. After register your account you can Login and apply the scholarship.
Step 8 : After complete your application you will get a confirmation message to your registered email id & mobile number.
Step 9 : The printed copy of the Online Scholarship Form (after successful online submission of form), along with all requisite documents, needs to be submitted by the student to his / her Head of the Institute, who will retain it in the institution.
Step 10 : The Institution will forward the duly attested printed form along with the Verified Candidate List(s) to the concerned DDHE (in case of Govt. / Private Recognized Schools) & to this Directorate (in case of Private Recognized Colleges), for online verification & cross-checking.
Step 11 : The Govt. Colleges (within state) need to forward only the Verified Candidate List(s) (on the prescribed format) to this Directorate.
Offline Application
In case, any offline application form is received by the Head of the Institute / DDHE, he / she is directed to return the same to the concerned student / institute, at his / her own level;& to direct the sender to fill the form online & submit the printed copy of the Online Application Form, afterwards, through the same channel.
Document(s) Required
1. Passport Size Photo.
2. AADHAAR Card(UID / EID No).
3. Himachali Bonafide Certificate.
4. Previous Year(s) Result Card(s) from Matric onwards.
5. Latest Bank Statement of the Students Bank Account.
6. Selection Letter of IIT/IIM/AIIMS/ISM/IISC
Important Dates
** Mukhiya Mantri Protsahan Yojna Himachal Pradesh is Open till 30-11-2020
** Defective Verification – Open till 15-12-2020
** Institute Verification – Open till 15-12-2020