scholarships.wbsed.gov.in NMMSE National Means-Cum-Merit Scholarship Exam 2020 : West Bengal
Rate this post:
[ Votes=

0

, Average =

0

]
Organisation : West Bengal Department of School Education
Scholarship Name : NMMSE 2020 National Means-Cum-Merit Scholarship Exam
Applicable For : Students Studying In Class VIII
Applicable State : West Bengal
Last Date : 01.12.2020 (Date is Extended)
Date of Examination: 17.01.2021
Website : https://scholarships.wbsed.gov.in/
WBSED NMMSE
Centrally Sponsored National Means-Cum-Merit Scholarship Examination, 2020 for the students studying in class VIII.
Related / Similar Scholarship : WBSED NTSE 2021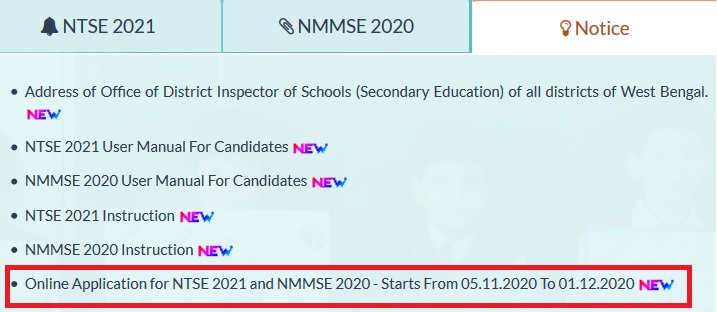 Who Can Apply?
** Students of class VIII who secured 55% and above marks in the final examination of class VII are eligible to appear in the Centrally Sponsored NMMS Examination, 2020 for class VIII. (5% relaxation to SC, ST, Disabled candidates).
** Parental Income should be below Rs. 1,50,000 /- (One lakh fifty thousand) per annum from all sources. Income certificate is to be uploaded.
** Applicant should opt for the district in which he/she belongs actually within the Administrative Jurisdiction of the respective district.
How to Apply?
Please go through the Instructions carefully before filling up the form,
Steps :
Step 1 : Go to the official website of West Bengal Department of School Education through the URL provided above.

Step 2 : Every applicant of NMMSE 2020 need to do one-time registration process. Click on "New user register here" to register yourself.
Step 3 : Then you need to choose "Centrally Sponsored National Means-Cum-Merit Scholarship Examination, 2020" as scholarships type for NMMSE 2020 to proceed.
Step 4 : It will redirect to the instruction page. Read complete instruction before proceed carefully. Scroll down to bottom of the page and Click on 'Proceed To Registration' button.
Step 5 : Fill the application form with the required details and Click on Register button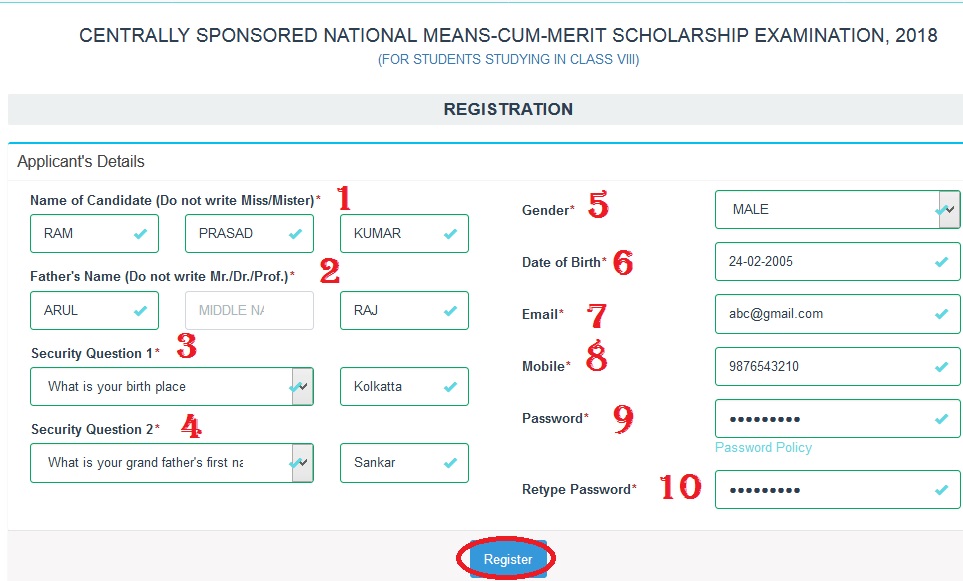 Step 6 : After successful registration, the system will provide you a registration number along with registration details.
Step 7 : Now you can login with your registration no as USER ID and password
Step 8 : On successful login you will redirected to your scholarships dashboard. Here you can Click on "Application" and then click "Form Fill Up" to fill up NMMSE 2020 application form.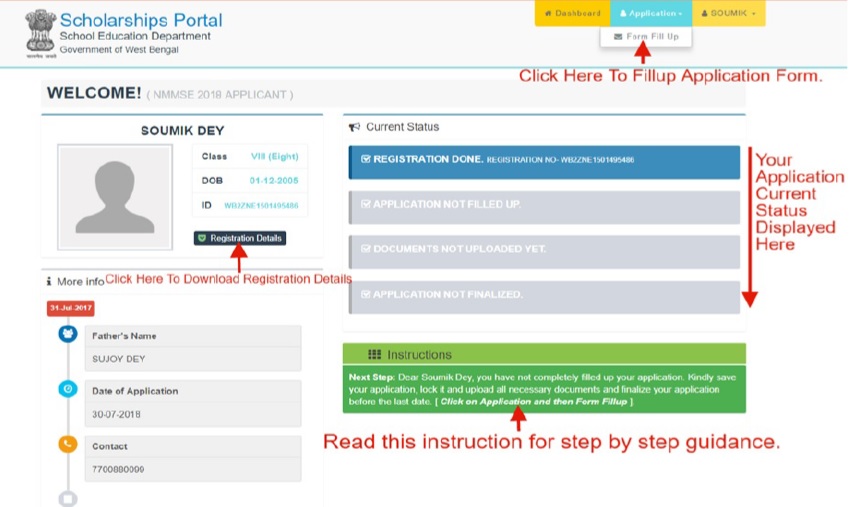 Step 9 : After filling up application form click on 'Save' (at the center-bottom of this page) to save your application as draft mode. You may change your details in the application form and save it until you lock your application form.
Step 10 : If you do not need any change in application form you can click on "Lock Details" to lock your application form and proceed to next step.

Step 11 : Once you locked your application form you will move to next step to download section where you need to download "Verification Certificate".
Step 12 : Take a print and signed it by your school / institutions HOI and scan the 2nd page of the verification certificate and get ready to upload it in upload section.
Step 13 : After uploading of all documents click on "Finalize Application" to finalize your application.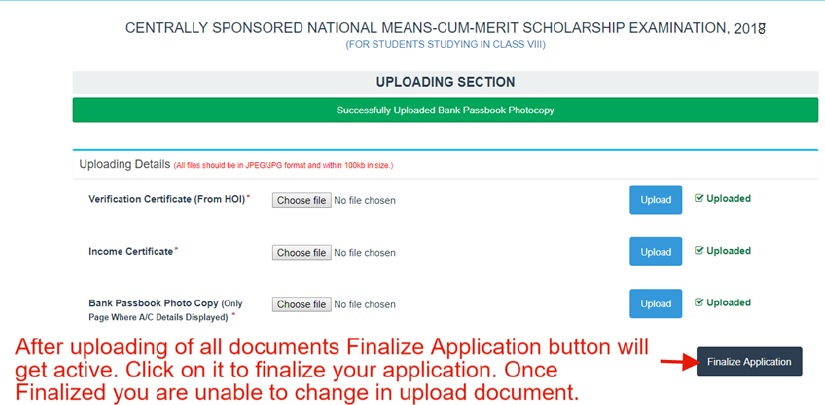 Step 14 : Your application form has been sent for verification. You will be notified once it gets any update.
Documents Required
(i) Income Certificate of Parent.
(ii) First page of Bank Passbook
(iii) Caste Certificate issued by the Competent Authority, if applicable
(iv) Disability Certificate (40% and above disability must be certified by the Competent Medical Board of the State Govt./Central Govt.), if applicable
Exam Pattern
** State level NMMSE will be conducted in two sessions on the same day as per details given below
| | | | | |
| --- | --- | --- | --- | --- |
| Name of the Tests | Type | Marks | No of Items | Duration(in Minutes) |
| Mental Ability Test | Objective/MCQ | 90 | 90 | 90 min |
| Scholastic Aptitude Test | Objective/MCQ | 90 | 90 | 90 min |
** Syllabus / Subject – There is no prescribed syllabus for NMMSE Examination. Standard of items shall conform to the level of class VII & VIII.
** Scholastic Aptitude Test comprises of the following subjects given below
1) Mathematics
2) Physical Science
3) Life Science
4) History
5) Geography
** All questions in the booklet for the NMMSE Examination are objective type. Each question carries one mark. There is no negative marking in the said examination.
Terms & Conditions
** The documents must be duly authenticated by the concerned School Authority.
** The application submission is complete only when the Certificate from HOI and other required documents are uploaded
** Candidates are request to check email which is given in the form regarding acceptance or rejection of his/her application after online form fill-up from time to time.
Helpdesk
For further clarification applicants may mail to helpscholarships[at]gmail.com
Contact Address :
Directorate of School Education, West Bengal,
Bikash Bhavan, 7th floor,
Salt Lake City,
Kolkata-700091.