NSP DNHDD Post Matric Scholarship To SC Students 2020-21 : scholarships.gov.in
Rate this post:
[ Votes=

0

, Average =

0

]
Organisation : Government of DNHDD
Portal Name : National Scholarship Portal NSP 2.0
Scholarship Name : Post Matric Scholarship To SC Students 2020-21
Applicable For : SC Students
Applicable State/UTs : Dadra Nagar Haveli & Daman and Diu DNHDD
Application Last Date : 16.11.2020
Website : https://scholarships.gov.in/
NSP DNHDD SC Post Matric Scholarship
Post Matric Scholarship To SC Students DNHDD for the year 2020-21.
Related / Similar Scholarship : NSP DNHDD OBC Post Matric Scholarship 2020-21
Objective
The objective of the scheme is to provide financial assistance to the Scheduled Caste students studying at post matriculation or post-secondary stage to enable them to complete their education.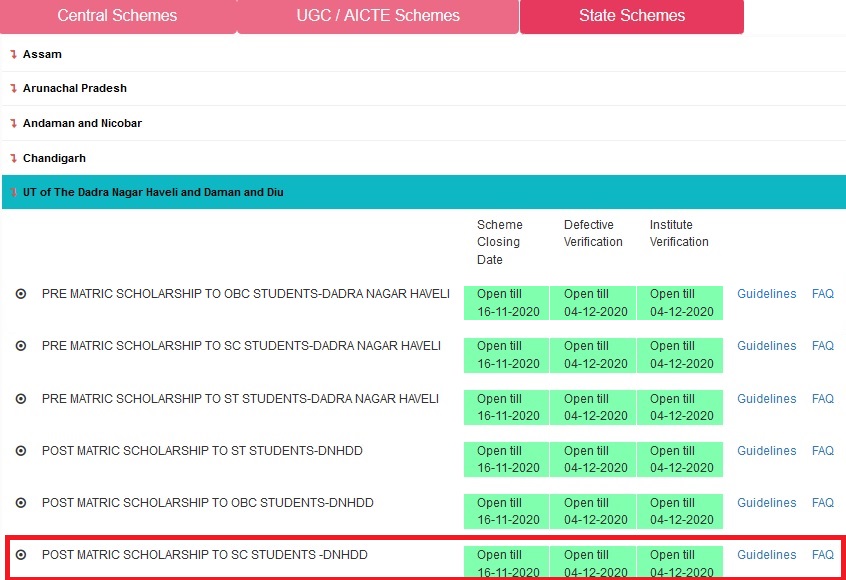 Who Can Apply?
** The scholarships are open to nationals of India and who belong to Scheduled Castes so specified in relation to the State/Union Territory to which the applicant actually belongs
** These scholarships will be given for the study of all recognized post-matriculation or post-secondary courses pursued in recognized institutions with the following exceptions
"Scholarships are not awarded for training courses like Aircraft Maintenance Engineer's Courses and Private Pilot license Courses
** All children of the same parents/guardians will be entitled to receive benefits of the scheme.
** A scholarship holder under this scheme will not hold any other scholarship/stipend.
** Scholarships will be paid to the students whose parents/guardians' income from all sources does not exceed Rs. 2,50,000/- (Rupees Two lacs Fifty thousand only).
How To Apply?
The scheme is implemented through the National Scholarship Portal (NSP). It is mandatory for all students to apply online on the website i.e. www.scholarships.gov.in.

Documents Required
a. One copy of the application for scholarship in the prescribed form
b. One copy of the passport size photograph with signatures of the student thereon (for fresh scholarship).
c. One attested copy of certificates, diploma, degree etc. in respect of all examinations passed.
d. A certificate (in original) of Caste duly signed by an authorised Revenue Officer not below the rank of Tehsildar.
e. An income declaration by the self-employed parents/guardians, stating definite income from all sources by way of an affidavit on non-judicial stamp paper.
Employed parents/guardians are required to obtain income certificate from their employer and for any additional income from other sources, they would furnish declaration by way of an affidavit on non-judicial stamp paper.
f. A receipt in acknowledgement of the scholarship in the previous year on the form attached to the application only duly countersigned by the Head of the Institution concerned, if the application was in receipt of a scholarship under this scheme in the preceding year.
Value of Scholarship
The value of scholarship includes the following for complete duration of the course
i. maintenance allowance,
ii. reimbursement of compulsory non-refundable fees,
iii. study tour charges,
iv. thesis typing/printing charges for Research Scholars,
v. book allowance for students pursuing correspondence courses,
vi. book bank facility for specified courses, and
vii. additional allowance for students with disabilities, for the complete duration of the course.
Last Date
** Post-Matric Scholarship To SC DNHDD Scheme Closing Date is 16-11-2020
** Defective Verification is Open till 04-12-2020
** Institute Verification is Open till 04-12-2020