NSP Pre Matric Scholarship To ST Students 2020-21 : Dadra Nagar Haveli
Want to comment on this post?

Go to bottom of this page.
Organisation : Government of Dadra Nagar Haveli
Portal Name : National Scholarship Portal NSP 2.0
Scholarship Name : Pre Matric Scholarship To ST Students 2020-21
Applicable For : ST Students
Applicable State : Dadra Nagar Haveli
Application Last Date : 16.11.2020
Website : https://scholarships.gov.in/
NSP DNH ST Pre Matric Scholarship
Pre Matric Scholarship To ST Students Dadra Nagar Haveli for the year 2020-21.
Related / Similar Scholarship : NSP DNH Pre Matric Scholarship For OBC 2020-21
Objectives
Objectives of the scheme are
(a) To support parents of ST children for education of their wards studying in classes IX and X so that the incidence of drop-out, especially in the transition from the elementary to the secondary stage is minimized, and
(b) To improve participation of ST children in classes IX and X of the prematric stage, so that they perform better and have a better chance of progressing to the post-matric stage of education.
Eligibility Conditions
(i) Student should belong to Scheduled Tribe
(ii) Her/his Parents'/Guardian's income should not exceed Rs. 2.00 lakh per annum.
(iii) She / he should not be getting any other Centrally-funded Pre-Matric Scholarship.
(iv) She/ he should be a regular, full time student studying in a Government School or in a School recognized by Govt. or a Central/State Board of Secondary Education.
(v) Scholarship for studying in any class will be available for only one year.
(vi) Students whose parents/guardians' income from all sources does not exceed Rs. 2,00,000/- (Rupees two lakh only) per annum.
How To Apply?
All the eligible applicants need to apply online on the website of National Scholarship Portal (NSP) i.e. www.scholarship.gov.in.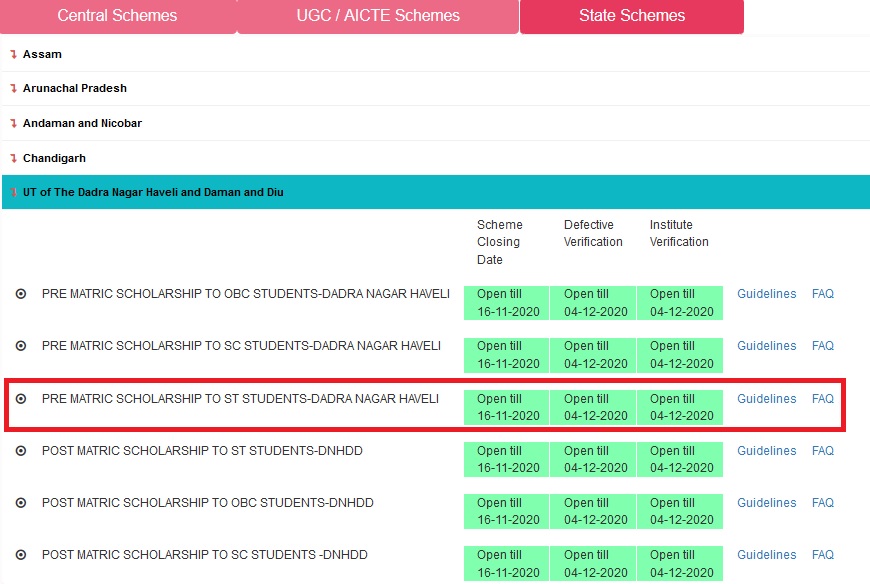 Documents Required
(a) One copy of the application for scholarship in the prescribed form (separate application forms as have been prescribed for 'fresh' and renewal scholarship by concerned States/UTs).
(b) One copy of the passport size photograph with signatures of the student thereon (for fresh scholarship).
(c) A certificate (in original) of Scheduled Tribe duly signed by an authorized Revenue Officer not below the rank of Tehsildar.
(d) An income declaration by the self-employed parents/guardians, stating definite income from all sources by way of an affidavit on non-judicial stamp paper.
Employed parents/guardians are required to obtain income certificate from their employer and for any additional income from other sources, they would furnish declaration by way of an affidavit on non-judicial stamp paper.
(e) A receipt in acknowledgement of the scholarship in the previous year on the form attached to the application only duly counter-signed by the Head of the Institution/School concerned, if the applicant was in receipt of a scholarship under this scheme in the preceding year.
Selection Of Candidates
(i) All eligible Scheduled Tribe candidates will be given scholarships as prescribed in this scheme
(ii) Candidates belonging to one State but studying in another State will be awarded scholarships by the State to which they belong and will submit their applications to the competent authority in that State.
Important Dates
** Pre Matric Scholarship To ST Students Dadra Nagar Haveli is Open till 16-11-2020
** Defective Verification – Open till 04-12-2020
** Institute Verification – Open till 04-12-2020