NSP Assam 2020-21 Pre-Matric Scholarship For SC Students Of Class IX & X
You can now ask your doubts / questions.
Please go to the the bottom of this page for comments section.
Organisation : Government of Assam
Portal Name : National Scholarship Portal NSP 2.0
Scholarship Name : Pre-Matric Scholarship For SC 2020-21
Applicable For : SC Students Of Class IX & X
Applicable State : Assam
Application Last Date : 30-10-2020
Website/ Apply Online : https://scholarships.gov.in/
NSP SC Pre-Matric Scholarship
Applications are invited for Pre-Matric Scholarship For SC Students (Class IX And X) Assam for the year 2020-21.
Related / Similar Scholarship : NSP Assam SC Post Matric Scholarship 2020-21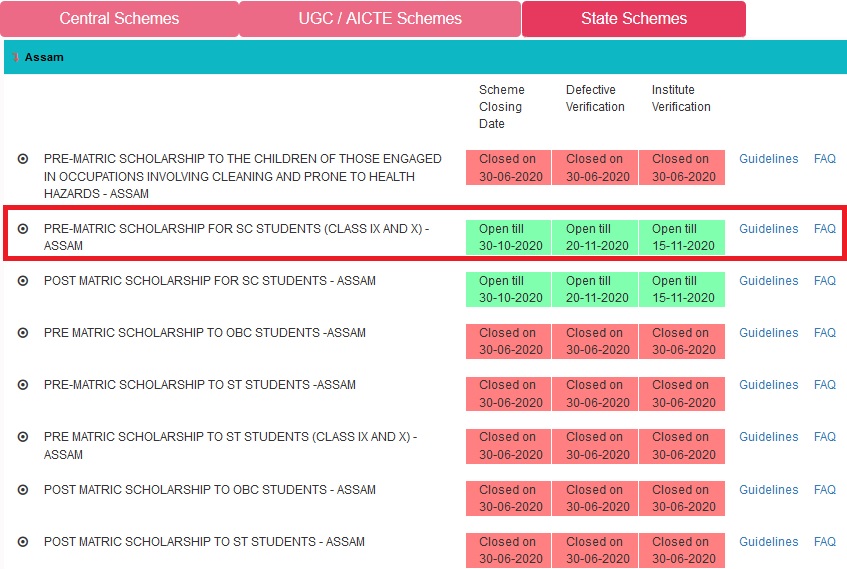 Objective
Objectives of the scheme are
(a) To support parents of SC children for education of their wards studying in classes IX and X so that the incidence of drop-out, especially in the transition from the elementary to the secondary stage is minimized, and
(b) To improve participation of SC children in classes IX and X of the pre-matric stage, so that they perform better and have a better chance of progressing to the post-matric stage of education.
Eligibility
** Students should belong to scheduled Caste.
** His/her parent/Guardian's income not exceed Rs. 2.50 Lakh per annum.
** Scholarship for studying in any class will be available for only one year. If a student has repeat a class, she/he would not get scholarship for that class for second (or Subsequent) year.
How To Apply?
The scheme is implemented through the National Scholarship Portal (NSP). It is mandatory for all students to apply online on the website i.e. www.scholarships.gov.in.

Value Of Scholarship
The value of scholarship includes the following for complete duration of the course
(i) scholarship and other grant,
(ii) additional allowance for students with disabilities studying in private un-aided recognized Schools.
(iii) Additional Allowances for SC students with disabilities studying in private unaided Schools
The Scholarship will be payable for 10 months in an academic year
| | | |
| --- | --- | --- |
| Item | Day scholar | Hostler |
| Scholarship (Rs.PM) (for 10 Months) | 225 | 525 |
| Books and Ad hoc Grant (Rs.PA) | 750 | 100 |
Mode Of Payment :
Direct Benefit Transfer through PFMS (Public Financial Management System) by the Ministry
Terms & Conditions
** Income declaration of self employed parents/guardian should be in the form of a certificate issued by Revenue officer not below rank of Tehsildar.
Guidelines :
https://www.scholarships.net.in/uploads/pdf2018/32785-GL.pdf
** Employed parents/guardians are required to obtain income certificate from their employer Employed parents/ guardians should obtain consolidated certificate from Revenue officer for any other additional source of income He/she should be regular, full time students studying in a Government school or in school recognized by Govt. or a Central/State Board of Secondary Education.
Last Date
** Pre-Matric Scholarship To SC Assam Scheme Closing Date is 30-10-2020
** Defective Verification is Open till 20-11-2020
** Institute Verification is Open till 15-11-2020