National Scholarship Portal NSP : UGC 2020-21 PG Scholarship For University Rank Holders
You can now ask your doubts / questions.
Please go to the the bottom of this page for comments section.
Organisation : University Grants Commission (UGC)
Scholarship Name : PG Scholarship For University Rank Holders 2020-21
Applicable For : Ist and IInd Rank Holders
Last Date : 30-10-2020
Website/ Apply Online : https://scholarships.gov.in/
UGC PG Scholarship
Applications are invited for Post Graduate Merit Scholarship For University Rank Holder for year 2020-21.
Related / Similar Scholarship : NSP UGC PG Scholarship For Professional Courses For SC/ST 2020-21

Objectives
The objectives of the scheme are
** To promote and nurture talent;
** To reward meritorious students with outstanding performance at the Under graduate level for pursuing postgraduate studies;
** To promote study in basic courses at undergraduate level. Professional courses are not covered under the scheme;
** To build up academic excellence at postgraduate level across the colleges and universities in the country
Who Can Apply?
** The scholarship is available to the student for first PG Degree only. Age limit for the students is 30 years at the time of admission in PG course.
** Distance mode of education will not be considered under the scheme.
** The Undergraduate courses from following streams have been identified for the award of scholarships
1.Life Sciences
2. Physical Sciences
3. Chemical Sciences
4. Earth Sciences
5. Mathematical Sciences
6. Social Sciences
7. Commerce
8. Languages
** The first and second rank holders (Not position holders) would be considered from Universities/ Institutions and non-affiliated/ autonomous colleges according to the number of students who have appeared in the examination at undergraduate level as per following table.
Nature of Institution

Number of students who appeared in examination at undergraduate level

Affiliating Universities (State/ Central)
100
Deemed Universities/ Private Universities / Autonomous Colleges / Non-affiliated

colleges

25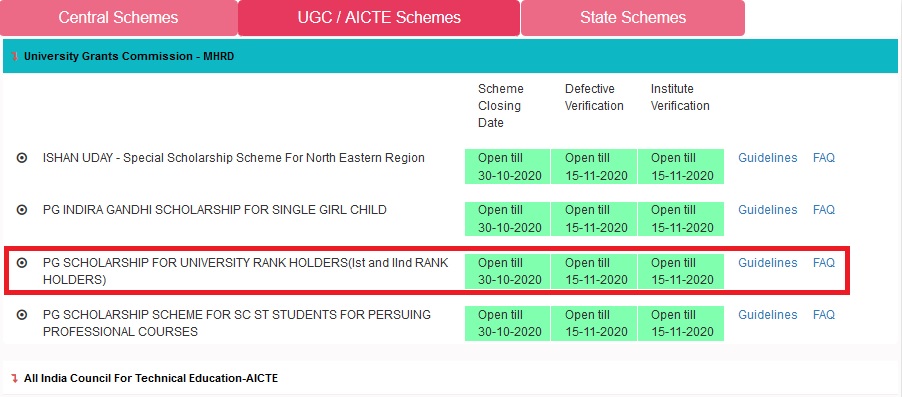 Procedure For Applying
** The candidates fulfilling the eligibility conditions are required to apply online on National Scholarship Portal after initiation of application process and notice to be published on UGC website.
** The host institution where the candidate is studying is required to verify the online application.
** It is expected from the institutions where student has taken admission in the first year PG course, no tuition fees will be charged by the institute from girl students to pursue PG degree course in Universities/Colleges/Institutions
Apply Online : https://scholarships.gov.in/
Documents To Be Submitted
** Attested copy of university undergraduate-degree.
** Matriculation certificate.
** A verification certificate by the institute where, students has taken admission to Ist Year P.G. Course.
** Prescribed format of provisional Rank certificate from the university / autonomous college
Amount Of Fellowship
Rs.3,100/- p.m for a period of two years only i.e. full duration of a PG course. No other additional grant will be payable in lieu of hostel charges and medical charges etc. The student who is awarded Post-Graduate Scholarship for University Rank Holders will not be debarred from accepting any other scholarships.
Cancellation Of Scholarship
Scholarship of a student may be cancelled in any of the following cases
** Misconduct of the awardee, if any, reported by the University/ Institution.
** Unsatisfactory progress report (i.e. if the candidate scores less than 60% marks in the first year of Master's programme)
Guidelines :
https://www.scholarships.net.in/uploads/pdf2020/44949-GL.pdf
Important Dates
** PG Scholarship For University Rank Holders is Open till 30-10-2020
** Defective Verification – Open till 15-11-2020
** Institute Verification – Open till 15-11-2020