DCE PMSD 2020-21 Post Metric Scholarship For Disabilities : dcescholarship.kerala.gov.in
You can now ask your doubts / questions.
Please go to the the bottom of this page for comments section.
Organisation : Kerala Directorate of Collegiate Education (DCE Scholarship)
Scholarship Name : PMSD 2020-21 Post Metric Scholarship For Disabilities
Applicable For : Students with Disabilities
Applicable State : Kerala
Last Date : 31.10.2020
Website : http://www.dcescholarship.kerala.gov.in/dce/he_ma/he_maindx.php?ser=135
DCE PMSD Scholarship
Kerala Directorate of Collegiate Education invites online application for Post Metric Scholarship For Students with Disabilities for the year 2020-21.
Related / Similar Scholarship : DCE State Merit Scholarship 2020-21

Who Can Apply?
** Students must be a citizen of India and domicile of Kerala
** A person with disability having not less than 40% disability and having a disability issued by any competent medical authority.
** Scholarship will be paid to the students whose parents/ guardians' income from all sources does not exceed Rs.2,50,000/- (Rupees two lakh fifty thousand only) per annum.
** Only those candidates who have passed the Matriculation or Higher Secondary or any higher examination of a recognized University or Board of Secondary Education will be eligible.
** Students who pursue their studies through correspondence courses are also eligible. The term correspondence includes distant and continuing education.
** Courses at the level of post-graduate degree/diploma/ certificate are also covered under this scheme.
How To Apply?
Just follow the below steps to apply for the Post Metric Scholarship For Disabilities 2020-21.
Steps :
Step 1 : Go to the official website of Kerala Directorate of Collegiate Education through the URL provided above
Step 2 : Then Click on the Post Metric Scholarship For Disabilities under Types of Scholarship.
Step 3 : Next read the instructions carefully and click on the Apply Online link.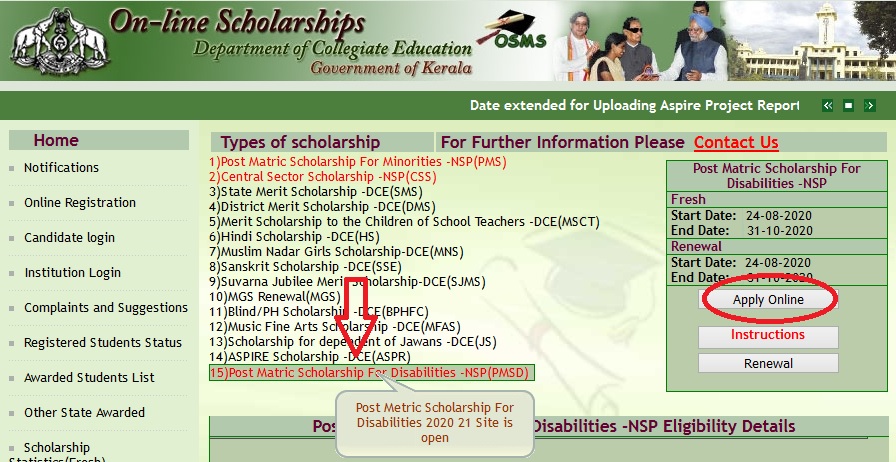 Fresh:
Step 4 : If you have not registered, Please signup for new registration. click on the New Registration link in the Login page
Step 5 : Fill the form with the following details and Finally click on Submit button
1. Registration Details of Matriculation or Equivalent Examination
2. Personal Details
3. Permanent Address
4. Communication Address
5. Details of Present Institution and Course
6. Details of course based on which scholarship is being sought
7. Bank Details
8. Password Settings
Step 6 : Accept the declarations, type the captcha image and finally click on the Submit button
Step 7 : After complete your registration you can Login with your Registration Id, Date of Birth and Password to complete the fresh scholarship application.
Renewal:
Step 8 : For Renewal cases, Click on the Renewal link in the home page and enter the following details to complete your renewal process.
** Select Your Scholarship Type
** Select Your State
** Select Your District
** Select Your Institution Type
** Select Your Scholarship awarded institution name
** Select Your Scholarship awarded year
** Select the Name of the student
** Enter Your Date of birth (dd/mm/yyyy)
** Enter Your Registration ID
Important Dates
Fresh :
** Starting Date for Fresh Applications is 24-08-2020
** Ending Date for Fresh Applications is 31-10-2020
Renewal :
** Starting Date for Renewal Applications is 24-08-2020
** Ending Date for Renewal Applications is 31-10-2020