bhmnsmaef.org MAEF Begum Hazrat Mahal National Scholarship 2020-21 : Maulana Azad Education Foundation
Rate this post:
[ Votes=

0

, Average =

0

]
Organisation : Maulana Azad Education Foundation
Scholarship Name : Begum Hazrat Mahal National Scholarship 2020-21
Applicable For : Girl Students Belonging To Minorities
Applicable States/ UTs : All Over India
Last Date : 31 October,2020
Website : http://www.maef.nic.in/index.aspx
MAEF Begum Hazrat Mahal Scholarship
Online applications are invited for Begum Hazrat Mahal National Scholarship 2020-21

About Scheme
The Scheme of "Begum Hazrat Mahal National Scholarship" for Girl Students belonging to the Minority Communities was earlier known as "Maulana Azad National Scholarship" Scheme. It was started by the Foundation in academic year 2003-04.
The main purpose of the scheme is to provide financial assistance to meritorious girl students belonging to national minorities, who cannot continue their education due to lack of financial support.
The Scholarship Scheme of the Foundation is very popular scheme and its sanctioning quota is increasing year by year. Till date 8,84,864 girl students have been assisted with Rs.669.36 crore by the Foundation since Inception spread all over the country.
Objective
To recognize, promote and assist girl students belonging to National Minorities who cannot continue their education due to lack of financial support.
Scope
Scholarship will be admissible for expenditure on payment of School/College fee, purchase of syllabus books, purchase of stationery/equipments required for the course and payment of Boarding/Lodging charges.
Amount of Scholarship
Amount of scholarship will be provided Rs.5000/each for Class IX & X and Rs.6000/-each for Class XI & XII.
Eligibility Criteria
a. Only girl students belonging to six notified Minority Communities i.e. Muslims, Christians, Sikhs, Buddhists, Jains and Parsis are eligible.
b. Scholarship will be awarded to minorities' girl students who are studying in Class 9th to 12th, and have secured at-least 50% marks or equivalent grade in aggregate in previous class/qualifying exam.
c. The credentials of student requires School Verification. For this purpose the students are advised to download the School Verification form and get it signed by the Principal of the School. Principal stamp & signature are required on photograph and at the given space in the form. The scan copy of the School Verification form is to be uploaded and attached to the application.
d. Annual income of student's parents/guardian from all sources does not exceed Rs.2.00 lakh. Students have to submit the Income certificate of parents/guardian issued by the Competent Authority declared by the State Government/UTs Administration.
e. Income Certificate must be in Hindi/English language. In case the Income Certificate is in Regional language then it should be accompanied by notarized Hindi/English Version.
f. Students are advised to submit only "One Application Form". In case if students submit more than one application form then all the applications submitted by students will be considered as "Duplicate" and will be "Rejected".
g. All required documents only in Hindi or English must be uploaded alongwith online application.
h. No physical/hard copy is required to be sent/submitted by post or by hand to MAEF.
i. Scholarship will not be given to more than two students from a family of the same class.
j. No scholarship shall be given for studies abroad for any course.
k. There are no fees/charges for either online application form or for any other service in this regard.
How To Apply?
Just follow the simple steps mentioned below to apply for for Begum Hazrat Mahal National Scholarship 2020-21.
Steps:
Step-1 : Go to the link http://bhmnsmaef.org/maefwebsite/
Step-2 : Click on "Read More" link under Registration.


Step-3 : Read the Instructions and Click on "Continue with Registration" button.
Step-4 : Fill the form and Submit.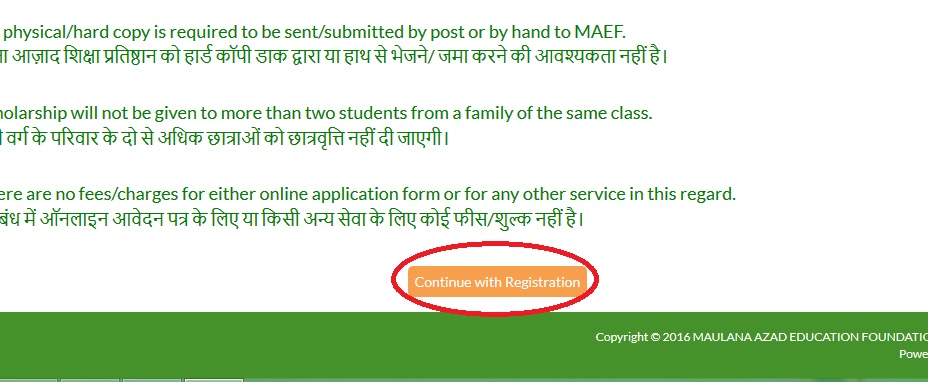 Renewal of Scholarship
No applications for renewal of scholarships will be entertained. Since the applications are open for all classes, i.e. from 9th to 12th, the beneficiaries will have to apply afresh for each class.
Last Date
Last date for Online Registration of applications – 31 October,2020.
Contact
011-23583788/89
scholarship-maef@nic.in
scholarshipmaef@gmail.com